April powers
Paul Merson expects wins for Man Utd, Man City and Newcastle, but Arsenal and Chelsea to draw.
Last Updated: 20/04/12 2:26pm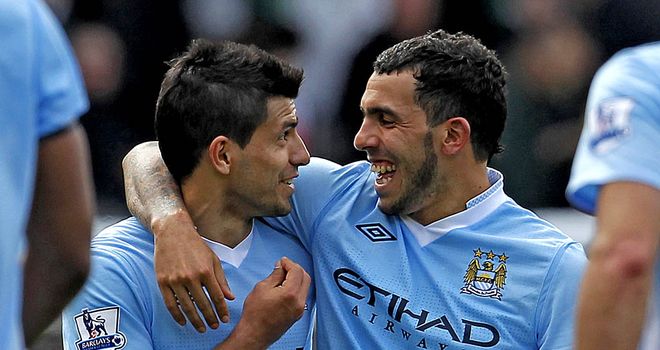 As ever, you can follow all the Premier League action this weekend on Sky Sports.
We asked Soccer Saturday expert Paul Merson to look at the fixtures and give us his verdict on where the games will be won and lost.
He's taking a close look at the live games but this season he's also having his say on all of the other matches, too.
So read on for his shouts and don't forget to let us know your views in the comments box...
Ford Football Special: Arsenal v Chelsea
12pm, Sat, Sky Sports 2 HD
If Chelsea can beat Tottenham, Barcelona and Arsenal in one week - and then go and get a result in the Nou Camp - it would be the biggest 10 days in the history of the football club.
But if they lose to Arsenal and Barcelona then, apart from the FA Cup Final, their season will be over by this time next week.
It's a big ask and you have to wonder who comes up with these fixtures. We often have teams playing in semi-finals of the Champions League so why are Chelsea and Arsenal playing each other in the same week?
I feel sorry for Roberto Di Matteo. He doesn't know whether to stick or twist. They've got an amazing chance of reaching the Champions League Final, but after Wigan beat Arsenal they also have a big chance of finishing in the top four.
People say this is a nice situation to be in, to be playing in big games, but I don't agree. If he plays his strongest team against Arsenal and loses then he'll get slaughtered for risking their chances against Barcelona. But if he rests players against Arsenal he'll get stick as well.
Do you play Didier Drogba, who has a good record against Arsenal but has played twice this week, or do you play Fernando Torres? Do you attack Arsenal like Wigan did or do you save your energy for a big trip to the Nou Camp?
Arsenal have opened up the race for fourth by losing to Wigan. If they'd won that one it would have been one from three. Now it's two from four.
Wigan rode their luck in the first half, but after the break Ali Al-Habsi didn't have to make a save. If Arsenal had won that game they'd be in the Champions League, but now they are now under real pressure.
I wasn't impressed to see Arsene Wenger run down the tunnel like a little kid and not shake Roberto Martinez's hand. That was an absolute joke. He won 4-0 at Wigan at the start of the season and I bet Martinez shook his hand.
Wigan have gone up and down the country getting beat every week and they've just had an unbelievable month. It leaves a bad taste in your mouth to see someone storm down the tunnel like that.
Arsenal will be in trouble if they lose this, but I can't see them coming away with less than a draw. They'll be happy with that, but I'm not sure about Chelsea.
PAUL PREDICTS: 1-1
Ford Super Sunday: Man Utd v Everton
12pm, Sun, Sky Sports 1 HD
Everton might have been able to cause a shock here, but I think the FA Cup semi-final defeat has knocked the stuffing out of them.
They need to get over their inferiority complex with Liverpool. They were good in the first-half, but in the second they sat back and waited. It was a real shame.
Usually they're a very difficult team to play against, but their season is over and I don't see anything but a Man United win here.
As I said in last week's blog, United had a dream fixture against Aston Villa and that proved to be the case, but I thought they were very lucky to get that early penalty. My Walsall team would have got promoted if we'd got penalties like that every week!
The players are so good at winning penalties now it's scary and I don't like it. People say this diving lark has been going on for 15 years, but I honestly can't remember it being like this when I was playing. It's getting worse.
We need to get it stamped out. It may be a foreign mentality, but now we're seeing people like Ashley Young doing it and that worries me. You're going to get kids doing it on a Sunday and before long it will be the norm. It shouldn't be the norm.
Obviously the FA don't think there's anything wrong. Shaun Derry should have had his red card overturned two weeks ago, but they clearly thought Young didn't dive.
I'm a massive fan of Young and I don't think he needs to do that; he's good enough to skip past people for fun. Man United are bigger than that and they can win football matches without resorting to that.
I think Man United will beat Everton, but the title race is still open. If Man City beat them next Monday then the gap is two points with two to go and you never know...
PAUL PREDICTS: 3-0
Ford Super Sunday: Wolves v Man City
3pm, Sun, Sky Sports 1 HD
Man City ripped Norwich to shreds last week, so this could be any football score you like.
I reckon Sergio Aguero and Carlos Tevez are the best strike pairing in the world. Lionel Messi is obviously a better player, but he doesn't really play with anybody up front.
As a partnership, these two are unplayable on their day. They can both go short, they can both go long and they are comfortable with each other. You saw that at Norwich last week.
If Tevez had come back three months ago the Premier League would be all over by now. Aguero loves playing with him and I think David Silva does as well; he makes the rest of them play much better. If everybody had swallowed their pride sooner, this title race would be over.
They're still in the hunt and I know you get some shock results at this stage of the season - but the only shock here will be if City score less than three goals. That's the best Wolves can hope for.
If Man City click like they did against West Brom and Norwich then they'll get on a roll and score a hatful.
As for Wolves, they're on a downward spiral and I can't see them getting anything. They could put on a top hat and walk under a snake - that's how low they are!
PAUL PREDICTS: 0-4 (at least)
The rest of the weekend's games
Aston Villa v Sunderland
PAUL PREDICTS: 1-1
Villa should be alright, but they need to take at least a draw from their two home games against Sunderland and Bolton. The fans might question where they're going, but they need to ensure another year in the Premier League. You can't take that for granted. Points mount up and I think they'd settle for another one here.
Blackburn v Norwich
PAUL PREDICTS: 2-1
If Blackburn had beaten Bolton at the end of March they'd have been safe. Instead they've lost five on the trot and are right back in trouble. This is a nice game for them because they won't have to sit and try to break Norwich down; they'll open the game up. Blackburn have had a few injuries at the wrong time, but this is a must-win game for them.
Bolton v Swansea
PAUL PREDICTS: 2-1
Bolton won three league games in a row in March, but then got smashed 3-0 at home to Fulham and after losing to Newcastle they're back in the bottom three. They need four points from two games against Swansea and Villa to have a real chance of staying up. If Bolton can keep the tempo up I think they'll win this game because Swansea haven't been playing well. But if they sit off they could get ripped apart, like they did against Fulham.
Fulham v Wigan
PAUL PREDICTS: 2-0
After Liverpool, Man Utd and Arsenal, this should be a walk in the park for Wigan! It looks like they're pulling themselves out of trouble, but if they lose this they can easily slip back into it. Wigan have found a system that works and have put themselves in a strong position, but Fulham are a good football team at home. They won't be as forgiving as Arsenal and I think they'll end Wigan's run.
Newcastle v Stoke
PAUL PREDICTS: 2-0
I expect Newcastle to be sitting in the top four at the end of the weekend. They're on an unbelievable roll, Stoke aren't great away from home and I see them winning this game 2-0 to keep their run going. Champions League football should be in their hands at the end of the weekend and even though they've got some stinking fixtures coming up, that's all you can ask for.
QPR v Tottenham
PAUL PREDICTS: 1-1
QPR will be a hard place for Tottenham to go. It's a very small, compact pitch and the pace of Gareth Bale and Aaron Lennon won't count for a lot at Loftus Road. QPR will close them down all over the pitch and I think they can get a draw out of this.
Liverpool v West Brom
PAUL PREDICTS: 2-1
Liverpool still have a lot to do in the league. They need to finish above Everton in the table and end the season on a high. Psychologically they need to make sure the gap between themselves and the top four is as small as possible so it doesn't feel like they have an enormous gap to narrow next year. Last week might be the turning point for Andy Carroll, who deserves credit because he hasn't been hiding. I think they might win this.
Follow Saturday's football on Soccer Saturday from 12noon on Sky Sports News HD and then see extended highlights on Football First from 8.25pm on Sky Sports HD2.