Title calling
Are City's tactics all wrong? Are Villa the perfect team for Man Utd? Merse previews the weekend games...
Last Updated: 13/04/12 9:57am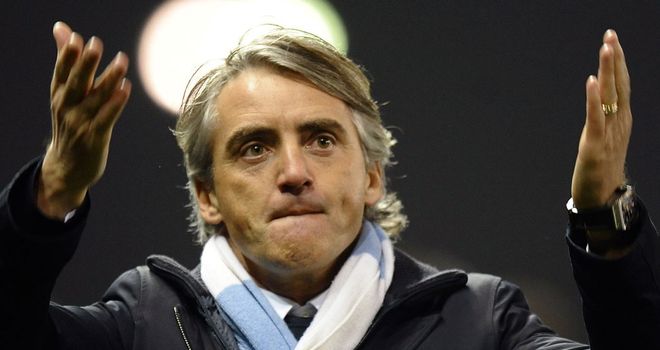 As ever, you can follow all the Premier League action this weekend on Sky Sports.
We asked Soccer Saturday expert Paul Merson to look at the fixtures and give us his verdict on where the games will be won and lost.
He's taking a close look at the live games but this season he's also having his say on all of the other matches, too.
So read on for his shouts and don't forget to let us know your views in the comments box...
Ford Football Special: Norwich v Man City
12.30pm, Sat, Sky Sports 2 HD
Roberto Mancini has got to start sending his team out away from home to win football matches.
Last week against Arsenal they were bordering on a joke. That was a game they had to win, but they were playing as if they needed to draw. For a team that has spent a gazillion quid on players playing against an Arsenal team who haven't really spent anything, it was embarrassing.
You'd have thought Arsenal were top of the league and Man City were second bottom on that showing. Personally, I expect Wigan to put up a better fight at Arsenal on Monday than Man City did.
I'm not sure if the manager is to blame, but they didn't look like a team that was going for the league title. I understand whey Mancini is saying the title race is over because unless there are major improvements they won't win anything.
I think they'll beat Norwich if they go out and play the right way and, for me, they've got to use the same tactics they used in beating West Brom 4-0. He's got to play that team and keep going for it because they've got nothing to lose.
If Man City hit the front against anybody, they're capable of winning any game. If they score the first goal they can suffocate teams and win football matches.
But if not I worry about them because I don't see them coming from behind and scoring two goals. They don't have that mentality; everybody seems to lose their heads and they lose their shape.
Norwich have got nothing to lose either. I saw some of their game with Everton and it was one of the most open matches I've seen all season; it was end-to-end and I expect that to be the case again here.
They beat Tottenham on Monday and I did not see that one coming. But that's where teams like this are dangerous - they haven't got the pressure of trying to stay up and they can go and play with no fear.
Both teams have got to have a go (or at least I hope Man City will), so this should be a real good football match. If City play like they did against West Brom then they should be able to go there and win.
It should be end-to-end... and if it isn't then it won't be through any fault of Norwich.
PAUL PREDICTS: 2-3
Ford Super Sunday: Man Utd v Aston Villa
3pm, Sun, Sky Sports 1 HD
I wasn't shocked to see Wigan get a result against Manchester United, but I can't say the same for Aston Villa.
They've had two good results over Easter against Liverpool and Stoke, but in both games they scored a worldy goal. You can't rely on getting one of those in every game and I'm worried those scorelines are papering over the cracks.
I think Villa have just done enough to stay up, but I can't see them going to Man Utd and playing an open game like Norwich will against Man City on Saturday. I think it'll be a 4-5-1 and the home team will have to try and break them down.
You never know what will happen the longer it goes on, but I don't see Villa scoring. They've got no threat going forward and I think it will just be a matter of time before United break them down.
They had an off-night against Wigan in midweek, but I think if they could have picked any team in the Premier League to play on Sunday it would have been Aston Villa at home.
Villa haven't got a fully-fit team, they're lacking forwards, they're not a threat from set-plays, there are a lot of young players in the side and I think it's a good time to play them.
I still think there will be a twist in the title race. I can't see the top two winning every game like a breeze.
But I can't see the twist coming in this game.
PAUL PREDICTS: 3-0
Ford Monday Night Football: Arsenal v Wigan
7pm, Mon, Sky Sports 1 HD
It wasn't a shock to me to see Wigan beat Man United, but I think Arsenal will be a game too far.
I've watched Wigan a few times in the last few weeks and it seems like the reins have come off. It's almost as if everybody expects them to go down and they've changed their approach.
Earlier on in the season they were a team that set up to stay in the game as long as they could and then had a go in the last 20 minutes. In the last four or five weeks they've gone for it from the first whistle and that's why they've been a better team.
Wigan were bang unlucky against Chelsea and should have got at least a point. They made Chelsea look very ordinary by having a go at them and they did the same against Man United and caught them on an off-night.
But they had to work very hard in those two games - probably harder than any other team in the league - and I think it will take its toll on them when they go to the Emirates.
As a result, I think they might go the other way and sit back. They're in a position where they can't afford to get beat 5-0 or 6-0 and if they can avoid that then I think they can be pleased with their return from those three fixtures.
Arsenal are flying and everything's going their way. The players are used to each other now and they're playing with confidence.
I just hope it doesn't cover the cracks when it comes to the summer. I hope Arsene Wenger doesn't look at it as a successful team because they still badly need some new players. You can't take anything away from their unbelievable form recently, but before Christmas they never looked like a top-four side.
Wojciech Szczesny was even talking about finishing second this week, which doesn't help his manager. If they finish in the top four it will be great - but there's still enough games left for something to go wrong. Wenger won't be happy about his players saying stuff like that.
I don't think anything will go wrong here though. A game too far for Wigan.
PAUL PREDICTS: 3-0
The rest of the weekend's games
Sunderland v Wolves
PAUL PREDICTS: 3-1
Wolves have completely gone; even Petrocelli couldn't get them out of trouble here. It's not the fact they're losing, but that apart from the Stoke game they've been getting well beat. That's the big concern. Sunderland have looked tired from time to time in recent weeks, but they're still a hard team to beat. If Wolves had to go there and get a draw I would give them a chance, but they've got to try and win the game. With people like Stéphane Sessègnon and Nicklas Bendtner posing a threat, I don't see anything but a home win.
Swansea v Blackburn
PAUL PREDICTS: 1-1
Blackburn were in a horrible situation against Liverpool. They battled back to 2-2 and against 10 men they felt they could win the game, which would probably have kept them up. They decided to twist, rather than stick, and it went wrong for them. I still think they'll be alright because they've got good fixtures and a goalscorer in Yakubu. Swansea have done great, but flatter to deceive sometimes. They dominated possession for periods against Newcastle and QPR, but hardly had a shot. I think Blackburn can go there and get a point.
West Brom v QPR
PAUL PREDICTS: 2-2
West Brom will be wounded after losing 4-0 at Man City. Roy Hodgson won't be happy at all and this will be a dangerous game for QPR as a result. When you look at QPR's fixtures you'd probably say they need three points here, but I still think Mark Hughes would be happy with a draw. They need a point here and a point there and you can't underestimate the way points mount up if you keep ticking along. I think we'll see a draw.
Follow Saturday's football on Soccer Saturday from 12noon on Sky Sports News HD and then see extended highlights on Football First from 8.25pm on Sky Sports 2 HD.