Treat on the Tyne
Merse predicts a cracking game at Newcastle and important victories for Wolves and Wigan.
Last Updated: 30/03/12 10:46am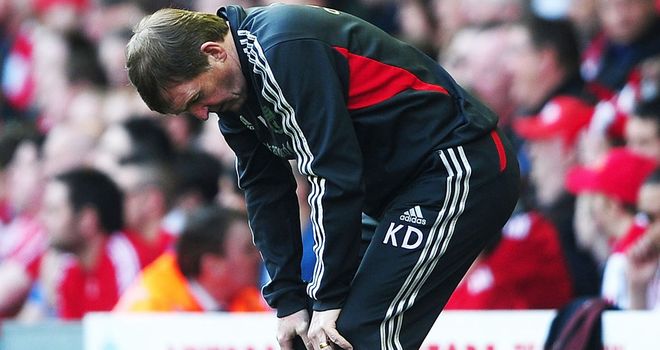 As ever, you can follow all the Premier League action this weekend on Sky Sports.
We asked Soccer Saturday expert Paul Merson to look at the fixtures and give us his verdict on where the games will be won and lost.
He's taking a close look at the live games but this season he's also having his say on all of the other matches, too.
So read on for his shouts and don't forget to let us know your views in the comments box...
Live Ford Super Sunday: Newcastle v Liverpool
1pm, Sun, Sky Sports 1 HD
Liverpool are just a bag of revels at the moment - you just don't know how they're going to play and what result they are going to get. In the cups they have been outstanding and then they go and lose at home to Wigan.
I was so impressed with Newcastle in the first-half against West Brom. I thought they were absolutely outstanding, as good an away performance as there has been in the Premier League this season.
But with Liverpool you just don't know - they could turn up and beat them easily.
I had Newcastle down as a bottom-half team this year, I thought they'd be average at best but they have been brilliant.
It's so hard to predict Liverpool. They could go to Newcastle and win easily, and no-one would be that surprised.
They've had some absolute classics and this is one of those games when I could give one score and it could easily go the other way, no-one would blink an eye. Both teams can just go out and play football, I don't think it will be a cagey game, it should be a very entertaining match.
PAUL PREDICTS: 2-2
Live Ford Super Sunday: Tottenham v Swansea
3.30pm, Sun, Sky Sports 1 HD
Swansea have been outstanding this season, the way they've played, everything. I know Everton beat them last weekend but Everton on their day can give anyone a game.
I think this will be an interesting one because Swansea shouldn't be able to live with Tottenham. Spurs need to get a result here. I know they've got an FA Cup semi-final in a couple of weeks, but they need to get a result this week.
They are both very good footballing teams, but I just think Tottenham will be too good for Swansea.
If Spurs were a lot of points clear of fifth then they would have rested players ahead of the cup game at Wembley, but they're not in that position. They need to have a right go and try to win this game.
PAUL PREDICTS: 3-1
The rest of the weekend's games
Manchester City v Sunderland
PAUL PREDICTS: 4-0
This is a must-win game for City. If City keep on winning then you never know - if they get three points here they return to the top and it puts more pressure on Manchester United. Someone's only got to do something extraordinary, like Peter Crouch did last week, and it's all open again. People are saying both Manchester clubs will win all their games until they play each other and that the winner of the game between the two will win the league. But there'll be too much drama before that. There'll be a shock along the way, I don't see both teams just breezing through their fixtures. However, I do see City winning this one at a canter. Sunderland have done great under Martin O'Neill, they're not going down but I think this is a good time for Manchester City to play them.
QPR v Arsenal
PAUL PREDICTS: 0-3
Arsenal are on a roll and QPR can't even keep 11 players on the pitch half the time. They're going to miss Cisse and I can't see anything other than an Arsenal win, a comfortable one. Every time QPR have had a player sent off they have been in the game, it's not like they've had players sent off at 4-0 down with a minute to go. They could have easily turned some of those games into wins - I don't care if you're Jose Mourinho, Sir Alex Ferguson or Arsene Wenger, if you can't keep 11 players on the pitch you aren't going to win too many football matches. QPR are in a situation where they've got to win. They have got so many hard games coming up, they've got to have a go. They've had the fluke result - against Liverpool - but I don't think there'll be another.
Aston Villa v Chelsea
PAUL PREDICTS: 0-2
Chelsea are in the last chance saloon - it's their last chance of getting into the top four. If they don't win this game I think that will be it then - they'll say let's focus on the FA Cup and Champions League. Villa could have got really dragged into the relegation battle had they not beaten Fulham the other week, but I think they've got enough points now. Their current situation could last three or four years. They've got to cut the wage bill down and get in lesser players, which is a shame because it is a big club. I think Chelsea will probably win this because they will see it as their last chance to have a shot at the top four, a draw's no good.
Wolves v Bolton
PAUL PREDICTS: 2-1
This is a big one for Wolves, they've got some really bad fixtures coming up and I think they have to win this game. If they don't they might as well turn the floodlights off and go home. For me it's that big. If they win this game they could go one point off relegation, that's not too bad. But if it starts getting to about three-four points and goal difference, it's turn the lights out. They've been shocking - they've lost by big scores and they've been battered in every game they've played recently. Bolton had a big result last week and they can afford to draw, lose though and they are right back in the mix.
Wigan v Stoke
PAUL PREDICTS: 2-1
Out of the bottom teams, Wigan are the ones bang in form, they've had a couple of good results. The manager made a big mistake leaving their big players out against Swansea but since then they've bounced back. I'm going for Wigan in this, but it will be a miracle if they get out of trouble. Fair play to them though, they've been there before and their attitude is spot on. They're not getting battered at the moment.
Everton v West Brom
PAUL PREDICTS: 1-2
I'm very pleased for Everton getting to the FA Cup semi-finals, I think their fans are a different class. It's one of those game where they could rest players, they've got that big game against Liverpool in two weeks. I wouldn't be surprised if West Brom won this game. Everton worked hard against Sunderland and I think players will be rested. If Everton played their full team then I would have backed them though.
Fulham v Norwich
PAUL PREDICTS: 3-2
This is a game you'd like to play in if you were in either team. You aren't pushing at the top and you aren't going down - it's a nice one to play in. I think Norwich have done unbelievably well this season, I thought they were going straight back down. But I think Fulham will edge this, it will be an open game but I think Fulham will win a very entertaining football match. Neither side has anything to lose.
Follow Saturday's football on Soccer Saturday from 12noon on Sky Sports News HD and then see extended highlights on Football First from 8.25pm on Sky Sports HD2.