Heavy mettle
Merse predicts another heavy win for Man Utd, another bad day for Spurs and a key moment for QPR.
Last Updated: 23/03/12 12:00pm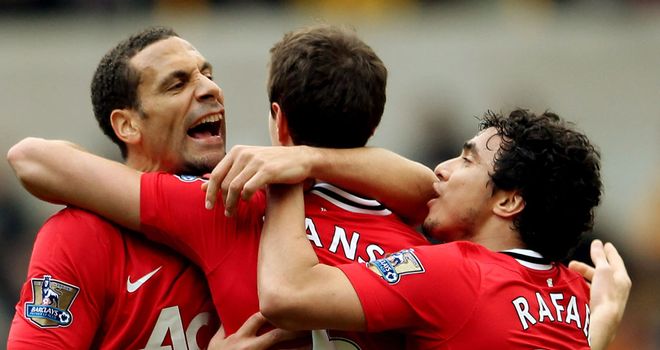 As ever, you can follow all the Premier League action this weekend on Sky Sports.
We asked Soccer Saturday expert Paul Merson to look at the fixtures and give us his verdict on where the games will be won and lost.
He's taking a close look at the live games but this season he's also having his say on all of the other matches, too.
So read on for his shouts and don't forget to let us know your views in the comments box...
Ford Football Special: Chelsea v Tottenham
12pm, Sat, Sky Sports 2 HD
Tottenham have been on a bad run without playing badly... until Wednesday night.
They've not won in four league games, but they were beaten by an on-fire Arsenal, they were beaten by the leaders Manchester United and Everton is always a hard place to go.
I could understand those results, but I couldn't understand the draw at home to Stoke. I've watched Stoke a few times away from home and they haven't been good, so I think that was a poor result for Harry Redknapp.
Spurs have lost their mojo. They went through a lot of the season without losing, but now they're not winning games the players will suddenly feel more tired.
Not long ago they were 10 points clear of Arsenal and by Saturday evening they could be four points behind them. Their fans will be devastated because if there was ever a season for them to finish above Arsenal, this was it. It's scary how quickly things have changed and that's what the Premier League is like. When you get on a bad run it's hard to get off it.
They've gone from a team that was fighting to win the league to a team that's fighting to stay in the top four. If Chelsea win this game the gap will be two points and Spurs will be in danger.
I see this as a must-win game for Chelsea, especially after they got nothing at Man City and Roberto Di Matteo is in a catch-22 situation over his team selection. Does he save his players for Benfica on Tuesday? I don't think they're going to win the Champions League, so I think he must play all of his best players in this game.
Who will play up front? I think Didier Drogba should play in Europe, but he's got a good record against Spurs over the years too. Personally, I don't think the manager knows what his best team is right now.
Despite that, Chelsea have got to be big favourites because Tottenham are on a bad run and confidence is low. Spurs would be happy with a draw, but Chelsea have got to win - and I think they will.
PAUL PREDICTS: 3-1
Ford Super Sunday: West Brom v Newcastle
3.30pm, Sun, Sky Sports 1 HD
Newcastle have definitely exceeded my expectations this season, but West Brom haven't.
I always thought they were a decent team and I didn't see them being in trouble because they've got good players and a very good manager. Roy Hodgson was unlucky at Liverpool; you can't turn down a great job like that but it was the wrong time for him.
The job he's done at Fulham and West Brom shows how good he is, but I hope he isn't remembered as a small-team manager. I don't agree with that point of view - he wasn't given a chance from the word go at Liverpool.
Sadly I don't see West Brom becoming a big club. For me, they're a middle-of-the-table team that can hurt anyone on their day, but can also get well beat on other days.
Right now they're a very good counter-attacking team. They have lots of pace in the side and Marc-Antoine Fortune has been outstanding in the last few weeks. They're set up perfectly to play away and that's why they've struggled at times on their own ground.
They don't have the greatest home record and The Hawthorns isn't somewhere you go with any fear. Newcastle will go there thinking they can get a result and they will make it difficult for them.
Newcastle have worked so hard to be where they are and things are catching up with them, so I think West Brom will nick it.
But I do think Newcastle will finish above Liverpool, who are already in Europe and have bigger fish to fry in the FA Cup. I see Newcastle finishing sixth and that would be outstanding.
PAUL PREDICTS: 2-1
Ford Monday Night Football: Man Utd v Fulham
7pm, Mon, Sky Sports 1 HD
A few weeks ago I would have given Fulham a bit of hope here.
They'd just smashed Wolves 5-0 and were on a run of good results, but then they went to Aston Villa and lost with a whimper, which was a real surprise. Then they lost 3-0 at home to Swansea and never looked like getting in the match.
If they play like that at Old Trafford then it could quite easily be 4-0 or 5-0 and that would do wonders for Manchester United's goal difference.
They won 5-0 last week and you knew that Wolves would capitulate as soon as they conceded the first goal. But you can't take anything away from Man United, who are playing very well right now.
They've not got any other competitions to worry about, so they'll put their best team out in every game. They want to make sure that when they go to Manchester City at the end of April they are at least three points clear.
You have to play Wayne Rooney, but there's not a lot to choose between Javier Hernandez and Danny Welbeck. In this particular game, I'd probably go with Hernandez because Fulham's centre-backs are very good, but they're not the most mobile. His movement can take advantage of that.
Manchester United are going to have a lot of the ball on Monday night and Hernandez makes better runs in tight situations around the box. Welbeck makes better runs from the half-way line, but in a game when they'll be attacking all the time you want someone making darting runs around the area.
I also need to give Antonio Valencia lots of credit. He wasn't getting a game when Nani and Ashley Young were playing well, but he never said a word and got on with things, even when he was asked to play at right-back. He was outstanding last week and could have a big say in the run-in.
I don't see anything but a home win here.
PAUL PREDICTS: 4-0 or 5-0
The rest of the weekend's games
Arsenal v Aston Villa
PAUL PREDICTS: 3-0
I think Arsenal will win this game and consolidate themselves in the top four - and that would be some feat because, let's not get away from it, this isn't the greatest Arsenal team ever. They've done really well and I think they will beat Villa, who are without Richard Dunne. They always have to defend for long spells at the Emirates and I have to go for an Arsenal win.
Bolton v Blackburn
PAUL PREDICTS: 1-1
The Bolton players will go one way or another here. They'll either pull together and work their socks off for Fabrice Muamba or they'll turn up thinking that football's not really a priority. You can't blame the players either way. It's the same with the fans; the atmosphere could be amazing or it could be quite sombre. We won't know until the game starts, but I hope they all band together. A result for Blackburn will make them safe, but a defeat could drag them back into trouble. I can't split the teams and will go for a draw.
Liverpool v Wigan
PAUL PREDICTS: 3-0
I still can't believe how Liverpool lost to QPR. They never looked like losing that game at 2-0 and I can't understand why they took Luis Suarez off at 2-1 either. The pressure is on them after that result because the fans will turn up looking to wipe the floor with Wigan, but I think they should win this because they've got better players all over the pitch.
Norwich v Wolves
PAUL PREDICTS: 1-1
This is the kind of game where Wolves could get a result. I watched Norwich against Wigan and they would have lost that game, but for John Ruddy, and they lost at Newcastle too. They look like a tired team, who have already done their job of securing Premier League football for next year. This is so important for Wolves after that QPR result the other night, so I'm going for a draw.
Sunderland v QPR
PAUL PREDICTS: 1-2
I watched Sunderland against Blackburn and they were very poor. They have worked hard all season and they have an FA Cup quarter-final against Everton on Tuesday, which would take them to Wembley. Martin O'Neill has earned the right to make a lot of changes for this game and the other teams down the bottom won't like that, but I have no qualms with it. For that reason, I think QPR are going to go there and get all three points.
Swansea v Everton
PAUL PREDICTS: 3-0
I'm going for Swansea to win comfortably here, for the same reasons as I've discussed above. Everton have got a very, very big FA Cup game on Tuesday and after they rested players against Liverpool they'll surely rest players against Swansea. If there isn't major changes the Everton fans will ask a lot of questions. Swansea should beat a weakened team.
Stoke v Man City
PAUL PREDICTS: 0-2
I fancy Stoke to give anybody a game at home, but Man City have to win this so that the pendulum swings again. They might be the away side, but they should get a lot of the ball and it looks like it will be a nice, sunny day so the conditions should suit them. They'll be feeling great after beating Chelsea, but they can't afford to blow it against Stoke, who will have used up a lot of energy against Tottenham.
Follow Saturday's football on Soccer Saturday from 12noon on Sky Sports News HD and then see extended highlights on Football First from 8.25pm on Sky Sports HD2.