Massive midweek
Merse says Manchester City will edge past Chelsea in the pick of the midweek games.
Last Updated: 19/03/12 3:30pm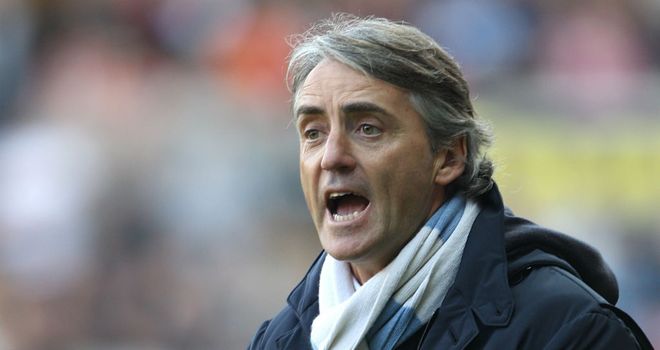 As ever, you can follow all the Premier League action this week on Sky Sports.
We asked Soccer Saturday expert Paul Merson to look at the fixtures and give us his verdict on where the games will be won and lost.
He's taking a close look at the live games but this season he's also having his say on all of the other matches, too.
So read on for his shouts and don't forget to let us know your views in the comments box...
Live Ford Football Special: Manchester City v Chelsea
7pm, Weds, Sky Sports 1 HD
It's a massive game for both teams, I think both sides have to win. With Manchester United going four points clear at the top it's a massive game for City.
Roberto Di Matteo has a dilemma on his hands now - does he play Didier Drogba or Fernando Torres? Torres just looked like a completely different player after scoring that first goal on Sunday. I know it was only against Leicester but it's a start.
I think Chelsea need to win as well, it should be an entertaining match. Di Matteo couldn't have done any more - they're in the semi-finals of the FA Cup, the only English team left in Europe, but their bread and butter is getting in the top four.
I don't see anything wrong with John Terry being vocal on the touchline against Napoli. He's the captain, he's the leader and I don't think it was embarrassing for the manager. Di Matteo's got to be big enough to think: 'well I'm in charge but it's okay'.
The four-point gap is starting to look significant - they've got to win this game just to stay on the coattails of Manchester United. It's unbelievable how this has changed around in the last five or six weeks. These last 10 games are so different to the first 28 - the pressure is unbelievable. People say Man United have been there before and hold the advantage - the prime example was last Sunday, if that was United at Swansea they would not have lost that game.
I would play Carlos Tevez, he'd be like a new signing and City need something to give them a spark. At the moment they are just looking at each other waiting for something to happen. David Silva has hit a brick wall and I think the season has caught up on him. But I just think Man City will nick it - Chelsea look too vulnerable at the back.
PAUL PREDICTS: 2-1
Blackburn v Sunderland (Tuesday)
This is another big game - certainly for Blackburn. I think this is a very good time for Blackburn to be playing Sunderland, they didn't play at the weekend whereas Sunderland had a very difficult game. Martin O'Neill is going to have one eye on the cup replay - they can't get into Europe and they can't go down so it's a good time for Blackburn to be playing them.
Certain games are just timed right for certain teams and it's all stacked in Blackburn's favour - and they have to win. I watched Blackburn in their last home match and they were absolutely shocking, but then they go to Wolves and slaughter them. Junior Hoilett scored two there and I think he is a really good player. No disrespect to Blackburn but I think he'll go onto bigger things next season with someone else.
I'm going for a Blackburn win in this one, I just think everything is stacked in their favour. Around the bottom no-one pulled up any trees at the weekend. If they win this game then they can open up a gap between third bottom.
PAUL PREDICTS: 2-1
QPR v Liverpool
I think QPR will get relegated, they've just got too many hard games coming up and in a couple of recent matches they could have won had they kept 11 players on the pitch.
It doesn't matter if it's Sir Alex Ferguson, Arsene Wenger or Jose Mourinho sat on the bench, if you're playing with 10 men it's more than likely that you are going to lose. They need a fluky result from somewhere.
If they lose this and Blackburn win then there is a dangerous gap opening up. I watched them against Everton a couple of weeks ago and they were the better team by a mile but they didn't win, they need wins - draws at this time of the season aren't good enough.
Liverpool will go there and enjoy playing against QPR, they're at Wembley in a cup semi-final, they've already won a trophy and they can't get into the top four - they're a dangerous animal because they can now just play and express themselves.
Stewart Downing scored at the weekend and I think, like Fernando Torres, he will now look like a completely different player. That's the way it works out.
PAUL PREDICTS: 1-2
Everton v Arsenal
Everton are another team with one eye on the cup. David Moyes put all his eggs in one basket by resting players against Liverpool and then not beating Sunderland at home. I think he will probably do it again this week. Everton have got bigger fish to fry.
Arsenal are on a good run and are probably getting a little bit of luck at the moment which they did not have earlier in the season. Their luck has changed and they keep picking up points. If they beat Everton and Chelsea lose at Manchester City I think they will definitely finish in the top four.
Robin van Persie must think he's going to score every time he plays and Alex Oxlade-Chamberlain is going to be a very special player. He even went into the centre of midfield against AC Milan and looked like he had played there for years.
He's got to go to the European Championship - he may not get in the England first XI but he can play in three or four different positions.
PAUL PREDICTS: 1-3
Tottenham v Stoke
First thing's first, my thoughts go out to Fabrice Muamba, it was unbelievable what happened to him on Saturday at White Hart Lane. I think this will be a very strange game, very low key, and I'm surprised they're playing if I'm honest.
Stoke are out of the cup and their season is over, but for Tottenham, who were considered title challengers five weeks ago, all of a sudden they are looking at the possibility of dropping out of the top four.
They've had a couple of bad result but let's put it in perspective - they have been against good teams such as Arsenal, Manchester United and Everton is not an easy place to go. They're having their blip now but it might be at the wrong time.
PAUL PREDICTS: 3-0