Too slick to slip
Will Man United falter at Wolves? Not a chance says Paul Merson, as he calls the weekend games.
Last Updated: 16/03/12 10:58am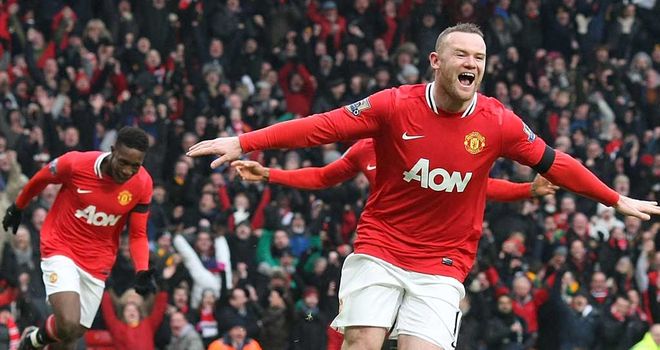 As ever, you can follow all the Premier League action this weekend on Sky Sports.
We asked Soccer Saturday expert Paul Merson to look at the fixtures and give us his verdict on where the games will be won and lost.
He's taking a close look at the live games but this season he's also having his say on all of the other matches, too.
So read on for his shouts and don't forget to let us know your views in the comments box...
Ford Super Sunday: Wolves v Man Utd
1pm, Sun, Sky Sports 1 HD
If Manchester United had been playing away at Swansea last weekend there's no way they would have lost.
It was a shocking result for Manchester City, but United have been in these situations before and have come out on top. If they'd been in that game they'd have made sure it stayed 0-0 so that they stayed top of the league.
That's the difference between the teams that have been there and the teams that haven't. Experience is priceless and last weekend summed it all up.
United are top of the league now and there's no way I can see them slipping up against a Wolves side that have had two shocking results in their last two games against Fulham and Blackburn.
They'll need to keep Wayne Rooney fit, though. It doesn't matter how many times you've been there, you still need your go-to man and he will need to keep scoring goals as he has done in his last few games. Ashley Young has bounced back and is playing well again, but Rooney is still the main man.
United's next six games are absolute gimmes and the way things are going, you wouldn't be surprised if it was all over by the time they play Man City at the end of April. I think if Sir Alex Ferguson can beat City to the title with this team it would be one of his greatest achievements.
Don't expect to see him resting any of his best players with 10 games to go either. These players will all be on a beach in nine weeks' time, so there's no point rotating at this stage. That policy backfired for them in the Champions League this year and he'll have learned from that.
You sometimes get funny results at this time of year, but not from teams that are playing with no confidence. Wolves are a bag of nerves at home at the best of times and I can't see how they can beat Manchester United.
They will probably need to set up with a very defensive 4-5-1 system - and straight away their fans will be on their backs because they're not attacking. It's a catch-22 situation for Terry Connor and I can't see anything but a Man United win.
PAUL PREDICTS: 0-3
Ford Super Sunday: Newcastle v Norwich
3.30pm, Sun, Sky Sports 1 HD
Newcastle have done great to get to where they are, but they aren't having as much luck as they were at the start of the season.
They were 1-1 in the 93rd minute at Arsenal with the ball by the corner flag, but they still managed to lose the game. They shouldn't feel too hard-done-by, though, because they've had a great season. I definitely had them down for the bottom half, so they've exceeded my expectations.
I fancy them to beat a Norwich side that were second best against Wigan last week, but got away with a draw. It was a shock to see them on the back foot in that game.
I wouldn't say teams are sussing them out; they're a flowing football side, but they're a team that looks tired. They have to play to their maximum every week to win games and if they slip below their standard they could lose to anybody.
But I've watched them at Old Trafford and at Anfield they've had a go wherever they've gone. Fair play to them for that. I wonder if their eyes were opened by Ian Holloway and Blackpool last year?
So they will have a go at Newcastle; Norwich are in a position where the players will want to play some good football. They'll go and express themselves.
But Newcastle should be good enough to pick them off and I'm expecting a very entertaining game.
PAUL PREDICTS: 3-2
Saturday's games
Fulham v Swansea
Swansea fully deserved to beat Man City last week and for parts of that game you'd have thought they were the ones that had spent hundreds of millions of pounds. They're all confident on the ball and they have been a credit to the Premier League.
It will be tough for them at Fulham, who thrashed Wolves in their last home game. They got beat at Villa last week, but they are very good at home and will press Swansea all over the pitch.
It'll be interesting to see how Pavel Pogrebnyak plays because he barely kicked the ball last week, but they have a class act in Clint Dempsey. He could play for any of the big boys - and I'm sure they'll be sniffing around in the summer.
I'm going for an open game and a home win.
PAUL PREDICTS: 2-1
Wigan v West Brom
Wigan keep surprising me. One minute they're absolutely atrocious (against Swansea) and the next they go away to a hard place like Norwich and play them off the pitch. They should have won that game easily last Sunday.
If they win this one they will climb out of the relegation zone, but West Brom are a hard team to play against. They got beaten at Man United last week, but they well beat Chelsea the week before - it should have been more than 1-0 - and have been in great form.
Wigan need to win, but if they push forward too much they could get stung on the break.
PAUL PREDICTS: 1-2