Basement blues
Paul Merson makes his predictions and it's not good news for struggling Wigan and Blackburn.
Last Updated: 09/03/12 11:48am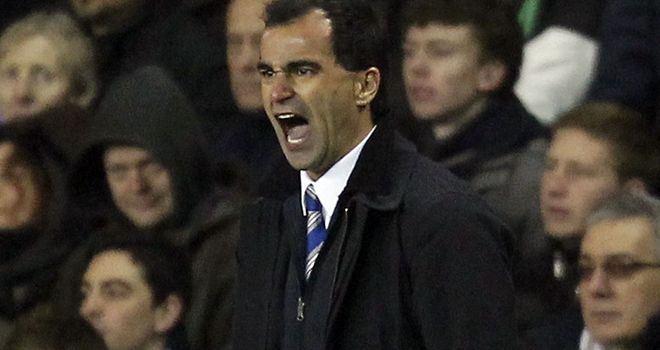 As ever, you can follow all the Premier League action this weekend on Sky Sports.
We asked Soccer Saturday expert Paul Merson to look at the fixtures and give us his verdict on where the games will be won and lost.
He's taking a close look at the live games but this season he's also having his say on all of the other matches, too.
So read on for his shouts and don't forget to let us know your views in the comments box...
Ford Football Special: Bolton v QPR
12.30pm, Sat, Sky Sports 2 HD
This is a massive game because whoever loses is in severe trouble.
QPR have got some stinking games coming up. They play a lot of the big boys soon and so I see this as one that they cannot afford to lose. Three points would be ideal, but they can't gamble too much and risk going away with nothing.
They played well against Everton last week and should have won the game. Akos Buzsaky missed a golden chance (surely one of the misses of the season) and as a result they didn't win.
There's no doubt they've got decent players, but I do worry for them. The return of Djibril Cisse will make a difference, but they need to keep all their players on the field. They've had too many players sent off lately and even Man United or Man City would lose more than they win with 10 men on the pitch every game.
They've got good players going forward, but the big thing for QPR is they aren't good enough at the back. You can't see them going through a game without letting in a goal.
If Bolton play like they did at home to Arsenal and Liverpool they should be alright, but you can look at them getting ripped to shreds by Wigan and it tells a different story. You don't know what you're going to get with Bolton.
I think this will be a draw - and I think QPR will be happy with that.
PAUL PREDICTS: 1-1
Ford Super Sunday: Norwich v Wigan
3.30pm, Sun, Sky Sports 1 HD
I could not believe Wigan's team sheet last weekend.
No Victor Moses. No Mohamed Diame. No Hugo Rodallega. I know they'd all travelled away to play international football, but in two months' time they'll all be sitting on a beach.
I couldn't believe he left probably his best three players players on the bench for a must-win home game against Swansea. A lot of other international footballers played last weekend and that decision bordered on unbelievable.
I don't think Dave Whelan should have expressed his concerns to the press, but you can't blame him for pulling the manager aside to ask what he was doing. It's his club and if they go down then you've got to wonder if they'll ever come back.
They only need a couple more results like last week and they'll be blown out of the water in the relegation scrap. However, they have been in this position before - the players and the fans know what it's like - and their knowledge will be a big advantage.
But if a team struggles every year, before you know it they will go down in the end. It's very rare that a team finishes fourth or fifth bottom for three years in a row then surges up to mid-table. It's just a matter of time before they go and I think this could be the year.
I can't see them winning this game either. Apart from against the top teams, Norwich have been very good at home and I expect a big win. If they win this, they'll only need one more win to guarantee another year in the Premier League themselves.
PAUL PREDICTS: 3-0
Ford Monday Night Football: Arsenal v Newcastle
7pm, Mon, Sky Sports 1 HD
Sometimes you can find a positive way to go out of a competition and I think Arsenal will be buzzing after their amazing game with AC Milan.
They might be out of the Champions League, but in their last three games they've played Tottenham, Liverpool and AC Milan, won all three and scored 10 goals.
Don't get me wrong, they rode their luck big time against Liverpool, but maybe their luck is changing. I think they will go on and get fourth in the Premier League now because they're the team in form.
And Alex Oxlade-Chamberlain showed us what an unbelievable talent he is. They put him in midfield against a top European team and his performance spoke volumes. He won't be far off becoming a legend for Arsenal.
On that display he won't be a million miles away from England's squad for the Euros either. I always say that if you're taking squad players who are unlikely to start, then you should take a couple who can play in three or four positions. He must be a dark horse for getting in that squad.
I thought Gervinho was poor on Tuesday. Out of everybody he was the one who didn't perform and Arsene Wenger may be tempted to put Chamberlain back on the wing. But I thought the midfield trio of him, Tomas Rosicky and Alex Song was outstanding, so it's a hard decision.
They're full of confidence and I think they will beat Newcastle. Alan Pardew's team have had an unbelievable season, but they've had to work their socks off every week and I think it's caught up with them.
No matter what happens, this has been an unbelievable season for them. They just need to make sure they finish above Sunderland!
PAUL PREDICTS: 3-1
The rest of the weekend's games
Aston Villa v Fulham
PAUL PREDICTS: 1-1
Pavel Pogrebnyak might have been an unknown quantity so far, but I'm sure he'll be talked about in the Aston Villa team talk. He's been outstanding, but let's see how he copes with a bit more attention. Villa are unlucky to be playing Fulham in such good form because they need to win a football match quickly. They were outstanding in the first half against Blackburn, but after the break they looked like a team that could go down. This could be a draw.
Chelsea v Stoke
PAUL PREDICTS: 2-1
Chelsea will have one eye on the Napoli game and are there for the beating. Personally, I'd say finishing fourth in the league is more important for them (I watched Barcelona on Wednesday and Chelsea AREN'T going to win the Champions League). But I've watched Stoke away from home too many times recently and I've been very disappointed with them. They are great at home, but tend to go down with a whimper on the road and I think Chelsea will win.
Sunderland v Liverpool
PAUL PREDICTS: 0-2
Stephane Sessegnon and Lee Cattermole are both suspended, which is disastrous for Sunderland. Meanwhile, Liverpool are at a stage where they might as well throw caution to the wind in every game and go for the three points. It doesn't matter if they end up with nothing. I'll go for Liverpool to win 2-0.
Wolves v Blackburn
PAUL PREDICTS: 2-1
We describe these games as six-pointers and neither side can afford to lose. Wolves got slaughtered at Fulham and while you can't blame the manager, that's the sort of result you get when you've got a caretaker in charge. It's an easy excuse for the players and they need to perform on Saturday, but I think they will because I've seen some shocking performances from Blackburn lately. I'll say 2-1 to Wolves.
Everton v Tottenham
PAUL PREDICTS: 1-1
Everyone's saying Tottenham have blown a gasket, but I don't see that. They played well against Man United and got unlucky and they battled back from an early kick in the teeth against Stevenage. However, Everton is a hard place to go, I've played there plenty of times, and I think they will take a draw.
Man Utd v West Brom
PAUL PREDICTS: 2-1
West Brom are flying along on a massive high with pace up front and Marc-Antoine Fortune holding the ball up, so this game is anything but a foregone conclusion, especially after Man United's tough game against Athletic Bilbao. I'll go for a Man United win, but I wouldn't be surprised if we saw a draw here.
Swansea v Man City
PAUL PREDICTS: 0-3
I don't see a shock in this one. Man City are the only team in the league who can win games playing in first gear (I'm not sure they even got into gear against Bolton...) That's a major problem for all the other teams because they can step it up when they need to. Swansea got a big result last week, but teams have got used to them now and I think Man City keep the ball too well to risk losing this.
Follow Saturday's football on Soccer Saturday from 12noon on Sky Sports News HD and then see extended highlights on Football First from 8.25pm on Sky Sports 2 HD.