Ground control
Merse predicts Man United will slip further behind Man City, while Liverpool will be held by Arsenal.
Last Updated: 02/03/12 12:25pm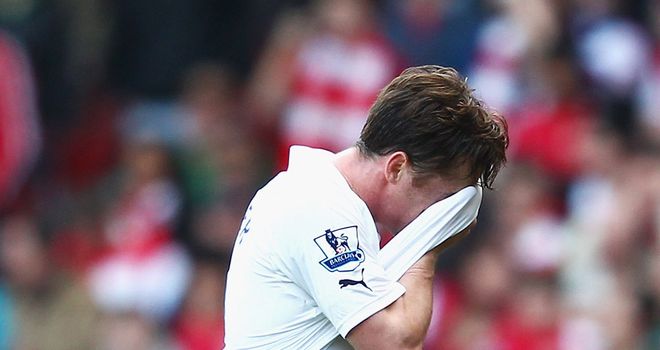 As ever, you can follow all the Premier League action this weekend on Sky Sports.
We asked Soccer Saturday expert Paul Merson to look at the fixtures and give us his verdict on where the games will be won and lost.
He's taking a close look at the live games but this season he's also having his say on all of the other matches, too.
So read on for his shouts and don't forget to let us know your views in the comments box...
Ford Football Special: Liverpool v Arsenal
12pm, Sat, Sky Sports 2 HD
There are three huge teams chasing a place in the Champions League, but only one of them will get it.
We've got Arsenal, Liverpool and Chelsea going for fourth place - you could include Newcastle, but I wouldn't - and all of them are badly in need of Champions League football if they want to progress.
I would back Chelsea at the moment because I don't believe they'll carry on playing so badly. Also one of the other two, or both, will drop points on Saturday lunchtime.
It will be tough because a lot of these players have played all over the world this week and the managers will get hardly any preparation time with their players before this game. That could be a bit of a leveller.
Arsenal produced an unbelievable performance to come back against Tottenham, but even at 2-0 down I always felt they had a chance.
They were playing quite well, the first goal was a penalty and I think Gareth Bale dived for the second. I was surprised Tottenham didn't score again in the final hour, but I wasn't surprised Arsenal kept creating chances.
Fair play to Theo Walcott. He had the worst first half you've ever seen and could have gone hiding after half-time, but he deserves credit for a class performance.
If that doesn't give them confidence then nothing will. You'd like to think that will kick-start their season and they can try to finish in the top four, which is their be-all-and-end-all. Forget finishing ahead of Spurs, just make sure you finish in a Champions League spot.
They could easily go to Liverpool and lose because they're facing a big-game team and it's very rare Liverpool get turned over at home by one of the big boys.
They've got the Carling Cup in the bag, but now it's all about the race for fourth and both teams have to go out for the win.
I don't think a draw will be good to either team, but I think that's how it will go.
PAUL PREDICTS: 1-1
Ford Super Sunday: Fulham v Wolves
1pm, Sun, Sky Sports 1 HD
Wolves should have had someone in place to replace Mick McCarthy straight away, but after two weeks they settled on his assistant, Terry Connor.
They must have decided that they might as well go with someone who knows the club inside out and isn't going to need five or six games to get to know the players - because Wolves haven't got five or six games to spare.
So part of me thinks it's a good move in the end, but at the start I don't think they should have sacked McCarthy.
I saw a bit of their game with Newcastle and they didn't deserve to be 2-0 down at half-time. I always felt they had a chance if they scored - and that's what happened.
I think they will stay up. Kevin Doyle must come good sooner or later, Steven Fletcher is a good player and with those guys they should be okay.
They'll be happy with a point from this game because Fulham is a hard place to go.
They made QPR pay last week and they're a bit like Stoke at home; they're stronger than people think they are. If Wolves can come away with a 1-1 draw they will be more than happy.
PAUL PREDICTS: 1-1
Ford Super Sunday: Tottenham v Man Utd
3.30pm, Sun, Sky Sports 1 HD
When you've just been spanked 5-2 by your local rivals the last thing you want is a game against one of the best sides in the country.
And to make matters worse for Tottenham, Scott Parker is suspended and that's a massive miss. They haven't had a midfielder like him in the past and he has turned a decent team into a very good one with his closing down in midfield.
But I don't agree with these people who say that Spurs are going to fall apart and Arsenal will finish above them. Let's not get carried away; things went a bit wrong on Sunday, but they're still a very good football team.
They've got into the top three by playing two out-and-out wingers, getting the ball wide and putting balls into the middle, but they changed things around on Sunday and that played right into Arsenal's hands.
I expect Man United to play 4-4-2 - if Wayne Rooney is fit he'll play alongside Danny Welbeck - and I think Spurs will match them up because that's what they're good at. They had great success against Newcastle playing that way and if they play with three in central midfield they'll be playing into United's hands.
You have to give Man United credit for the way they keep winning games without playing great. The game against Norwich was a perfect example of that, but they'll be hoping Rooney is back to make things happen.
I expect to see a lot of goals in this game. Man United aren't going to keep a clean sheet at Tottenham if they can't keep one at Norwich and I expect a very open game.
I think it will be a draw. That might mean they'll be left four points behind Man City, but in the long run all of these points mount up.
PAUL PREDICTS: 2-2
The rest of the weekend's games
Blackburn v Aston Villa
PAUL PREDICTS: 2-1
Villa play Blackburn, Fulham and Bolton in the next three games and six or seven points would surely be enough to keep them up. The problem is they have a ridiculously hard run after that when they play all the top teams. Villa's big issue is where the goals will come from without Darren Bent and Robbie Keane. For that reason I think Blackburn will win.
Man City v Bolton
PAUL PREDICTS: 5-0
This is a massive mis-match at the highest level because I just don't think Bolton are good enough. They did well against Chelsea for about 45 minutes, but as soon as they conceded it could have been any score. This isn't an important game for Bolton as long as it doesn't get silly. They just need to be careful because the relegation scrap could go down to goal difference.
QPR v Everton
PAUL PREDICTS: 0-2
QPR haven't been good enough lately, especially without 11 men on the pitch for most of the time! I can't see Everton losing this game. They play at a high tempo and work their socks off, which tires you over a season, but they've just had a nice two-week break. That's not good news for QPR.
Stoke v Norwich
PAUL PREDICTS: 3-1
This will be a decent game, but I'd back Stoke to beat anybody at home. They got a decent result against Swansea, but will find it tough against a Norwich side that didn't let themselves down against Man United last week.
West Brom v Chelsea
PAUL PREDICTS: 1-2
West Brom are in a rich vein of form and I watched them steamroller Sunderland last week, but before that their home form had been atrocious. Chelsea have been dodgy at the back and Daniel Sturridge's injury is a blow, but the cream usually rises to the top and I think Chelsea will win.
Wigan v Swansea
PAUL PREDICTS: 1-1
This is a big game for Swansea. They're slipping down the league very quickly with nobody noticing and there's always one team like that every year. I seem to say it every week with Wigan, but they need to win their home games. Draws, like the one they had with Villa last week, aren't much good to them, but that's what I think will happen.
Newcastle v Sunderland
PAUL PREDICTS: 2-1
This is such a big game that whoever wins it could lose every other game this season and it would still be alright. Alan Pardew is a hero, but if he'd lost the derby in the second game of the season he would have been in major trouble and I think that defeat ultimately cost Steve Bruce his job. Both teams have been on a great run, but the season seems to be catching up with both of them and it's a hard one to call. It wouldn't surprise me if Sunderland won, but they looked jaded last week so I'll give it to Newcastle.
Follow Saturday's football on Soccer Saturday from 12noon on Sky Sports News HD and then see extended highlights on Football First from 8.25pm on Sky Sports 2 HD.