Final flings
Paul Merson makes his calls - and says there are TWO cup finals taking place on Sunday.
Last Updated: 24/02/12 1:15pm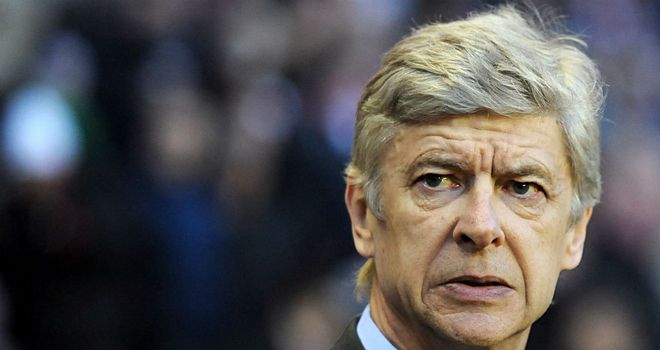 As ever, you can follow all the Premier League action this weekend on Sky Sports - and you'll see the Carling Cup Final too.
We asked Soccer Saturday expert Paul Merson to look at the fixtures and give us his verdict on where the games will be won and lost.
He's taking a close look at the live games but this season he's also having his say on all of the other matches, too.
So read on for his shouts and don't forget to let us know your views in the comments box...
Ford Super Sunday: Arsenal v Tottenham
1pm, Sun, Sky Sports HD1
This game is Arsenal's cup final for this season.
In years gone by this hasn't been the biggest game for them - Manchester United and Chelsea were bigger - but all of a sudden this is the defining game of the year.
If they lose this game then I don't know where Arsenal are going. Three or four years ago they were a million miles ahead of Tottenham, but now Spurs can win this game and show that they're the ones way out in front.
Even if Arsenal win I very much doubt they can catch Tottenham in the table. They'd need to win five games on the trot to do that and I don't think this team is good enough to do that.
They're not a very good team; it's as simple as that. You can go around the houses with ways to be polite about it, but that's the issue. There were players in the team against AC Milan that shouldn't be playing for Arsenal. It's not fair to single individuals out, but there are guys that shouldn't be at the club, let alone playing in big European ties.
When David Dein was there, they were bringing in players like Thierry Henry, Dennis Bergkamp, Patrick Vieira, Marc Overmars and Emmanuel Petit. Those were class footballers in the top 20 in the world at the time. Now they're bringing in players that Fulham wouldn't take if they came up for sale tomorrow. That's the way it's gone.
You have to look at the manager. He hasn't won anything for seven years, so questions have to be asked. You've got to forget what he's done before - seven years ago I was still a footballer, but I don't think anybody would pick me now!
Arsene Wenger has done a great job for Arsenal, but time moves on and you've got to look at what's happening now. And what's happening right now is that they're falling way behind their arch rivals from up the road.
Sunday's game is bigger for Arsenal than it is for Tottenham and I can't remember the last time I said that. When I was at Arsenal I remember the whole first team being rested against Spurs because we had a cup final the next weekend. All of a sudden this <>is the cup final.
Tottenham will want to go there and rub their noses in it and Arsenal need to start well. If they fall behind in the first 15-20 minutes I think I'll turn the telly over because it could get really bad.
I don't think a draw will be much good to Arsene Wenger, but that's what I think will happen because I don't see them keeping Tottenham to nil.
PAUL PREDICTS: 1-1
Carling Cup Final: Cardiff v Liverpool
3.30pm, Sun, Sky Sports HD1
Do Cardiff have a chance in this game? Only if Liverpool don't arrive with their mind on the job.
If Liverpool do what Arsenal did last year and think they just need to turn up then we could see drama, but if they match Cardiff for attitude and effort then there's absolutely zilcho chance of an upset.
I've been there myself as a player. You play against a team from a lower division and you think that if you just go out on the pitch and play your normal game then you will win. Well if you're not ahead after 20 minutes then the other team get belief and you can't just turn it on like a tap.
People say that Kenny Dalglish won't let his players be complacent, but you'd have said that about Arsene Wenger before the game with Birmingham in last year's final. It's not about the manager, it's about the mental preparation of the players before they go out onto the pitch.
As we've seen against Man United and Man City recently, Liverpool are a big-game team - but those matches look after themselves. You then look at their home games and pick out loads of examples of matches they've drawn when you'd expect them to win - just as you'd expect them to win on Sunday. That's the only worry, but if these players are mentally right then they could win by any score.
If I was the manager I would take the game to Cardiff. I'd play Luis Suarez and Andy Carroll up front with Craig Bellamy on the wing. Cardiff will try to keep it tight so Liverpool might as well play as many attacking players as they can.
Peter Whittingham has a great delivery and Cardiff will always have a chance from set plays, but which of their players would get in the Liverpool team? None. If Liverpool have their heads right then they should win easily.
PAUL PREDICTS: 4-0 to Liverpool
Ford Football Special: Man City v Blackburn
5pm, Sat, Sky Sports HD2
I would expect Manchester City to win this game comfortably and, for the first time in a while, that will put severe pressure on Manchester United.
In recent weeks it's been the other way round because United have played first but now City can put the pressure on before United play Norwich on Sunday.
The January window might be long gone, but City will feel like they've got some new signings in their team. The two Toures are back from Africa and Yaya is a massive player for them.
Plus I still think Tevez has a part to play. If he had been playing for them for the last four months they would have probably won the league by now. Roberto Mancini's not silly and he will know that.
In their last game against Aston Villa they dominated the game but didn't look like scoring a lorryload of goals. Shay Given certainly wasn't diving around left, right and centre, so Tevez could come back and give them a different dimension.
This game is obviously too soon for him, but even though Blackburn will go there and put 10 men behind the ball I can't see City having too many problems and I can't see anything but a home win.
From Blackburn's point of view it's so tight at the bottom, that goal difference might come into it sooner or later. They might have to focus on not losing too heavily.
PAUL PREDICTS: 3-0
The rest of the weekend's games
Chelsea v Bolton
PAUL PREDICTS: 2-1
I don't know what's happening with Chelsea. A few years ago I've have said 4-0 to the home team, but I don't think Bolton will be panicking about this one. If they can keep it quiet for 20 minutes it could get very interesting. I expect Chelsea to win, but they're playing so badly that it wouldn't surprise me if they drew.
Newcastle v Wolves
PAUL PREDICTS: 3-1
The Wolves situation is extraordinary. It's been two weeks since Mick McCarthy got sacked and they're going into this game with the assistant manager in charge. What is going on? I would be disgusted if I was a fan. I don't know if they're trying to cut corners, but two weeks is a long time to sort it out. Newcastle's strikers are a real handful and with them being at home I think this will be another game gone for Wolves.
QPR v Fulham
PAUL PREDICTS: 2-2
This is a big game for QPR because they need to win their home games. They were atrocious in the first half against Blackburn, but after the break they were outstanding and should have got a result (but it's easy to play football when you're 3-0 down and the shackles are off). I think this will be an open game and Fulham will have a go.
West Brom v Sunderland
PAUL PREDICTS: 1-1
West Brom's home record is bordering on atrocious, but they're fine away from home and smashed Wolves last time out. Sunderland have been absolutely phenomenal under Martin O'Neill - they just keep going and going - and Fraizer Campbell will be on cloud nine after his England call-up. I think this will be a draw.
Wigan v Aston Villa
PAUL PREDICTS: 1-2
Wigan will highlight this as a chance to beat a team that is bang out of form. Villa are on a slippery slope with glass slippers on and if they lose this game and the game with Blackburn next week then they are in a right mess. I think Alex McLeish would take a draw, but if they win this game I think it'll mean another season in the Premier League. I think Villa's pace and Darren Bent's goalscoring might make the difference.
Norwich v Man Utd
PAUL PREDICTS: 0-3
To be honest, this shouldn't be a hard game for Man United because Norwich haven't got a great record at home to the big boys this year. Don't get me wrong, Norwich have been outstanding this year, but Sir Alex Ferguson won't go there shaking in his boots. I think they'll win fairly easily.
Stoke v Swansea
PAUL PREDICTS: 3-1
Stoke are out of Europe now and they need to get their form back together in the league. They've been very patchy, particularly away from home, and they must address that. Stoke will get the ball forward quickly, Swansea will pass it around and it will all depend on who sticks to their gameplan for longer. Stoke will squeeze Swansea all over the place and I think their height and strength will see them win
Follow Saturday's football on Soccer Saturday from 12noon on Sky Sports News HD and then see extended highlights on Football First from 8.25pm on Sky Sports HD2.