Back on top
Despair for Dalglish? Result for Roberto? Happiness for Harry? Merse calls the weekend games...
Last Updated: 10/02/12 12:45pm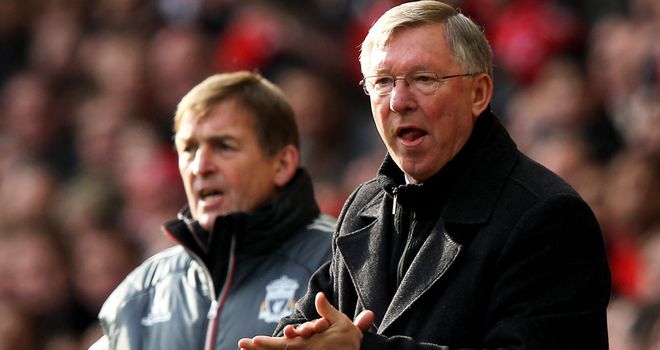 As ever, you can follow all the Premier League action this weekend on Sky Sports.
We asked Soccer Saturday expert Paul Merson to look at the fixtures and give us his verdict on where the games will be won and lost.
He's taking a close look at the live games but this season he's also having his say on all of the other matches, too.
So read on for his shouts and don't forget to let us know your views in the comments box...
Ford Super Sunday: Man Utd v Liverpool
12pm, Sat, Sky Sports HD2
Despite everything that has gone on, it's a no-brainer for Kenny Dalglish to start Luis Suarez against Man United.
You play your best players in the big games and he's their second-best player after Steven Gerrard. I was surprised he didn't start against Tottenham and would have rather seen him play 60 minutes than come off the bench.
He's served his punishment now and it's time to move on - and I'm sure he'd rather be out on the field than warming up on the touchline in front of the Man United fans every 10 minutes!
I'm a big fan of Patrice Evra, too. I think he's one of the better defenders in the Premier League, but he hasn't played well recently. I don't think the Suarez situation has caused that, I think he's just had a dip in form like every player does.
This is a big game for Man United. Even though they came back from 3-0 down to Chelsea, you'd probably say it was two points dropped because they played very well. If they play like that again on Saturday, I don't see them having many problems with Liverpool.
Dalglish's side got well beaten at Bolton, but they are a big-game team. They've beaten Man United and Man City in the last couple of weeks and they were easily the better side against Tottenham.
I just don't see them winning this game, though. Liverpool have been very strong at the back this season, but I see Man United scoring at least a couple and I don't think Liverpool have enough of a goal threat. Andy Carroll can't get going (I think one of his shots against Tottenham is still rising) and he's struggling badly.
For me, Gerrard and Suarez are the two - and if Man United can stop them they will be halfway to topping the league on Saturday lunchtime. I see Liverpool getting one, but United should get two or three.
PAUL PREDICTS: 3-1
Ford Super Sunday: Wolves v West Brom
1pm, Sun, Sky Sports HD1
This is always a big game in the Midlands, but this is a big game full stop when you look at the bottom of the Premier League.
At the moment it looks like the scrap is between Wigan, Blackburn, Bolton, QPR and Wolves - but West Brom could get dragged into it. Their home form is shocking; they've only got eight points at The Hawthorns this season and normally a record like that would leave you bottom of the league.
I don't understand why they are so much better away from home. They like to play on the counter-attack with the pace of Peter Odemwingie and Shane Long, but you could play like that at home as well. Maybe their fans put too much pressure on them to go forward and try to win games. They're probably happier that this game is away from home.
They miss the lethal left foot of Chris Bunt, who is capable of putting a ball on a sixpence, but I'd still be shocked if they went down.
As for Wolves, they were second best against QPR until Djibril Cisse got sent off and that incident turned the game in their favour. You wonder if Mick McCarthy would still be in the job if that hadn't happened.
When the owner of your club starts going in the dressing room after a game to have a go at the players, it suggests you're in serious trouble. That shouldn't happen. I hope a defeat at home to West Brom wouldn't see him lose his job, but it would put him under severe pressure.
They need to start getting a bit more out of Kevin Doyle, who has been a disappointment this season. I think he might play on Sunday and if he hits a bit of form, I don't see them going down.
Overall, neither team can afford to lose this so I'm going to go for a draw.
PAUL PREDICTS: 2-2
Ford Super Sunday: Aston Villa v Man City
3.30pm, Sun, Sky Sports HD1
I can only see one winner on the big Villa Park pitch. Man City will pass Aston Villa to death and I think they could rip them to shreds on Sunday.
I watched Villa against Newcastle and after a good first half they got completely over-run in the second 45 minutes. They're not very free-flowing at the moment, they don't make many chances and I see them hanging on at times during this game.
Robbie Keane has done well because Villa have been crying out for a Number 10 for ages and he always finds good pockets to play in. I think he's faded as games have gone on, but he's been a good signing. However, it doesn't bode well when your best player is somebody on loan from an MLS club.
They will probably play like the away team here. They'll sit back and try to catch City on the counter-attack and I could see them playing a bank of five in midfield as part of a 4-5-1 formation. Otherwise, they'll get over-run in midfield.
But if you give players like David Silva, Sergio Aguero and Samir Nasri time on the ball they will create more than enough chances - and I think they will get plenty of goals here.
The only problem for them is if Man United win then they'll be playing catch-up for the first time - and that's a different mentality. If your opponent putts first in golf and sinks it, the hole always looks smaller when it comes to your shot.
I think they will cope with that pressure, though. I played at Villa and I think Man City will have a lot of fun on that massive pitch.
PAUL PREDICTS: 0-3
The rest of the weekend's games
Blackburn v QPR
PAUL PREDICTS: 2-1
Blackburn shipped seven last week, but Arsenal are capable of that from time to time. Three days earlier Blackburn deserved to beat Newcastle, but we've been talking about their bad luck for the last three months. By this stage you're either a good team or you aren't and they're heading towards the latter. However, I think they'll win this game at home. It could be a long season for QPR.
Bolton v Wigan
PAUL PREDICTS: 2-1
This is a must-win game for both teams and neither would be happy with a draw. If Wigan lose I think you can say goodbye to them, but if Bolton can't win a game like this at home there isn't much hope for them either. Bolton have had good results against Liverpool and Arsenal and their fans will expect to win - and I think they'll have a bit too much.
Everton v Chelsea
PAUL PREDICTS: 1-1
You shouldn't go 3-0 up and get dragged back to 3-3, especially with 11 international footballers in your team. Last week's result will have knocked Chelsea's confidence and they have been struggling in recent games. I always say Everton is a hard place to go and I would be absolutely shocked if Chelsea win this one. I'll go for a 1-1 draw, but if I had to pick a winner I would pick Everton.
Fulham v Stoke
PAUL PREDICTS: 2-1
Stoke had a bad result last week at home to Sunderland and they haven't been great away from home. I think Fulham will miss Bobby Zamora badly; it was clear he and Martin Jol didn't get on, but they will give anybody a game on their home pitch and they won't get dragged into the relegation mix. Clint Dempsey is a top-drawer player and he can inspire them to a win.
Sunderland v Arsenal
PAUL PREDICTS: 1-2
Arsenal's season could be over by next weekend. If they lose to Sunderland you could say goodnight to fourth, then if they lose to AC Milan in the Champions League and Sunderland in the FA Cup they'll have nothing left - and we have seen Arsenal's season come to an abrupt end a few times over the years. Sunderland have been outstanding, but I'm not sure they can keep their form going. I think Robin van Persie might be the difference.
Swansea v Norwich
PAUL PREDICTS: 3-1
Whoever walks off this pitch with three points can say mission accomplished for the season. I think both will stay up (I don't see either of them 'doing a Blackpool'), but one of them can get it done on Saturday in my eyes. I watched Norwich last week and they were outstanding, but I think home advantage will sway this in Swansea's favour.
Tottenham v Newcastle
PAUL PREDICTS: 4-0
It wouldn't surprise me if Tottenham won this game 5-0, but Newcastle also have the belief and ability to come out of this with a draw. Newcastle could have been hammered at Blackburn and if they play like that at White Hart Lane they could get ripped apart - and I think Tottenham will hit top form, especially after the week Harry Redknapp's had. I don't want to take anything away from the amazing season Newcastle have had, though.
Follow Saturday's football on Soccer Saturday from 12noon on Sky Sports News HD and then see extended highlights on Football First from 8.25pm on Sky Sports HD2.