Happy Blue Year
Paul Merson expects Man City to keep the heat on Man United as the title race moves into 2012.
Last Updated: 30/12/11 9:50am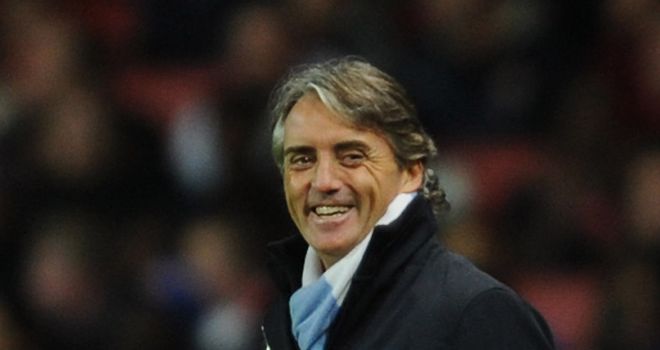 The Premier League returns for the New Year's weekend and, as ever, you can follow all the action on Sky Sports.
We asked Soccer Saturday expert Paul Merson to look at the fixtures and give us his verdict on where the games will be won and lost.
As usual, he's taking a close look at the live games and this season he's also having his say on all of the other matches.
So read on for his shouts and don't forget to let us know your views in the comments box.
Ford Football Special: Liverpool v Newcastle
7pm, Fri, Sky Sports HD1
Luis Suarez will be a massive miss for Liverpool because he's been their best player by a million miles this season - but wouldn't it be uncanny if Andy Carroll proved a few people wrong against his former club?
There won't be as much pressure on him now because Suarez is not the right kind of partner for him; they don't work very well together and they aren't on the same wavelength. One likes to play one-twos and flick it into the corners and the other wants balls in the box.
People are judging Carroll on how well Suarez has done. People should be saying he needs time, but they're not because the other striker they bought at the same time has been playing so well.
Carroll will prefer playing up on his own in a 4-5-1 system when nobody else is getting in the way. They need to play with wingers and get balls into the box to him because if you don't play to his strengths then what chance has he got? He would be great at Stoke, but I'm not sure it will ever go well for him at Liverpool unless they play differently.
I'm surprised Newcastle have done so great without him; in fact, I thought they'd struggle this season. Alan Pardew has instilled a great work ethic, they all know what they're doing and I've been very impressed with them.
But I don't see them winning at Anfield. They've done great this year, but Liverpool are a better team all round, even without Suarez in the side.
PAUL PREDICTS: 2-0
Ford Super Sunday: West Brom v Everton
12pm, Sun, Sky Sports HD1
I don't see either West Brom or Everton being involved in the relegation scrap this year.
I say that because it's very rare that top-drawer managers get relegated. No disrespect to the guys that have taken teams down, but I just don't see that happening to coaches of the calibre of David Moyes and Roy Hodgson. Both sides have good players and should be mid-table teams.
This is a big game for both of them and both sets of players will look forward to kicking off 2012 nice and early on New Year's Day. It's a perfect time to play a game of football.
Everton got a good draw at Sunderland on Boxing Day, a result they easily deserved, and they've got to keep picking up points. They've got good players and are easily capable of going and winning at West Brom.
But West Brom have turned the corner lately. They've picked up seven points out of nine, winning at Blackburn and Newcastle and then getting that great draw with Man City.
I don't like backing against Everton because they're one of those teams that bite the pundits on the backside if you write them off. On their day they can beat anybody, but I will go for a draw.
PAUL PREDICTS: 1-1
Ford Super Sunday: Sunderland v Man City
2.30pm, Sun, Sky Sports HD1
Man City will probably start the New Year three points behind Man United - and they'll be wondering how that's happened.
They've only lost one game, they've beaten their rivals 6-1 and they couldn't have played any better - and yet they'll start 2012 in second place!
However, I fancy them to win the league as long as they stay in touch with Man United until February. They've had some tough fixtures in December and January, but then they get a nice run and if they keep going over the next month then I fancy them to be champions.
It will be tough going to the Stadium of Light because Sunderland have had a couple of good results lately. That's bought them the right to play at home with 11 men behind the ball, like West Brom did on Boxing Day.
If they try to attack Man City it will be at their peril because they can pick you off. Sunderland need to play on the counter-attack and if they come away with a draw it will be a great result.
There wasn't much wrong with Steve Bruce's team. I watched them a few times and all they were lacking was confidence - and Martin O'Neill seems to have given them that.
But I expect City to be too strong. They have to win and will go there with all guns blazing.
PAUL PREDICTS: 0-3
Saturday's games
Man Utd v Blackburn
PAUL PREDICTS: 4-0
Man United have had some big wins against QPR, Fulham and Wigan, but they scored very early in all of those games. That makes a difference. However, I see them running riot again in this match and I expect them to be top of the table at the turn of the year, which is unbelievable when you consider Man City's form.
Arsenal v QPR
PAUL PREDICTS: 3-0
QPR did great in the second half against Swansea and I thought Neil Warnock did well to turn things around after a poor first 45 minutes when they were run ragged by Swansea. But this is a game too far against an Arsenal team who have to win following a shocking result against Wolves.
Bolton v Wolves
PAUL PREDICTS: 1-2
I don't see anything but a Wolves win here because Bolton are shocking at the moment. Plus the Gary Cahill situation is coming to a head and the last thing he needs on New Year's Eve is to get involved in a battle and get himself injured. Wolves will be buzzing after drawing at Arsenal and Steven Fletcher is on fire so they should win.
Chelsea v Aston Villa
PAUL PREDICTS: 2-0
I thought Villa did okay at Stoke, but this is a game that Chelsea have to win. Andre Villas-Boas is very lucky that Arsenal and Liverpool didn't win this week or else that place in the top four wouldn't seem like such a gimme for them. Villa will go there, keep it tight and play on the counter-attack, but Chelsea simply have to win.
Norwich v Fulham
PAUL PREDICTS: 2-2
Fulham are a bit like a bag of Revels at the moment because you don't know what you're going to get. They beat Liverpool, got smashed by Man United and then got a result at Chelsea. Norwich got a lesson against Tottenham last time out, but I think we will get a high-scoring game because both sides like having a go.
Stoke v Wigan
PAUL PREDICTS: 1-1
I watched Wigan's 5-0 defeat to Man United and I thought they were unlucky. There was a harsh red card, they gave it a go and the scoreline didn't reflect the game. Stoke are a powerful side and I rarely back against them at home, but I'll go for a draw because I've been so impressed with Wigan. They might just stay up this year.
Swansea v Tottenham
PAUL PREDICTS: 0-3
If Tottenham want to be title contenders - or at least cement a top four place - then they have to go to Swansea and win. I believe they are a top-four team, they showed their class last time out against Norwich, and I reckon they will show the gap again.
Follow Saturday's football on Gillette Soccer Saturday from 12noon on Sky Sports News HD and then see extended highlights on Football First from 8.25pm on Sky Sports HD2.