A Christmas classic?
Paul Merson expects a classic when Man City host Arsenal, but who does he think will win?
Last Updated: 16/12/11 12:29pm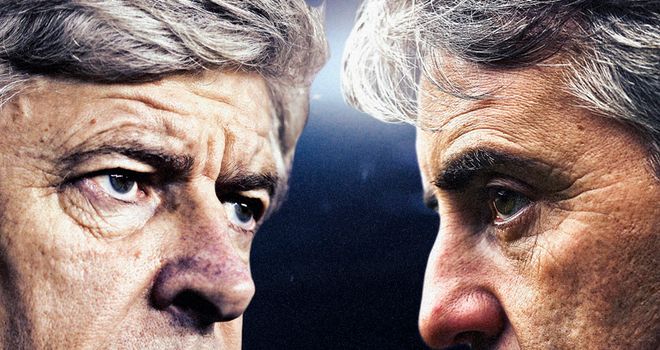 As ever, you can follow all the Premier League action this weekend on Sky Sports.
We asked Soccer Saturday expert Paul Merson to look at the fixtures and give us his verdict on where the games will be won and lost.
He's taking a close look at the live games but this season he's also having his say on all of the other matches, too.
So read on for his shouts and don't forget to let us know your views in the comments box...
Ford Super Sunday: QPR v Man Utd
11.30am, Sun, Sky Sports HD1
Manchester United needed a world-class midfield player in the summer - and their failure to get one might bite them on the backside.
In some ways it already has because they're out of the Champions League. There's no way I'd say Darren Fletcher or Anderson are world class, but now those two are injured they are even more lightweight in that department.
It's got to the stage where Wayne Rooney has been playing in central midfield and I don't think Michael Carrick is the saviour. Phil Jones gives you a lot of energy and he was the best player on the pitch against Wolves, but he loves to go forward and he doesn't know the midfield game like a more experienced player would.
He was getting forward and making things happen, but they were very open like they were at the start of the season. You can get away with that against Wolves, but not against the top teams.
Even when the Man United reserves played against Crystal Palace in the Carling Cup they never looked like breaking them down. They're lacking the guile that Paul Scholes used to give them. He was always a big-game player who could pop up with vital interventions, but they don't have that now.
As long as QPR don't turn up and play the shirt they will have a chance. They gave Man City probably their hardest game of the season and they will cause them problems if they have a go at them. If they make something happen instead of waiting for it, I think they've got a chance.
But I'll go for a narrow away win because when Man United's backs are against the wall they have the knack of knowing how to win.
PAUL PREDICTS: 1-2
Ford Super Sunday: Aston Villa v Liverpool
2pm, Sun, Sky Sports HD1
I don't think Liverpool fans can complain too much about their season so far.
They needed Andy Carroll to click to be higher than what they are and they are very reliant on Luis Suarez. If he gets banned or injured I seriously think they will struggle to win football matches.
He makes everything happen for them, he was at the heart of every chance against QPR, and even though he's not scoring too many he's the one making them all. They dominated their game last week but I don't see how they'll hurt Villa if he doesn't play.
Aston Villa had to beat Bolton last week and it was a massive result in a month when they play Man United, Liverpool, Arsenal and Chelsea. They've shown me that they should be able to beat enough of the lesser teams to survive.
But there's still something missing. The Aston Villa of two years ago always made chances, but there's been too many games this season when they haven't looked like scoring. Gabriel Agbonlahor's ban won't help because he's got the pace to hurt teams.
I've been shocked that Marc Albrighton hasn't been in the side this season because he's a winger who can have a go at defenders and he has no fear because he's a young lad. Villa Park is a dream for wingers and I was glad to see him play and score against Bolton.
PAUL PREDICTS: 1-1
Ford Super Sunday: Man City v Arsenal
4pm, Sun, Sky Sports HD1
How damaging was Man City's defeat to Chelsea? I'll tell you on Monday morning.
To be fair, if I was the manager I'd have sat the players down after that game and told them to keep playing like that. They were brilliant in the first half and if they'd been given that stonewall penalty and gone 2-0 ahead they could have won by any score. Then we'd be talking about giving them the trophy now!
This will be a good test because Arsenal only know one way of playing. They will go there and have a go at City and that should result in a really good game.
Arsenal will cause problems. If you go through all of Man City's home games this season, they always give their opponents a chance - and they usually do so at 0-0. I've always been impressed with them, but they always give you a chance. For example, I saw Steve Morison miss a sitter for Norwich the other week, but Robin van Persie would have put that away and that makes it a completely different game.
Arsenal's front three can rip anybody apart. We all know how well Van Persie has been playing, Theo Walcott is playing as well as he ever has and Gervinho, even though he couldn't finish his dinner, can play a bit. If he could finish he'd be up there with the best of the best.
This isn't the Arsenal that went to Manchester United a few months ago, they're much stronger now, but I still feel Arsenal have to score first. I expect goals for both sides and I just have a feeling we could see a classic.
Arsenal will always have a go. Man City will want to make a statement after losing to Chelsea. I predict a Desmond.
PAUL PREDICTS: 2-2
The rest of the weekend's games
Blackburn v West Brom
PAUL PREDICTS: 2-1
I don't want to see anyone get the sack, but I fear if Blackburn lose then it could be all over for Steve Kean. But I think he might save his job because West Brom looked very poor in losing at home to Wigan. I just hope the home fans get behind their team.
Everton v Norwich
PAUL PREDICTS: 3-1
Everton are what I call a bag of Revels. Last week they looked comfortable in the second half against Arsenal until that worldly goal from Van Perise, but the week before they lost at home to Stoke and didn't have a shot. On their day they can beat anybody and if they perform there will only be one winner.
Fulham v Bolton
PAUL PREDICTS: 3-0
I don't know what's happened to Bolton. I'd have listed them as one of nine teams who could have gone down this year, but they'd have been one of the last names on that list. They've been letting in goals with an England centre-half in the side and I fear what will happen if they let Gary Cahill leave in January. Surely Fulham will win this comfortably because Bolton are all over the place.
Newcastle v Swansea
PAUL PREDICTS: 2-1
There's no way Newcastle would have lost to Norwich if Fabricio Coloccini and Steven Taylor had been playing, but I don't see Swansea bombarding them with crosses in the same way. They're not that kind of team. I just hope Newcastle's fans don't see this as an easy game because at the start of the season you'd have said these were around the same level. I'll go for a home win because I can't see Swansea stopping Demba Ba, but the fans may need to be patient.
Wolves v Stoke
PAUL PREDICTS: 2-2
Two weeks ago Stoke were struggling. Suddenly wins against Everton and Tottenham have put them in the top half where I always thought they should be. They've got the potential at Molineux to make the pitch bigger and I wonder if Wolves will extend it to try and limit the threat of the throw-ins? It's a hard one to call, so I'll go for a draw, but I don't like backing against Stoke.
Wigan v Chelsea
PAUL PREDICTS: 0-4
We might find out if they've got enough lightbulbs in the DW Stadium scoreboard! To be fair to Wigan, they never give up. They've won two away games on the trot after being 1-0 down and that takes a lot of character and fighting spirit, but I just can't see them being Chelsea who have better players in every position. They've just beaten Newcastle, Valencia and Man City so they will beat Wigan.
Tottenham v Sunderland
PAUL PREDICTS: 2-0
I can't go against Tottenham at home. They were shocking in the first half against Stoke, but outstanding in the second and were it not for the ref they'd have won the game. Sunderland will stick a lot of players behind the ball and try to frustrate them and use Connor Wickham on the counter-attack to hold the ball up, but I still see Spurs winning.
Follow Saturday's football on Soccer Saturday from 12noon on Sky Sports News HD and then see extended highlights on Football First from 8.25pm on Sky Sports HD2.