More London pride
Paul Merson predicts the Premier League scores... and it's good news if you support a club from London.
Last Updated: 11/12/11 12:16pm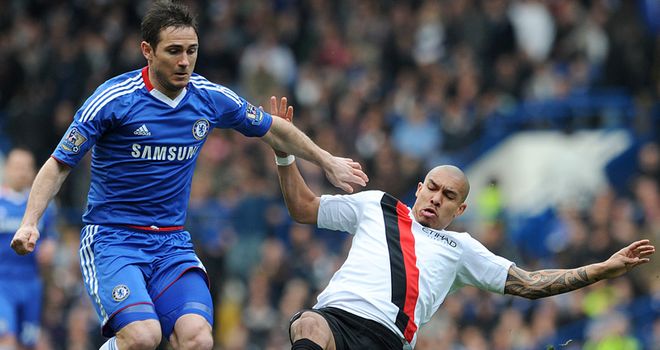 As ever, you can follow all the Premier League action this weekend on Sky Sports.
We asked Soccer Saturday expert Paul Merson to look at the fixtures and give us his verdict on where the games will be won and lost.
He's taking a close look at the live games but this season he's also having his say on all of the other matches, too.
So read on for his shouts and don't forget to let us know your views in the comments box...
Ford Super Sunday: Sunderland v Blackburn
1pm, Sun, Sky Sports HD1
For me, Sunderland are not a million miles away from being a decent team.
They should have easily beaten Wigan two weeks ago and they missed a penalty at Wolves to go 2-0 up last Sunday. If Seb Larsson had scored then Molineux would have half-emptied and Sunderland would have won the game.
So I think this is a nice job for Martin O'Neill. You're not talking about a bad team and there aren't too many expectations this season.
I think he will want to bring a couple of players in. Over the years he's played with a big centre-forward and I don't think Nicklas Bendtner can hold the ball up and be a targetman in that way. They lack a goalscorer too.
But I don't see Sunderland going down. I didn't see them going down with Steve Bruce at the helm and I don't think they should have sacked him, but they have made a good appointment in O'Neill.
As for Steve Kean, I think he'll be glad to be playing away from home. I don't know what's wrong Blackburn's fans - not all of them, it's only a few hundred of them - but I don't understand that minority.
They scored four goals last weekend, won the game and when Yakubu ran up to the manager to show his support they started booing. What's that all about?
They won 4-2. What more do they want? Maybe Steve Kean should gather his mates around their workplaces and start shouting for them to get the sack?
After what I saw last week there's absolutely zilcho chance of winning those fans over. They'd still be there chanting 'Kean out' if they'd just beaten Man United 3-0, that's just the way they are.
Unfortunately for the manager, the fans very often get you the sack. It's very rare to lose your job when they're all singing your name. I fear it may be a matter of time.
They need to go to Sunderland and try to keep things tight and I think it would be a great result if they can come away with a draw. I don't see it though. With Sunderland at home and the O'Neill factor, they should win - as long as they can put the ball in the back of the net.
PAUL PREDICTS: 2-0
Ford Super Sunday: Stoke v Tottenham
3.30pm, Sun, Sky Sports HD1
In the last couple of away games Tottenham haven't played great, but they've won, and that's the pleasing thing for their fans.
I watched them at West Brom and when they went 1-0 down you thought 'here we go, they're going to concede two or three,' like Tottenham teams have over the years, but they didn't panic, they carried on with their game and came back and won.
So I don't see them losing this game - as long as they stick to their principles. This should actually be a very interesting game because it's a real contrast of styles. Tottenham will want to open it up and have a go, while Stoke will be solid, trying to get the ball forward quickly and playing in the opposition half.
In fact, this game will be won by whoever can stick to their principles the longest. Tottenham can't afford to get involved playing the way Stoke play and vice versa, if Stoke open the game up then Tottenham could win by any score
It is easy to get sucked into playing a different way. I remember when I was at Arsenal and when we used to go to Wimbledon it was so easy to end up playing their way. They'd close you down all over the pitch and in the end you'd start lumping the ball forward - even though you'd been training all week not to!
If Stoke close them down and start forcing them to knock it long they'll be in trouble, but if Tottenham stick to their principles they should win.
They've had 10 wins and a draw in the last 11 games and they're winning when they don't play well. I don't see that ending here.
PAUL PREDICTS: 1-2
Monday Night Football: Chelsea v Man City
7pm, Mon, Sky Sports HD1
Remember the day when Man United battered Arsenal 8-2 and Man City smashed Tottenham at White Hart Lane? The headline on Monday morning was 'Manchester 2-0 London'.
I didn't see any headlines like that on Thursday morning.
Who'd have thought Arsenal and Chelsea would make it through in the Champions League and both the Manchester clubs would go out? Football changes very quickly.
This is a big week for Man City now. They've gone out the Champions League and now they play Chelsea away and Arsenal at home. If they get four points I'd think about giving them the title and if they get six then the rest can all go home.
I don't think the European exit will bother Man City that much. From day one, this season has been about the Premier League for them and they've been awesome in domestic football, scoring goals left, right and centre.
But they do give their opponents chances and we've seen sides like QPR score two against them. Chelsea's strikers are coming into form and Didier Drogba is starting to look like the player of old. He's still sloppy in possession, but he is big and strong and scores goals.
I'm also a massive fan of Daniel Sturridge and I think he could go to the Euros with England. He doesn't sit on the fringes of games, he wants to get involved, and I like that.
Chelsea will be full of confidence after beating Valencia. I liked the decision to play that game with three defensive-minded midfield players and I think that's the way forward. It means Frank Lampard misses out, but what a player to have on the bench if you need to nick a goal!
They need to win this game to stay in the title race and while I expect a few goals, I don't think there will be much between the two teams.
PAUL PREDICTS: 2-2
The rest of the weekend's games
Arsenal v Everton
PAUL PREDICTS: 2-0
I think Arsenal's run will continue... and Robin van Persie's run will continue. I don't think Everton had a shot on target against Stoke last week and you never know what you're going to get with them. Arsenal should win.
Bolton v Aston Villa
PAUL PREDICTS: 1-1
Aston Villa will just be looking to have a shot... I'm not sure they had one against Tottenham, Swansea or Man Utd. Not only have they failed to score in those games, but they haven't looked like scoring either. Bolton need to win this, but Villa can't afford to lose so I'll go for a draw.
Liverpool v QPR
PAUL PREDICTS: 3-1
Liverpool didn't play badly at Fulham and I thought that was a really good game between two good teams. They were a bit unlucky to lose, but they've got plenty of top-drawer players and I think they'll win at home.
Man Utd v Wolves
PAUL PREDICTS: 2-1
If Wolves can get through the first 20 minutes unscathed then we'll have a game on our hands because the Old Trafford fans will be fuming after what happened this week. Wolves tend to play better against the good teams when the pressure's off, but I'll say Man United will just have too much class for them.
Norwich v Newcastle
PAUL PREDICTS: 2-2
Newcastle were bang unlucky against Chelsea; David Luiz had to be sent off and if the right decision had been made I'm sure they wouldn't have lost the game. It's a big worry if their two centre-halves are injured though because Norwich are a decent team at home, so I'll go for a 2-2 draw.
Swansea v Fulham
PAUL PREDICTS: 1-2
This will be a good game. I was disappointed with Swansea at Blackburn last week, it was the worst I've seen them play and they were very sloppy. I think Fulham are turning the corner, so I'm going to go for an away win here.
West Brom v Wigan
PAUL PREDICTS: 3-0
Wigan were run ragged by Arsenal and it could have been any score that day. The one thing you can say for them is that they never give up, but they have been shocking at times. I think West Brom should win easily.
Follow Saturday's football on Soccer Saturday from 12noon on Sky Sports News HD and then see extended highlights on Football First from 8.25pm on Sky Sports HD2.