Wear and tears
Paul Merson says Wolves will beat Sunderland, while Liverpool will edge a goal-laden clash with Fulham.
Last Updated: 03/12/11 2:30pm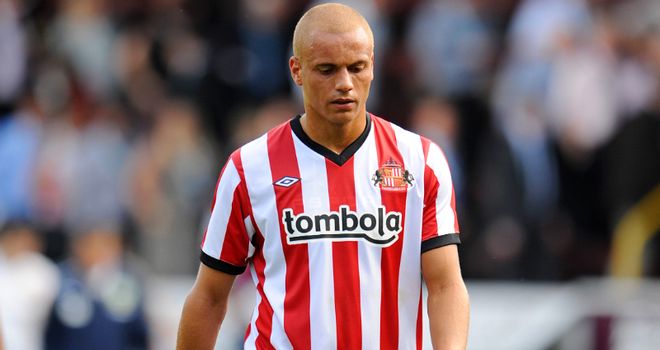 As ever, you can follow all the Premier League action this weekend on Sky Sports.
We asked Soccer Saturday expert Paul Merson to look at the fixtures and give us his verdict on where the games will be won and lost.
He's taking a close look at the live games but this season he's also having his say on all of the other matches, too.
So read on for his shouts and don't forget to let us know your views in the comments box...
Ford Football Special: Newcastle v Chelsea
12pm, Sat, Sky Sports HD2
I don't think Andre Villas-Boas will be looking forward to this one too much.
The Carling Cup defeat to Liverpool was a real blow. The manager is under pressure and winning that trophy would have bought him some time.
Defensively, in particular, Chelsea are absolutely shocking. Villas-Boas still doesn't know what his best team is and the players seem to be playing like they've never met each other. He is trying to play more open football, like he did with Porto, but that isn't Chelsea. They aren't protecting the back four like they used to.
Sooner or later Roman Abramovich is going to have to decide whether to back the players, who are getting older, or the manager. He's stood by the players in the past, but now he might decide to put his faith in a manager with a four or five year plan.
They spent a lot on him and it would be expensive to get rid of him. If they decide he's there for the long run then a few of those players will be worried.
The next few weeks are going to be a massive period for Chelsea. They won't have given up on the title, but at the moment they've got more chance of winning the Champions League than the Premier League. They're 10 points behind Man City and if they don't win here - and I can't see them doing that - then that gap will grow.
They've got a huge game with Valencia on Tuesday night, but they can't afford to rest players against a Newcastle team that's playing very well. They are very well organised and even though they will be a bit more open at home, I can't see them losing.
That shows how far Newcastle have come. At the start of the season I'd have definitely gone for an away win, but I've got to go for a draw.
PAUL PREDICTS: 1-1
Super Sunday: Wolves v Sunderland
3pm, Sun, Sky Sports HD1
Steve Bruce was up against it as soon as Sunderland lost to Newcastle. I don't think it was right to play a massive local game so early in the season because whoever lost was going to be under severe pressure.
The fact he's a Geordie was also against him, as has the fact that Newcastle are flying in the league. You've also got to look at the forwards they've let go. Every manager you speak to says the same thing - they need a top forward - and Sunderland let all theirs leave.
Danny Welbeck went back off his loan, Darren Bent was sold to Aston Villa and they let Asamoah Gyan go far too easily to play for a team that has about 300 fans.
I watched the Wigan game and they should have been 5-0 up after 30 minutes; in fact, Bruce would probably tell you that's the best half-an-hour they've played since he took over! If they'd put away their chances then he would still be the manager and a win at Wolves would have put them in mid-table.
If you'd asked me last weekend if Sunderland would go down I would have said no, but now I see them losing at Wolves and falling into the relegation scrap.
This is a perfect time to play Sunderland. Even if they appoint a new manager before the game he's not going to have time to have much of a say.
I really hope the players don't start trying harder now the manager has gone. Bruce bought all of them in and gave them big wages - so if they raise their game now they've really let him down.
Wolves have to win this. They're playing at home to a team that's just seen the manager sacked and lost at home to Wigan. If they don't win this they're in trouble.
PAUL PREDICTS: 3-1
Super Sunday: Fulham v Liverpool
7pm, Sun, Sky Sports HD1
Liverpool have been a bag of Revels so far this season, you just don't know what you're going to get.
They drew 0-0 at home to Swansea, but they've done really well in big games against Chelsea and Man City. I know they slaughtered Fulham last year, but games like these are often banana skins for them.
Lucas has been their ball-winner and has been outstanding this year. He gets some stick, but they won't half miss him now he's injured for the rest of the season. I like Jay Spearing, but I don't know if he's ready to play every week. He can do the job for two or three games, but can he do it for 20?
I was surprised to see Maxi Rodriguez on the team sheet against Chelsea... I thought he'd left! He's a good player and he played well in that game. He also scored a hat-trick at Fulham last year and managers will look at things like that. It might be worth playing him here.
As for Andy Carroll, I don't know what you do with him. When you go to a big club, it's very hard to be given a chance when you don't get off to a flying start. He missed a penalty in midweek and you wonder how many more knocks he can take.
Fulham are a total football team, so I don't think you need a physical presence in the same was as you would at places like Stoke. I don't think he'll play, but I assume Kenny Dalglish will have a word in his ear to explain the reasons and to keep his spirits up.
I watched Fulham at Arsenal and they were decent. They get the ball down and play, so this should be a good game full of goals.
PAUL PREDICTS: 2-3
The rest of the weekend's games
Blackburn v Swansea
PAUL PREDICTS: 1-2
This is a nightmare game for Steve Kean because he's on a hiding to nothing. He'll get no credit from the fans if they win and if they lose he's in trouble. They weren't good enough against Stoke or Cardiff and I see Swansea winning this game.
Man City v Norwich
PAUL PREDICTS: 3-0
This is a banker because there's a massive gulf between these teams. The Champions League is out of Man City's hands, so there's no point resting players because they need to keep the pressure on Man Utd in the league. I'm saying 3-0 to City - and that's a compliment to Norwich because City will beat a lot of teams by more than that.
QPR v West Brom
PAUL PREDICTS: 2-1
QPR have been doing well and I was surprised they lost to Norwich. They need to win games like this at home if they want to avoid a relegation battle and I think West Brom will go there looking for a draw. I'll go for a narrow home win.
Tottenham v Bolton
PAUL PREDICTS: 4-0
If you're a Bolton fan you might as well go and do your Christmas shopping on Saturday because I don't see them getting anything here. I know PAOK beat Tottenham, but that was the reserve side. Harry Redknapp is very bullish at the moment and I don't see them slipping up here.
Wigan v Arsenal
PAUL PREDICTS: 1-4
I have to hold my hands up and give Wigan credit. They've lost loads of games this year and they got battered for the first half at Sunderland, so it would have been easy to let their heads drop. But they kept going and won the game, so they deserve respect. However, Arsenal's wingers will rip them to shreds on Saturday.
Aston Villa v Man Utd
PAUL PREDICTS: 1-3
This could be a disastrous fortnight for Man Utd. They dropped points at Newcastle, they went out of the Carling Cup and they could go out of the Champions League (although I don't think they will). Aston Villa aren't playing great, but going to Villa Park is hard and Man Utd need three points to keep up with Man City. When I was at Villa we never got anything off Man Utd and I think it'll be a happy hunting ground again.
Everton v Stoke
PAUL PREDICTS: 2-0
Stoke put a lot into the game with Blackburn and a massive amount into beating Dynamo Kiev, but their record after Europa League games is shocking. Everton are solid and had a great result last week, so I expect a home win.
Follow Saturday's football on Soccer Saturday from 12noon on Sky Sports News HD and then see extended highlights on Football First from 8.25pm on Sky Sports HD2.