Capital class
Paul Merson says that Tottenham will have too much flair for Aston Villa on Monday Night Football.
Last Updated: 20/11/11 2:52pm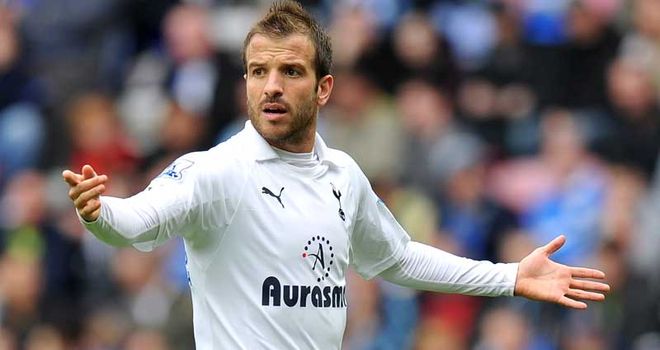 As ever, you can follow all the Premier League action this weekend on Sky Sports.
We asked Soccer Saturday expert Paul Merson to look at the fixtures and give us his verdict on where the games will be won and lost.
He's taking a close look at the live games but this season he's also having his say on all of the other matches, too.
So read on for his shouts and don't forget to let us know your views in the comments box...
Monday Night Football: Tottenham v Aston Villa
7pm, Mon, Sky Sports HD1
That win over Norwich was massive for Aston Villa. If they'd lost that game they'd have been my dark horses for relegation.
I was worrying for them. Darren Bent could easily go to the club in January and tell them that this wasn't what was in the brochure when he signed. Back then he had Ashley Young on one side and Stewart Downing on the other; now he's got neither and that could affect his chance of going to the Euros with England.
To be fair, he's been well supported by Gabby Agbonlahor who has been in good form this season. He's going through a nice patch and is scoring a few goals, so if he's not fit for this game he will be badly missed because he has the pace to open Tottenham up on the break.
On the other flank I never felt Charles N'Zogbia was the right man to replace Young and Downing. He had a good understanding with his team-mates at Wigan and he could do things off the cuff, but he was never a natural wide man who could get to the by-line and put crosses in. I thought that was a surprising signing.
As for Tottenham, they were very fortunate to beat Fulham when they were given the run-around for most of the second half. But if you're a Spurs fan you'd be delighted with that because over the last few years they would have lost games like that.
You can't play well every week and sometimes you have to find a way to win. They did it against Fulham and they did it against Blackburn too, although occasionally they may need to sacrifice a flair player away from home and play ugly to get a result.
People always underestimate how shrewd Harry Redknapp is. They see him as a "wheeler-dealer", but tactically he's as good as any manager I've played under. He knows the game inside out and he will definitely be missed if he's not on the bench on Monday.
Rafael van der Vaart will also be a big miss if he's not fit. He always seems to score important goals - opening goals or winners, rather than the third of fourth in a 4-0 win. Teams are going to come and sit in front of Tottenham these days and he's the sort of player that can open them up.
But they've got Jermain Defoe, who will never let you down. I said in my last column he needed to be patient and he might be in the first XI on Monday night. And no matter who plays, they should have too much attacking flair for Villa.
PAUL PREDICTS: 3-0
Ford Football Special: Norwich v Arsenal
12.30pm, Sat, Sky Sports HD2
Arsenal have been outstanding in the last couple of games. To score five at Chelsea then three against West Brom is extremely impressive.
I've been a bit harsh on Arsenal at times because they were falling over the line in some games, but I think I'm judging them against the side they had two or three years ago. They're not that good anymore and you can't expect them to live up to that.
Robin van Persie is still there and I don't think it's unfair to say they're a bit of a one-man team. In the last 12 months they've only won two matches without him in the side and that tells you how important he is.
Don't get me wrong, strikers are often only as good as the service they get, but he is top class. It won't be pretty if he gets injured.
Theo Walcott and Gervinho are also in good form and that forward three are flying. The rest of the team know that if they keep things tight they can let the forwards get on with it and score goals.
Defensively they have improved, but that's not just down to the return of Thomas Vermaelen. It starts from the front and because they are working hard throughout the team they are not as open as they were.
As for Norwich, they have looked at the Blackpool model and decided to have a go at teams. The concern for Paul Lambert is that in their last two games they scored three against Blackburn and two against Aston Villa, but only picked up one point. That's a worry for them.
They'll create chances, but they don't have the pace that Arsenal have and with the form my old club are in I can't see how they're going to contain them. Arsenal should have too much class.
PAUL PREDICTS: 1-3
Super Sunday: Chelsea v Liverpool
3.30pm, Sun, Sky Sports HD1
People have been saying it's a race between Tottenham, Liverpool and Arsenal for fourth, but all of a sudden I would put Chelsea in that equation. At this moment, they're not guaranteed a top-three place.
For me, the manager is to blame. He's been too open and I don't think he understands the Premier League. He's tried to use the tactics he used at Porto and it hasn't worked; you can't just attack, attack, attack in English football.
Jose Mourinho was much more shrewd and realised there were a lot of teams in this league that can hurt you, so he kept things very tight and regimented. Andre Villas-Boas needs to change things and become a little bit less gung-ho.
He made a few changes at the back for the Blackburn game and they won it 1-0. I know fans want to see entertaining football, but when you're paying the kind of money that Chelsea fans pay, you want to see winning football as well. You don't want to be losing 5-3 to one of your arch enemies.
I've not been that impressed with Liverpool to be honest. Their 0-0 draw with Swansea was one of the best goalless games I've seen for a while, but the lack of pace in their team is a concern.
Stewart Downing is fairly quick, but Jordan Henderson and Dirk Kuyt don't give you much on the other wing. Then you've got Charlie Adam, Lucas and Andy Carroll, who aren't quick and Luis Suarez is hardly lightning either. That could be their Achilles heel and they might need to get Craig Bellamy on earlier in matches to give them some extra speed.
I mentioned above how important Van Persie is for Arsenal, but Suarez is the same for Liverpool when Steven Gerrard is out. Despite the charges against him, he has to play in this game.
As for Fernando Torres, I'd start him all day long. He isn't scoring a lot of goals, but he is getting sharper and I'm still a big fan. Once he gets one or two, before you know it he'll score seven in seven. It's just a matter of time before he gets going.
And I see Chelsea winning this game. Liverpool just don't have the pace to hurt them like Arsenal did.
PAUL PREDICTS: 3-1
The rest of the weekend's games
Everton v Wolves
PAUL PREDICTS: 2-1
I think Wolves are going to be better playing away from home than they are in front of their own fans, but I'm going to go for Everton to nick this. I tipped them to get a result at Newcastle, but they scored a bad own goal and were a bit unfortunate in the end.
Man City v Newcastle
PAUL PREDICTS: 2-0
People say this will be a test for Newcastle's unbeaten run, but it will also be a test for Man City. I've never a seen a team look as good at Stoke as Newcastle did and they can set up and make things very difficult. If they get through the first 20 minutes it will be game on, but if not it could be a game too far for them. Whatever happens, Man City should make enough chances to win.
Stoke v QPR
PAUL PREDICTS: 2-0
I wouldn't want to be QPR at 3pm on Saturday. Stoke lost their last game 5-0 and have had two weeks off to recharge their batteries. The European games left them tired, but they should be firing on Saturday and this is a fixture QPR don't really need. Stoke will be itching to go out and right a few wrongs.
Sunderland v Fulham
PAUL PREDICTS: 1-2
A few weeks ago Steve Bruce would have pencilled this one in for three points, but Fulham are playing well now and were bang unlucky against Tottenham. Sunderland's home fans will bay for them to press on and attack, but with Bobby Zamora and Andy Johnson in good form they can do some damage on the counter-attack.
West Brom v Bolton
PAUL PREDICTS: 1-1
West Brom have been poor in their last couple of games, so this is a massive match. Bolton won 5-0 last time and will want to build on that, so they will be happy to go there and get a draw. It would be no good following up that great win by losing to West Brom and I think they'll carry on their momentum.
Wigan v Blackburn
PAUL PREDICTS: 1-3
I feel sorry for Steve Kean because he's had some stinking luck; they had chances to draw with Chelsea, chances to draw with Tottenham and Norwich's equaliser was never a penalty. If those three results had been different Blackburn wouldn't be far off the top half. I've been impressed with them, they have some good players, but I'm not impressed with Wigan who aren't good enough at the back.
Swansea v Man Utd
PAUL PREDICTS: 1-2
I bet Swansea fans never dreamed they'd be going to this game five years ago! What's even better is that it's not a certain away win either. I like Swansea because they keep the ball and while they don't create many chances they will cause Man Utd problems. If Man Utd get rolling they could score three or four, but ultimately I think it will be a hard game.
Follow Saturday's football on Soccer Saturday from 12noon on Sky Sports News HD and then see extended highlights on Football First from 8.25pm on Sky Sports HD2.