Winning feelings
Merse predicts wins for Spurs, Man Utd, Man City, Liverpool and Arsenal, but Chelsea may struggle.
Last Updated: 04/11/11 8:27am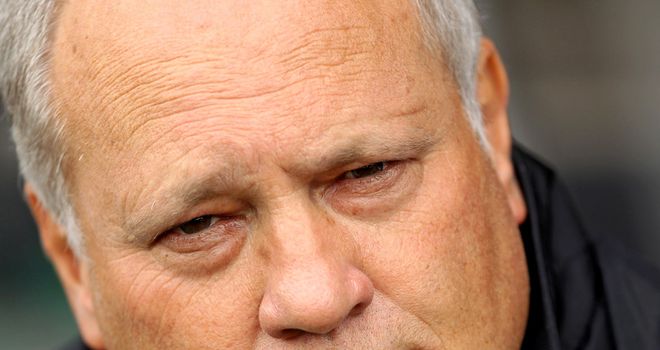 As ever, you can follow all the Premier League action this weekend on Sky Sports.
We asked Soccer Saturday expert Paul Merson to look at the fixtures and give us his verdict on where the games will be won and lost.
He's taking a close look at the live games but this season he's also having his say on all of the other matches, too.
So read on for his shouts and don't forget to let us know your views in the comments box...
Ford Football Special: Newcastle v Everton
12.30pm, Sat, Sky Sports HD2
Newcastle have been absolutely outstanding so far this season. I haven't seen any team go to the Britannia Stadium and make Stoke look as ordinary as they did on Monday night.
I've never seen their supporters so flat and that was all down to Newcastle's work rate and team ethic. Every one of those players knows their job and they play to a shape. Leon Best is a great example; he's not a top-class centre-forward, but he works his socks off and leads from the front.
I'm not saying they'll get into Europe, but they remind me of how Everton played in the year they finished fourth. They always seem to score the first goal, which is very important, and they make their opponents chase the game.
My only fear is that St James' Park will be packed full of fans thinking they'll win this game easily. The Newcastle supporters deserve to enjoy their team's form, but it's important they stay with them for the whole 90 minutes, even if they go behind.
You have to remember that Everton are a very good team, even though they've not been getting the results to prove it. They've had some tough fixtures lately, but I'm sure David Moyes will send them out full of confidence because player for player they're as good as their opponents.
Their big problem is going forward. They haven't had the money to go out and buy a top 20-goal-a-season striker and that's been the case for a long time. You can't rely on someone like Tim Cahill to score 15 goals from midfield every year and with Louis Saha injured so often, they haven't got a gifted goalscorer. They don't make a lot of chances and they need someone who can put away one in three of those.
They'd love someone like Demba Ba in their team. Tony Pulis reckons his knee is like a time bomb waiting to explode, but I reckon he's already paid back his transfer fee at Newcastle.
However, I see a draw here. Both teams will work hard at blocking each other out and it should be fairly close.
PAUL PREDICTS: 1-1
Super Sunday: Wolves v Wigan
1pm, Sun, Sky Sports HD1
Wigan have been very poor this season and yet I can't see Roberto Martinez getting the sack.
They took five points off the three promoted sides in their opening games and have lost all seven games since then. They haven't had the hardest start in the world and I think this is the year when they could go down.
I thought it was a major shock that Martinez didn't go to Aston Villa. Only he will know if he regrets that decision, but as a result of that loyalty in the summer I can't see them giving him the boot.
He's also a very good talker and he's good with the media. Sometimes Wigan will be well beaten in a game, but you come away from his post-match interviews thinking they were unlucky. He's very clever like that.
Fair play to him for asking his team to play nice football, but they haven't got the players at the back to play that way. Even Barcelona don't score many goals by rolling out from the back and playing 40 passes before scoring.
Wigan's defenders presented Bolton will three goals the other week and they need to learn to get the ball forward quicker because they're giving away too many cheap goals. Newcastle are in the top three because they've been getting the ball into the other half and playing from there.
I watched Wolves in their last home game and I was shocked by how poor they were and that makes Martinez's team talk easy: keep them quiet for 20 minutes and the fans will jump on their backs, making them a bag of nerves.
If Wolves score in the first 20 minutes I fancy them, but otherwise I fancy Wigan. I think it's all about the fans on Sunday because if they get behind their team for 90 minutes I see them winning.
PAUL PREDICTS: 2-0... but only if Wolves score early
Super Sunday: Fulham v Tottenham
3.30pm, Sun, Sky Sports HD1
First and foremost I'd like to send my best wishes to Harry Redknapp. His health must take priority over anything that happens in the game.
If he isn't in the dugout on Sunday then it will be a big miss for the players, who'd definitely want him there. I think people underestimate how tactically astute he is and if things aren't going well he's able to change things.
I thought his team were outstanding in the first 30 minutes against QPR, but at 2-0 up they turned into the Tottenham of old and gave their fans some drama when they didn't need to.
I expect the same front six to start this game, but I must say Jermain Defoe has been bang unlucky because he's been outstanding so far. He can't do much more to get in the team and he has to stay fit and sharp and wait for an opportunity.
It's no good sulking and when his chance comes along he needs to be ready. I'm sure he'll get one because Tottenham play a lot of games and it will only take one injury for him to get in.
You'd have to say Martin Jol is a good manager and he was unlucky to be sacked by Spurs, but I don't think he'll have a point to prove in this game.
I thought Fulham would start the season better than they have. They were playing Europa League games in June and I thought they'd get a headstart by being fitter and stronger than the rest. That hasn't really happened.
They're a decent team though and they've got plenty of goals in them if they can keep Bobby Zamora and Andy Johnson fit, but this is a very difficult game. Tottenham have given chances to QPR and Blackburn in recent weeks and I think this will be very open with plenty of goals.
PAUL PREDICTS: 2-3
The rest of the weekend's games
Arsenal v West Brom
PAUL PREDICTS: 3-1
Arsenal have some kind fixtures coming up and if they win this game they won't be too far off the top four in a few weeks' time. They've been tripping over the line in games, but all the confidence came flooding back after that Chelsea result. They're rolling now, so I'll go for a home win.
Aston Villa v Norwich
PAUL PREDICTS: 1-1
Aston Villa keep drawing matches and if they lose a few then this could turn into a nightmare for them. There was a lot of empty seats for the derby against West Brom and I wonder what the attendance will be like on Saturday. Is that a reflection on the football they're playing? Villa aren't going to blow teams away and Norwich will always be in the game here.
Blackburn v Chelsea
PAUL PREDICTS: 1-1
I was impressed with Blackburn last week. Steve Kean made a mistake by taking off Ruben Rochina and Yakubu off at 3-1 up, but they were unlucky with a deflected goal and a dodgy penalty for Norwich. I think they'll get at least a draw out of this because Chelsea let in five against Arsenal and drew with a poor Genk side. They're too open and Blackburn have got players to hurt them.
Liverpool v Swansea
PAUL PREDICTS: 3-1
If Luis Suarez plays then Liverpool should win comfortably, but I wouldn't be surprised if Swansea have more possession. They'll keep the ball and frustrate the home fans, but when I watched them against Wolves they dominated the match and couldn't win it. That's the worry for Brendan Rodgers.
Man Utd v Sunderland
PAUL PREDICTS: 3-0
I know Manchester United let in six in their last league game at home, but they don't have to cope with Balotelli, Aguero and Dzeko this week. This is a Sunderland team who needed a last-minute goal to draw at home to Villa last week and they've got no chance. This will be comfortable for Man United.
QPR v Man City
PAUL PREDICTS: 0-2
Man City went to Tottenham and Man Utd and ran riot on their big pitches, but QPR is a much smaller ground and they will get less time on the ball. QPR will play at a high tempo and get in their faces like they did against Chelsea and it will be hard for them to get a result. I think they'll make enough chances to win it, but it won't be easy and they could slip up.
Bolton v Stoke
PAUL PREDICTS: 2-0
Every time Stoke have played in Europe they've not done well the following Sunday. This is a game that Bolton have to win and I think they've had a touch by getting Stoke at home this week. I was very disappointed by Stoke last week and I think this is a game too far for them.
Follow Saturday's football on Soccer Saturday from 12noon on Sky Sports News HD and then see extended highlights on Football First from 8.25pm on Sky Sports HD2.