Chances with Wolves
Can Wolves win a vital derby? Can Stoke get a Wembley boost? Merse previews Super Sunday.
Last Updated: 06/05/11 12:27pm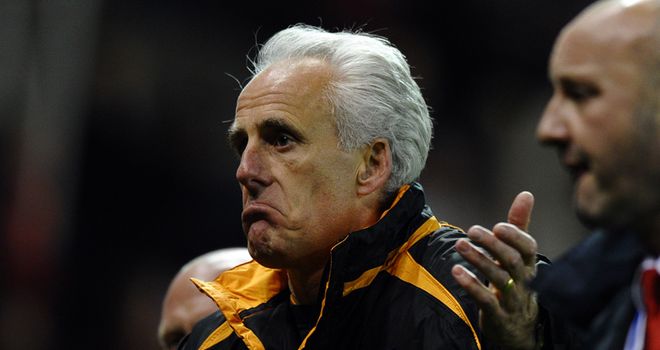 Super Sunday isn't just about that game at Old Trafford...
Sky Sports is spoiling you with three lives Premier League games and we'll be on air from 11.30am for another make-or-break day at both ends of the table.
We start with a Black Country derby between Wolves and West Brom that has huge significance for the home side's survival hopes - and then we're off to the Britannia Stadium to see FA Cup Finalists Stoke City against Arsenal.
Read on for Paul Merson's opinion on both games and click here for his Man Utd v Chelsea preview
Wolves v West Brom
11.30am, Sun, Sky Sports HD1
The Black Country derby is the last game Wolves want to be playing in right now.
These two teams just don't get on and there is a massive rivalry between the fans. You might think that West Brom have nothing to play for, but there's no way their fans will let them lie down in a derby game.
They've had a great season and have done really well in the last couple of months, but it would go out of the window if they go to Molineux and get a good hiding. The fans wouldn't accept that.
You have to say Roy Hodgson has done a phenomenal job in some very difficult fixtures since he took over. He didn't get a chance at Liverpool, but he has proved just what a top-drawer manager he is in this job.
Before he arrived I thought West Brom were going down, but now it's Wolves who look in danger. They seemed to be doing ok and then Kevin Doyle got injured playing for Ireland. At that moment I thought: 'that could relegate Wolves'.
He doesn't score bundles of goals, but he can play up front as well as anyone in the league and they've missed the job that he does for them. It's as simple as that.
They got a point against Birmingham last week, but at the end of the day you should be beating a team that's played for an hour with 10 men. Now the pressure is on to get three points on Sunday.
Mick McCarthy will just want to stay in the race until the final game against Blackburn. If they have a chance of survival on the last day they'll be more than happy.
But they've drawn two and lost three of their last five games and they don't seem to be able to win at the moment. I thought they'd get out of it, but their form has really dipped.
A lot will depend on who starts the best. The game starts at noon and as I know from playing in a lot of early kick-offs in my career, they're very different for the players. You're up early eating pasta and chicken at a silly time and the pre-match routine goes out of the window.
So the first 20 minutes could decide who wins.
PAUL'S PREDICTION

HOME WIN - It might be easier for West Brom to play with no pressure on them, but I'm going to go for Wolves .I like McCarthy and I like his team, so I hope they win, especially now that West Brom are staying up anyway. I'll go for 2-1 to Wolves because West Brom don't know how to keep a clean sheet.
MERSON'S MAGIC MAN

KARL HENRY - This is a local derby and he's the engine of the Wolves team. They've got to make this a game; I don't mean a kicking war, but it needs to be a high-tempo match for Wolves. The West Brom players won't fancy coming in for treatment all summer if they get injured and that could be a factor here!
Stoke City v Arsenal
2pm, Sun, Sky Sports HD1
Last week was just typical of Arsenal wasn't it?
They wiped the floor with Manchester United and they were absolutely outstanding, but that's them all over. They turn it on when the pressure's off.
I watched them at Bolton the week before and Liverpool the week before that and they weren't there. Why can't they do it when they really need to?
This will be a strange game. Arsenal have to try and win the game because you never know what might happen at the top of the table and Stoke's players will have half a mind on the FA Cup Final. They'll all want to avoid getting injured.
That game is a really big deal for a club like Stoke City because they've never been in the FA Cup Final before, but this is a nice warm-up for them because Arsenal aren't exactly going to go out and try to kick them off the pitch are they?
If they win at Wembley then you'd have to say Stoke's season has been a million times better than Arsenal's. Football is about winning trophies; nobody remembers the runners-up in five years time.
There's been a lot of stuff in the papers about Aaron Ramsey and Ryan Shawcross facing each other in this game and I don't want to hear all that.
In my view the tackle that put Ramsey out of the game for a year was an accident. It was a red card, but Shawcross was crying his eyes out as he walked off the pitch and that shows that he didn't do it on purpose. You could tell straight away from the reaction.
He isn't a nasty player and I hope that doesn't overshadow this game. Ramsey is fit now and I think he's going to become a top-drawer player.
If it wasn't for that broken leg we might not have seen Jack Wilshere come through because Ramsey was well ahead of him at that time. Now the two of them are playing together and I thought they did very well last week.
I don't think Cesc Fabregas will be at Arsenal next season, so this game gives Arsene Wenger another chance to see these two players work together against a decent team. I'd like to see an experienced player in there with them, but I like both Wilshere and Ramsey.
It'll be interesting to see how they get on against a very good Stoke side.
PAUL'S PREDICTION

AWAY WIN - A trip to Stoke is always a hard game, but I'm just leaning towards Arsenal, purely because the FA Cup Final is a week away and they'll have half an eye on that. But it will still be close - it's rare that Stoke get well beat - and it won't be much more than 2-1.
MERSON'S MAGIC MAN

ROBIN VAN PERSIE - I'm a big fan of Robin van Persie and I think his movement is a different class. He'll be able to cause problems for the Stoke defence and is different to anything they'll face in the cup final.