Master of ceremonies
Ed Chamberlin reflects on his busy week and previews a thrilling finale to the Premier League season.
Last Updated: 10/05/12 9:31am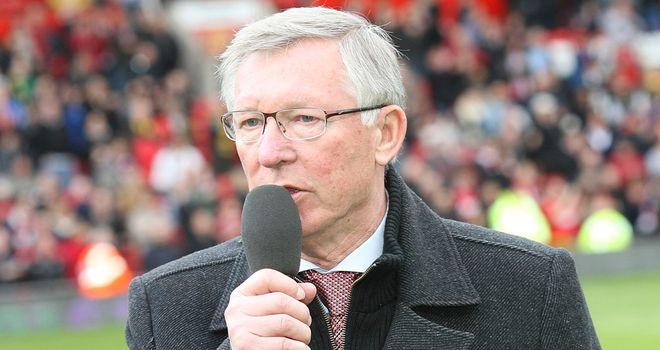 What a crazy week it has been.
After the thrill of presenting the Manchester derby on Monday Night Football, I was then lucky enough to host the Football Writers' Association Player of the Year Awards dinner at the Lancaster Hotel in London.
Interviewing Robin van Persie on stage will go down as one of the highlights of my career. He spoke superbly and with real feeling about Fabrice Muamba being present at the dinner and about his early years at Arsenal. He said he signed with what he called David Dein's "magic pen", which had also been used to sign by Dennis Bergkamp, Thierry Henry and Patrick Vieira.
The Dutchman spoke about his love for the club, his pride in the captaincy and when I asked about his future, he said that whatever happens "I will always be a Gunner".
I was hugely impressed by van Persie; he was was funny, charming and humble - and he's not a bad footballer either!
The following evening was equally good fun as I hosted the Southampton FC Awards dinner, which was quite a celebration following their promotion to the Premier League.
Former top referee Graham Poll made a very amusing speech, while the main awards went to Rickie Lambert and Adam Lallana - two names to remember for the Premier League next year.
I then spent the weekend in Manchester; their two clubs won on Super Sunday to set up a sensational final day this weekend.
I will be travelling back up to Manchester on Saturday afternoon to present the final Super Sunday of the season from the Etihad Stadium on Sky Sports 1 HD and Sky 3D from 2pm, with Manchester United's game at Sunderland on 2 HD from 3pm.
It promises to be the most amazing afternoon with the title to be decided, Champions League qualification up for grabs and one relegation spot to be filled. I have spent the week working out all the permutations! It's going to be a rollercoaster ride for everyone involved.
Sky Bet's Title odds: 1/8 Manchester City, 11/2 Manchester United
For only the second time in the Premier League era the top two go in to the final day level on points (Man United led Chelsea on goal difference in 2007/08), while the Premier League title race has gone to the final day five times and the team leading heading into the last day has won every time.
Sky Bet clearly think the team leading this time, Manchester City, have one-and-a-half hands on the Premier League trophy as they are 1/8 to win the title, with Manchester United at 11/2. I fancied City to beat Newcastle last weekend and I find it hard to see them slipping up on Sunday.
On paper, QPR (12/1 with Sky Bet) have no chance. They have the worst away record in the Premier League and have lost their last six on the road, conceding 17 goals. Their only top division win at City was 3-2, ironically on the final day of the 1994-95 season, when two of my Sky Sports colleagues were involved - Ray Wilkins as Rangers manager and Niall Quinn, who scored for City.
City (1/8) have been unbeatable at home. They have the best home record (points-per-game) in all four English League divisions and can equal the all-time best Premier League home record of 18 wins and one draw, set by Chelsea in 2005-06 and equaled by Man United in 2010-11. They are also close to going an entire League season unbeaten at home for first time since 1965-66 in the old Division Two. Man City last went an entire top division season unbeaten at home in 1920-21 and still finished second to Burnley.
It all points to City winning the title BUT with the way this season has gone you can't rule out yet another unexpected twist. For that to happen Manchester United have to win at Sunderland, which is no easy task. However, after a brilliant run over the New Year, Sunderland have been able to coast of late and have not won in seven.
Furthermore, Sir Alex Ferguson's men have never lost a Premier League game at the Stadium of Light (nine visits, six wins) and have won four of their last five. United have conceded only three goals in the last ten Premier League meetings, keeping a clean sheet in each of the last four. Sunderland have not scored against United for six hours and 32 minutes).
Sky Bet's Top Four betting: 1/66 Arsenal, 1/8 Tottenham, 9/2 Newcastle
Arsenal are in the box seat but have wobbled badly of late, not winning since Mikel Arteta got injured in the game against Manchester City. However, they have a great record against West Brom and should surely do enough. Arsenal have scored in all 11 Premier League meetings with Albion, scoring 10 in the last four.
Arsenal have won on five of their last seven visits to The Hawthorns in all competitions and going further back, the Gunners have lost just one of their last 17 visits to West Brom, winning 10. Tottenham should beat Fulham, so it looks like Newcastle will miss out. It has still been a sensational season for them.
Relegation: 4/11 Bolton, 11/5 QPR
It's hard to see QPR getting anything at the Etihad so Bolton (7/5 to win with Sky Bet) might get the chance to stay up IF they win at Stoke (13/8).
Bolton won this fixture 5-0 at the Reebok on November 6 with goals from Kevin Davies, Chris Eagles (2) and Ivan Klasnic (2). It was Bolton's biggest win this season and Stoke's heaviest defeat. What they would give for a repeat.
We landed a nice double last week with Fulham and QPR - the latter left it late! - and this week I fancy Liverpool to win at Swansea.
Liverpool have been solid away from home all season and arrive here on a high after Tuesday's 4-1 win against Chelsea, plus they will be desperate to finish above Everton in the table, while Swansea seem to have run out of steam after a sensational campaign.
Whatever happens it promises to be a thrilling day on Sunday with Manchester City having a golden opportunity to clinch a first title since Harold Wilson was Prime Minister, a pint of bitter cost 14p and Louis Armstrong's 'What a Wonderful World' was number one.
What a wonderful world - with a blue moon - it might be for City fans on Sunday evening. See you at 2pm on Sky Sports 1 HD on Sunday!
Click here for more Sky Bet odds.