Mata of timing
The impressive Juan Mata can unlock Man City and earn you a few quid, says Ed Chamberlin.
Last Updated: 08/12/11 1:50pm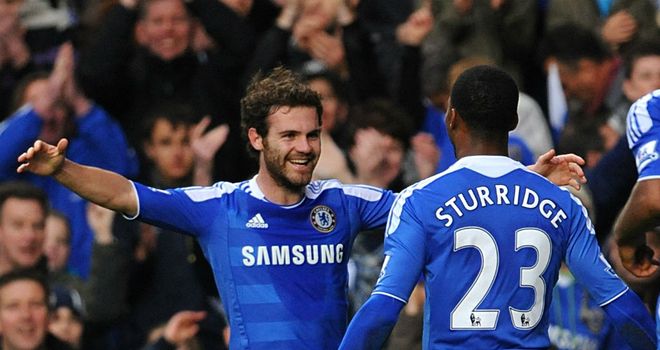 Sky Bet's Title odds: 8/13 Man City, 2/1 Man Utd, 12/1 Chelsea, 16/1 Tottenham, 33/1 Arsenal, 80/1 Liverpool, 200/1 Newcastle, 2,000/1 bar
A nightmare week in the Champions League for Manchester; an expensive weekend in the Premier League for Liverpool.
They're out to 80/1 to win the title after a defeat at Fulham that followed victories on Saturday for the top five in the table. Little change then at the head of the market with Manchester City still 8/13 favourites after five more goals took their tally on the season to an incredible 48.
It was another bad set of results for the bookmakers, hot on the heels of the worst weekend in Sky Bet's history just a fortnight ago. It's not easy for the bookies right now as the gulf between the top five or six sides in the league and the rest seems to be wider than ever and whatever price they chalk up punters still want to stick City, United, Tottenham, Chelsea and Arsenal in their weekend accumulator - plus Celtic, Rangers, Barcelona and Real Madrid.
Will Sky Bet get some respite this weekend? Well they are helped by two of those big guns meeting on one of the big Monday nights of the season. I'm already looking forward to presenting Chelsea (6/4) v Manchester City (15/8) live from Sky Sports HQ on the Monday Night Football.
It promises to be a thrilling, crucial and informative contest. Gary Neville has analysed Chelsea's defending on the show a lot over the last few weeks and he seemed impressed by what he saw at Stamford Bridge on Tuesday night against Valencia.
Gary's explained the dangers of playing a high defensive line with the modern day offside law and the pace and movement of strikers in the Premier League. It looked like Andre Villas-Boas had tinkered with that tactic for the make-or-break Champions League game and it will be fascinating to see what he does on Monday night to counter Aguero, Dzeko, Silva and co, whose movement against Norwich last weekend was simply mesmerising.
There are intriguing battles all over the field. Chelsea also offer a real threat going forward with Didier Drogba (7/1 with Sky Bet to score the first goal) back to his best on Tuesday night, Daniel Sturridge (13/2) thriving on the right-hand side and Juan Mata (9/1) pulling the strings from the left.
Mata has been the most impressive of the lot in recent weeks, particularly when he drifts in to central areas. He's not the fastest but he has lightning quick feet and great vision so could be the man to unlock City's defence. Mata is 3/1 to score at any time during the game and is sure to give you a run for your money.
I think this game will have a major bearing on the title race. A win or even a point will see City's price to win the Premier League shorten even further. If they get through this tough run of fixtures with their five-point lead still intact they are going to be very hard to catch. A win for Chelsea and it's game on.
I hope you can join Gary and I on Sky Sports HD1 and in Sky 3D from 7pm on Monday. It promises to be a great night.
Super Sunday
Before that we have also an interesting Super Sunday to look forward to. First up is Martin O'Neill's first game in charge of Sunderland (10/11) - they are up against Blackburn (3/1).
It will be interesting to see if O'Neill can work his magic and inject some confidence in to the side after another demoralising defeat against Wolves. I'm sure there will be plenty of 'believers' taking the 10/11 about a Sunderland win with Sky Bet.
After that game we have Stoke (5/2) against Tottenham (11/10). Spurs are white hot at the moment after 10 wins from their last 11 league games. However, this will be a real test of what Harry Redknapp's team are made of.
It's the type of game that Tottenham sides of a few years ago might not have been strong enough for, both mentally and physically. The 2011 version is completely different, with defensive steel and threats all over the pitch. As we discussed on the show on Monday night, pace is the key and Spurs' biggest asset. They have incredible speed in so many positions and close down the opposition and attack with serious pace.
Harry also sets them up to be hard to beat on the road these days and the pace and skill of Bale, Lennon, Modric, Adebayor and Defoe makes them arguably the Premier League's most potent side on the break.
We will learn more about them on Super Sunday but if they can come away from the Britannia with three points that will be a major test passed and their title odds - currently 16/1 with Sky Bet - will shorten again.
By the time Monday Night Football is over Tottenham could be serious title contenders. We're all set for a brilliant Premier League weekend.
Horse racing
It's back to headquarters this weekend for some top-quality jump racing.
On Friday I'm particularly looking forward to the return of Our Father whose owner, David Johnson, thinks he will go on to be a superstar. Another potential star is Darlan, who AP McCoy tipped us off about at the start of the season, so don't miss his second start over hurdles in the day's finale.
The big race at Cheltenham on Saturday is the Spinal Research The Atlantic 4 Gold Cup. I have followed Sunnyhillboy over many a cliff and am tempted to give him one more chance in a race of this nature.
I strongly fancied him at the Festival before he crashed out and since then he's run a great race in the Irish National and had a nice spin over hurdles to prime him for Saturday.