Derby day decisions
Ed Chamberlin says punters should wait for the team news before betting on the Manchester derby.
Last Updated: 20/10/11 11:55am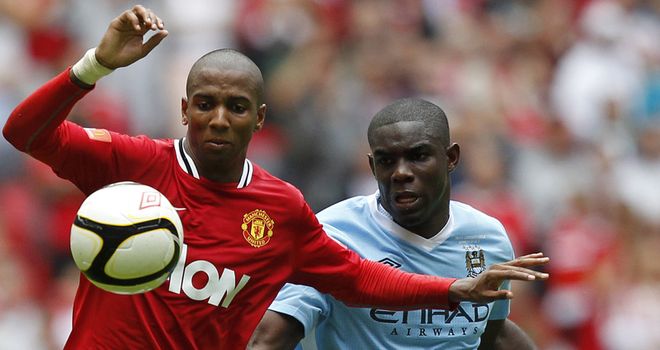 Since the opening salvos in the Barclays Premier League, Sunday October 23 has been a date inked in to many football fans' and every Manchester United and City supporter's diary.
What a match for Roberto Mancini to celebrate his 100th game as Man City manager.
After their meeting in the Community Shield at Wembley, both clubs started the season brilliantly and we are now set for the 161st Manchester derby - the 145th in the League, which is like no other that has gone before.
This is their first ever meeting with both Manchester teams going into the game as the top two sides in English football. City are top of the table and to show how lop-sided competition in the city has been, this is only the third time in Premier League history that Man Utd have faced Man City when City have been ahead in the league table.
Sky Bet title odds: 11/10 Man Utd, 2/1 Man City, 10/3 Chelsea, 22/1 Liverpool, 50/1 Tottenham, 50/1 Arsenal, 1,000/1 bar
Can they stay there? City's impressive win against Aston Villa saw them shorten another half point to 2/1 to win the title, while United are odds against again with Sky Bet after their point at Anfield last weekend.
Chelsea still hover dangerously under the radar but remain third on the list at 10/3, which all means we have the first ever Manchester derby with the teams as the top two in the betting to win the Premier League.
On the match itself, Sky Bet go Manchester United (evens), Manchester City (13/5) and the draw is a 5/2 chance. It's not difficult to see why United are firm favourites. They are on an incredible run at Old Trafford having won 73 points from a possible 75, have not lost at home in the League since April, and have extended the club record of consecutive league wins at home to 19.
United have lost only one of the last 32 meetings at home with City in all competitions, winning 20. United are unbeaten in the last six Premier League meetings, winning five.
City's last Premier League win was 2-1 at Old Trafford in February 2008 - Darius Vassell and Benjani with the goals for Sven-Goran Eriksson's side. City have won only once at Old Trafford in the last 37 years.
However, this is a very different City side to the teams that played in those lean years. On paper it is probably a stronger side than United's but they still have two big questions to answer.
First, do they have the team spirit, unity and desire to win that seeps through every United player's pores? Second, what will Roberto Mancini's tactics be? In last season's big games Mancini set his team up to be hard to beat and stifle the game. It will be fascinating to see if he does the same again with Nigel de Jong in front of his back four and flooding the midfield.
Plenty of punters may back the draw on the back of that and the fact that the two teams know each other so well - this is their ninth meeting in all competitions in the last two years - but I think anyone thinking of having a bet should wait for the all-important team news. We'll be live from 1pm on Sky Sports HD1 and in Sky 3D. Jamie Redknapp and Gary Neville will be my guests.
It promises to be a great day as we have another good game after the Manchester derby - QPR (8/1 with Sky Bet) against Chelsea (4/11) live from Loftus Road. Chelsea are on a real roll at the moment and this is a tough task for Neil Warnock's side.
QPR's only win in the last 21 years was 1-0 in a Premier League game at Loftus Road in March 1995 when Ray Wilkins was manager, and he will be part of the commentary team on Sunday.
Part of our team last weekend was the mercurial David Ginola, who was great company and I was fascinated first by his hilarious attempt at a Geordie accent but more importantly by his burning desire to get back in to football. I wonder what the odds are on Ginola being a Premier League manager one day?
Last weekend also saw us make it five winning 'bets of the week' from the last six selections as Norwich beat Swansea at 6/5.
This weekend I was tempted to go with Bolton at 6/5 to beat Sunderland (9/4). I'm a big fan of supporting the home side in matches between sides in the bottom half.
However, Bolton still have plenty to prove at home and Sunderland are unbeaten in their last three visits to the Reebok Stadium, winning the last two, which just puts me off so there will be no bet this week.
Rugby World Cup Final
New Zealand -15pts (11/10) France + 15pts (11/10)
What a shame that rugby union's showpiece event looks set to be very one-sided, with Sky Bet giving France a 15pt head start. If only it was Wales.
Pundits are describing France as the worst World Cup finalists ever, which seems harsh as they are capable of putting in a big performance, but they should be no match for the All Blacks.