Impressive in defeat
Ed Chamberlin says don't back against Chelsea just yet, despite seeing them lose at Old Trafford.
Last Updated: 23/09/11 10:37am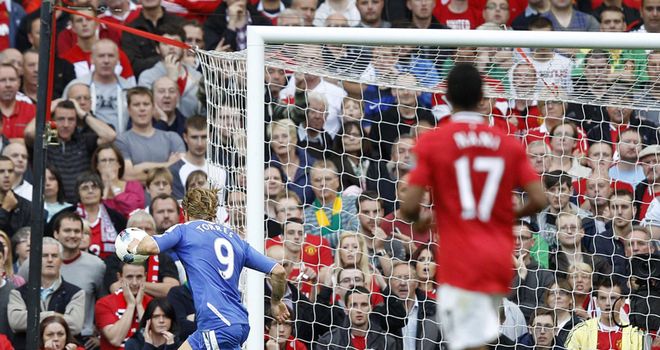 I have had two remarkable trips to Old Trafford already this season.
The first was to see Arsenal get thrashed 8-2 and then we had a brilliant Super Sunday there last weekend and a game that had a bit of everything - great goals, shocking misses, some controversy and some outstanding football.
You could tell we had witnessed something out of the ordinary between Manchester United and Chelsea as Graeme Souness, Gary Neville and Jamie Redknapp shook their heads in the studio at what they had just seen.
United won the game 3-1 but in reality the contest could have had any scoreline.
Incredibly, after just five games Manchester United are odds on to win the title with Sky Bet are 8/11. Manchester City are out half a point to 5/2, while Chelsea are right out to 11/2 from 4/1.
I find that surprising as I was actually really impressed by Chelsea at Old Trafford. They were the better side for large periods of the game and Andre Villas-Boas will have learnt a great deal from the experience.
As Gary Neville explained before kick-off, it was brave to go to Old Trafford with such an attacking line-up and the game produced exactly the 'shoot-out' he predicted. It will be interesting to see if Villas-Boas adopts similar tactics again.
With Torres coming back to his best, Anelka already in prime form, and Mata and Meireles providing the ammunition, I'm sure Chelsea can still challenge for the title. They look all set to go on a winning run to me.
Sky Bet's title odds: 8/11 Man Utd, 5/2 Man City, 11/2 Chelsea, 25/1 Liverpool, 40/1 Arsenal, 100/1 Tottenham, 500/1 bar
Winning run
That run should start this weekend with Chelsea's (1/6) first ever meeting with Swansea (12/1) in the top flight. In fact this is the first meeting between these two in any competition for 28 years, since Chelsea won 6-1 in an old division two game at Stamford Bridge in December 1983. Swansea's only win at the Bridge came 86 years ago - 3-1 in November 1925.
Title favourites, Manchester United (8/15), take their 100 per cent record this season to Stoke (9/2) against whom they also have a 100 per cent winning record in the Premier League - six wins out of six, scoring 16 goals in the process. Stoke's last League win against United came 27 years ago on Boxing Day 1984 - 2-1 at the Victoria Ground.
Despite having their fingers burnt on Sunday at Fulham, many punters will have Manchester City (4/11) down as their bankers again this weekend at home to Everton (13/2). Be warned though because Everton have an incredible recent record against City, winning seven of the last eight PL meetings, including each of the last four.
Everton's joint record win came against Man City - 9-1 in a top flight game at Goodison Park, September 1906, which remains City's biggest ever defeat. Could 13/2 be a big price about a side who have won on their last four visits to the Etihad?
Arsenal (2/5) have yet another huge game this weekend at home to Bolton (11/2). The Gunners can take heart from the fact that they have never lost at home to Bolton in the Premier League - 12 meetings, nine wins.
Arsenal have won the last five, scoring four goals in each of the last two. What the Arsenal faithful would give for a repeat of that on Saturday. They are also unbeaten in last 16 League meetings at home, winning 13, but would you back this Arsenal team at 2/5?
Bolton's last League win at Arsenal came 49 years ago - 2-1 in a top flight game at Highbury in January 1962. Cliff Richard was number one at the time with "Young Ones". Arsene Wenger's 'young ones' are right up against it at the moment.
Super Sunday
I'm looking forward to presenting my first game from Loftus Road on Sunday. Super Sunday is QPR (11/8) against Aston Villa (17/10). These two haven't met in the Premier League since March 1996 when Dwight Yorke scored twice in Villa's 4-2 win at Villa Park. I hope you can join us live from Loftus Road from 3.30pm on Sky Sports HD1.
I will then stay up in London and head in to Sky HQ early the next day to prepare for the Monday Night Football with Gary Neville. We will look back on all the weekend's action and the live game is a famous old fixture - Norwich (7/5) against Sunderland (13/8).
It's a match-up we've not seen for a long time though as this is their first top flight meeting in 21 years, since Norwich won 2-1 at Roker Park in December 1990.
Sunderland's last top flight win was 3-1 at Carrow Road in March 1985 and just eight days later, Norwich exacted revenge in the League Cup Final at Wembley.
The last five league meetings have ended 1-0 to the home side, which is a 13/2 chance on Monday.
For my bet of the week I'm focussing on the DW Stadium on Saturday. Last week's bet was a disaster with Stoke getting thumped at Sunderland and that is the last time I back a side away from home after a European game in midweek.
I'm keen to back Tottenham to win at Wigan this weekend as I was hugely impressed by their victory against Liverpool and expect Harry Redknapp's side to kick on from here. I'm surprised to see even money available with Sky Bet about Spurs on Saturday.
Rugby World Cup
Sky Bet's World Cup odds: 4/7 New Zealand, 7/1 Australia, 10/1 England, 11/1 South Africa, 12/1 France, 14/1 Ireland, 20/1 Wales, 150/1 bar
From nowhere Ireland's victory over Australia has radically shaken up Sky Bet's World Cup betting as the line-up for the last eight that most people were expecting has gone out of the window.
Australia now look set to meet South Africa in the quarter-finals and both have drifted in the betting, the Wallabies out from 3/1 to 7/1 and the Springboks to 11/1 from 8s. The All Blacks have been clipped to 4/7, while England are in four points to 10/1 despite playing very poorly so far. Bring on the knockout stage when the World Cup starts for real.