England's Euro Vision
Watch out Euros, FanZone Dazza has arrived!
By Darren Williams. Last Updated: June 12, 2012 10:43am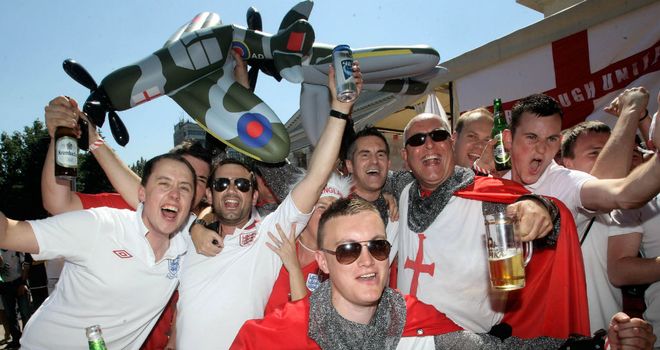 Darren has joined the barmy England army
Football Betting

Football Betting

£10 Free Bet
With a truly memorable Premier League season done and dusted, it's time to turn our attention to EURO 2012.
"I'm going to find out for myself and will report for FanZone the true picture - as it is from a fans' prospective and not a journalist. "
FanZoner at the Euros Darren Williams Quotes of the week
The opportunity to travel and support our national team in a major tournament was one too good to refuse, so I've swapped my beloved Newcastle shirt for that of the three lions.... England!
Yes that's right, Dazza will be your travelling England Sky Sports Fanzoner based in Donetsk, Ukraine, covering the events from the venues with my fellow FanZoner Tom Reed covering our team's progress from the UK.
Whilst Tom covers matters on the pitch, I will be blogging from the scene, reporting on all the off pitch events from all of England's three group games against France, Sweden and Ukraine. I will reporting on subjects such as food, travel, transport, stadiums and nightlife, as well as the relationship England fans will have with the locals, opposing countries, the police and the host authorities.
With recent negative publicity surrounding the host venue, it is fair to say that I am relishing our arrival with interest. The recent BBC Panorama documentary has certainly stirred up a lot of opinion. Time will tell whether the racism and violence etc is as bad as reported and the decision to host a major tournament in Poland and Ukraine was a mistake or not.
sensationalised
Some people say I'm mad to go, some say the whole reports are one sided, exaggerated and sensationalised. Well I'm going to find out for myself and will report for FanZone the true picture as it is from a fans' prospective and not a journalist.
One thing I do have is an open mind about Euro2012 - and I promise to blog and report exactly what I see and hear... exactly how I see and hear it!
So, here is what you may not already know. Tickets for England games have been easy to purchase which unfortunately cannot be said for flights and accommodation. Myself and a mate were looking at a cost of approx £2,500 each had we booked and travelled the direct and recommended route, however being a tight Geordie, I opted for the longer, harder but cheaper option!
We set off from the North East on Sunday 10th June to Amsterdam where we caught another flight to Moscow. Once in Moscow we then transferred to another Moscow airport where we then caught our last flight to Donetsk. This 3 flight and bus ride combination will also be the same journey home and I'm sure this will prove eventful. This method cost us approx £1,200 each and whilst significantly cheaper, was a much more difficult way to travel.
As for accommodation we are right in the heart of it all. The hotels are either sold out or ridiculously expensive, so our home for at least 10 days will be a purpose built Euro2012 fans site on the outskirts of Donetsk. This site will house approx 3000 fans from various countries, with Large TV screens relaying live matches whilst the fans mingle together in purpose made bars and restaurants which will either be a fun, friendly party atmosphere or a potential recipe for disaster.
So, get ready to wear the three lions on your shirt and support England in our quest to win Euro 2012. Follow all the events here at Sky Sports Fanzone or follow my live updates as they happen on Twitter via @DazWilliams.
COME ON ENGLAND!