Wenger singing the wrong song
Alex Bartlett was happy with a job well done at Upton Park, but not so happy with Alex Song.
Last Updated: November 4, 2008 2:47pm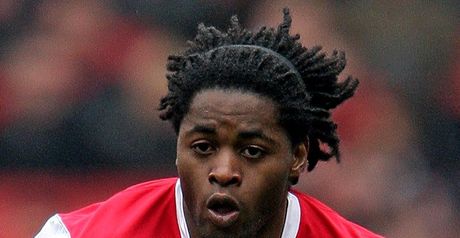 Song hitting the wrong notes in Arsenal's midfield
Football Betting

Football Betting

£10 Free Bet
On Sunday, Arsene Wenger took the opportunity to rotate his squad to provide a much-needed rest for some of his stars who had already played in the midweek 5-2 drubbing of Fenerbache.
"'He is not a holding midfielder - yes he has a good engine on him and a presence. But he doesn't have enough pace, is not creative enough and lacks any sort of chemistry for Fabregas to feed off. " Quotes of the week
Changes of note were Nicklas Bendtner stepping in for Emmanuel Adebayor and William Gallas returning to the heart of the Arsenal defence allowing Alexandre Song to move into the midfield alongside Cesc Fabregas, who by his standards had a somewhat quiet game.
Both teams came out of the blocks with the bit firmly between their teeth looking to take an early advantage against their opposition and with both keepers keeping a keen eye on the England number one shirt, this was sure to be a closely fought battle.
All credit to Gianfranco Zola; in the few games he has been in charge he has defiantly injected a more continental counter-attacking style of play to the West Ham ideologies.
Arsenal dominated for large periods of play but could not capitalise on large amounts of possession - West Ham also had a couple of half decent shouts for a penalty but the referee waved all of these away as we enjoyed a spectacle of the modern game.
West Ham nearly delivered the sucker punch shortly before the break with Bellamy forcing Almunia to produce a fine save with his trailing foot.
Pace for power
Neither manager felt the need to ring the changes at half-time and consequently the first 25 minutes of the second half were much the same as the first in the fact that there was a lot of promise from both teams but no real end product, with Arsenal shading it again with possession and play.
Arsene Wenger could not keep his stars on the bench any longer and with 15-20 minutes left on the clock, the gaffer sacrificed the width and pace in the team taking off Samir Nasri and Theo Walcott and replacing them with Adebayor and Abou Diaby.
This more than signalled Arsene Wenger's intentions - more direct and more physical - immediately as West Ham appeared to be under more and more pressure meaning it was only a matter of time until something had to give.
Robert Green was on a personal mission to deny Arsenal three points as he made save after save after save. Eventually Arsenal's pressure told and compliments of a West Ham own-goal Arsenal took the lead.
A late second strike by Adebayor guaranteed the points and the referee still found time to make an absurd decision by producing a totally unnecessary red card for Cole.
All in all, job done with three points in the bag.
On with the enemy
On reflection, looking at our squad it is starting to take shape and we have strength and depth when required. However, there are two players who in my eyes are not quite good enough yet.
Firstly and mainly Alexandre Song. He is not a holding midfielder - yes, he has a good engine on him and a presence but he doesn't have enough pace, is not creative enough and lacks any sort of chemistry for Fabregas to feed off.
I think he should stand in line behind Toure, Gallas and Silvestre and wait his turn to play centre-back. He is not ready to play in midfield unless he fancies playing for Bolton who like their no-frills destroyers.
Then comes Bendtner. He's good and has a lot of potential but I can't help feeling he should be getting more goals than he is and needs to start making more decent runs. He is a very similar player to Adebayor so next time he is on the bench he may want to take some notes and tips off his colleague as the potential is definitely there.
Bring on the Spurs!
Tune in to FanZone from 8pm on Wednesday - just press red - to hear Alex commentating for Arsenal in the North London derby.