Fantasy picks
Which Manchester City players will star in Fantasy Football this season?
By Tim Clement - Twitter: @SkyTimClement. Last Updated: August 9, 2012 2:46pm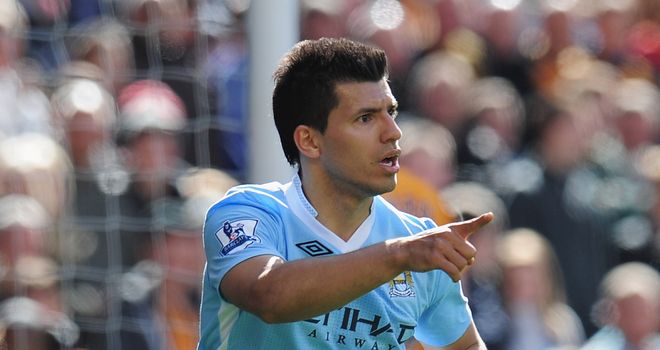 Sergio Aguero: Expected to star for City again this season
Top-pick: Sergio Aguero
Sky Fantasy Football
Who makes your team? Pick your Sky Sports Fantasy Football line-up here.
Penalty taker: Carlos Tevez
Likely line-up: Hart; Richards, Kompany, Lescott, Clichy; Barry, Toure, Silva, Nasri; Aguero, Tevez
The main conundrum with Manchester City last season was which two players to pick, but with limitations removed only budgetary restrictions stop bosses from naming the same side as Roberto Mancini.
Sergio Aguero (£9.9m) was City's top scorer with 240 points, followed by David Silva (£9m and 170 points), Vincent Kompany (£8m and 144 points) and Joe Hart (£6m and 135 points).
Aguero looks worthy of his hefty valuation as Sky Bet's 7/1 favourite to be the Premier League's top goalscorer.
That price tag is deterring few as the Argentinian is the joint most popular player in the game alongside Hart.
Fantasy fanatics can take on the likes of Ed Chamberlain, Tubes, David Garrido and other Sky Sports pundits and presenters in the new free-to-play Sky Sports Leagues. You can enter with two different sides in the free-to-play game, utilising the five different formations available and handing the captain's armband to your star man.
For those still unsure on their selections, unlimited transfers are available until the start of the season, while another 30 are available during the campaign. Key to your team choice this year will be the new passing and tackling Bonus points which sees players being awarded 2 points if they make 60+ successful passes in a game or 4+ successful tackles in a game
Help is also on hand in the form of the new Fantasy Football Club show, which will air every Friday from 10pm-11pm on Sky Sports HD, hosted by Fenners and Paul Merson.
Every week the show will feature special guests, discussion of key fantasy football issues, analysis of fantasy football teams, guest interviews and much, much more.
To find out more about the show follow @FantasyFC on Twitter.
Join the Conversation on Twitter @SkyFantasyFooty and on Facebook for your chance to win prizes, hear the latest news and more.