Sky Bet
Loading Market ...
Liverpool captain Steven Gerrard's penalty in the first half of Saturday's game against Newcastle United took the midfield legend to 100 goals in the Premier League. But which goal has been your favourite?
Gerrard now joins the likes of Liverpool legend Robbie Fowler on the list of Premier League greats and is one of only a few midfielders to join the illustrious list along with players such as Paul Scholes, Ryan Giggs and Frank Lampard.
The Reds captain will now be hoping to push on from this incredible goal scoring record which has seen him score in each of his 15 seasons at the club since his first appearance in 1998.
From free-kick screamers and stonking half-volleys in match-winning moments, we have selected a few of our favourite Gerrard goals. But are any of these your favourite? Let us know what you think by voting in our poll and leaving your comment below.
LIVERPOOL 2-1 SOUTHAMPTON, 2001: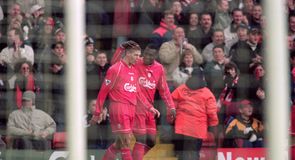 On a freezing New Year's Day and on pitch resembling dirt bike track Gerrard hit home one of the most spectacular goals of the season. After picking up the ball in midfield, he whacked it against the crossbar and into net from 35 yards out.
LIVERPOOL 1-1 MIDDLESBROUGH, 2005: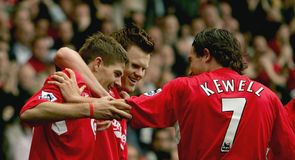 Technically superb and visually brilliant, this dipping and swerving volley from miles out is one of Gerrard's most memorable and left the Middlesbrough goalkeeper with no hope of saving it.
LIVERPOOL 2-0 MAN UNITED, 2001: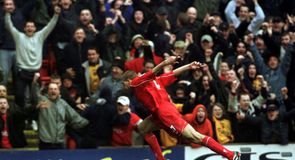 Gerrard crashed a 35-yard screamer into the top corner at Anfield to put Liverpool on course to complete a double over eventual 2000/01 Premier League champions Manchester United. The win also helped the Reds in their bid to seal the third and final Champions League place that year.
Have your say on Gerrard's best goal via the feedback form below or vote in our poll
Which has been Steven Gerrard's best goal in the Premier League?
V Southampton, 2001

V Middlesbrough, 2005

V Man United, 2001

Other