Shots fired
Ben Herd tells Chris Burton that Aldershot consider themselves to still be in play-off contention.
Last Updated: 24/03/12 12:25pm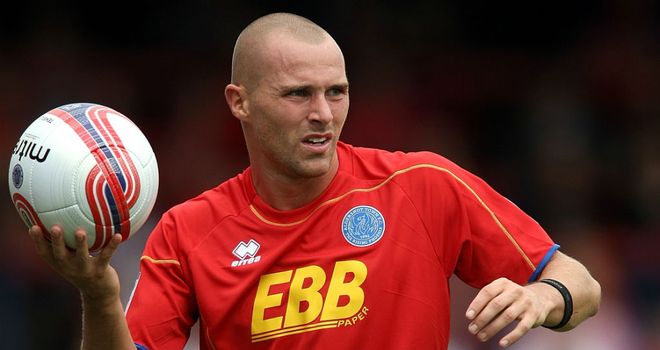 An eight-point gap to make up and only nine games in which to do it - too much to ask?
Perhaps, but try telling Aldershot Town that their mission is impossible.
Eight wins in their last 11 outings have lifted the Shots clear of relegation trouble and into the play-off mix.
They are considered to be rank outsiders for a top-seven finish in League Two but until it is mathematically impossible for them to join the promotion-chasing pack, they will be doing their utmost to edge up the table.
And why not?
Aldershot find themselves in the enviable position of having nothing to lose this season.
If they come unstuck in a few games heading down the final stretch they will still comfortably beat the drop, while a flying finish could yet see them sneak into League One through the back door.
That would be some achievement for a club that were looking anxiously over their shoulder at the end of January but, as Sky Sports' Chris Burton found out when he caught up with club captain Ben Herd, the Shots have every intention of building on their recent return to form.
"It's funny how it happens like that sometimes," Herd said.
Changed
"We went on a bit of a bad run over the Christmas period but then towards the end of January, the gaffer changed a bit of the personnel around and everything seems to have clicked. The pivotal game was the AFC Wimbledon away game, where we won 2-1 and sort of kick-started our season and from there we went on to win the next five games. We have had a couple of bad games in between, but we have won two on the spin now so hopefully that's a sign of things to come."
Asked for the secrets behind Aldershot's remarkable reversal in fortune, Herd added: "We have maybe tried to pass the ball a bit more. When we were going on our bad run, I think sometimes we maybe got a little bit too direct. Just lately people are making better decisions and everyone has been solid. Our defensive record has been really good, we haven't conceded too many goals in that period or over the whole of the season - I think we have been in the top five or six defensively. Scoring goals has been a bit of a problem for us this season, but thankfully we have kept a few clean sheets and been pretty solid."
It has not been the defensive unit that has been causing Aldershot headaches this season, it is a scoring record that has seen them notch just 40 times in 37 games.
Herd admitted: "That has been where our problem has been this season but you can't really put that down solely to the centre-forwards. They will argue that the service hasn't been great to them and they haven't been given the opportunities to score. But we have got Danny Hylton who has scored 15 goals this season, so it's probably a case of not enough people chipping in with goals from around the team."
Should they rediscover their shooting boots, Herd is adamant that Aldershot can close quickly on the play-off places.
He said: "It is doable. We saw Rotherham the other day and their chairman was saying that they haven't given up and they are in a similar position to ourselves. On the plus side we are playing with the freedom and confidence that winning gives you. No-one expects us to get in the play-offs but we are quietly confident and we will give it a go. I'm not saying we are going to do it, but it gives us something to aim for. If we win our next nine games, I'm sure we would be in there. We just have to keep plugging away in every game. There is no pressure, we have turned the corner in the season and it's just a shame that it didn't happen half a dozen games sooner, but that's the way it goes sometimes."
Aldershot could certainly have done with finding their feet a little sooner, with as many victories picked up in their 11 games since 21st January as they managed in their 26 fixtures prior to that date.
Herd said: "That's a frightening stat, that is. It just shows you sometimes. The gaffer changed things a bit in January, maybe got a few younger, fresher, hungrier players in with a point to prove. What better place to do it than Aldershot? Not too much pressure on and hopefully they can flourish in that situation."
Aldershot consider themselves to be that sort of club - one that quietly go about their business, taking slow but steady strides in the right direction.
Achievement
On the progress being made, Herd said: "A club the size of Aldershot, sometimes fans - I can understand they want to be pushing for promotion, everyone does and as players that's what we want as well - have to be realistic in terms of budgets. A top-half finish with the budget the gaffer has got would be a great thing, to be honest, I think it would a real achievement. It's a bit hard as a player to say that because you want to be challenging for automatic promotion and the play-offs, but sometimes you have to look at the bigger picture and from the club's point of view I think that would be a great achievement, top ten would be unbelievable."
Herd says money talks in League Two more than it does in any other division, making life all the more difficult for a club of Aldershot's stature.
He added: "In League Two budgets do play a massive part in it and as you go up the leagues, maybe to a certain extent they don't. I was talking to one of the lads earlier on about Swansea, they haven't spent a lot of money this season compared to someone like QPR who came up with them, but have done a much better job. It is important at this level because you need to get good players in. You have got your Swindons, your Crawleys this season who have got big budgets and I wouldn't want to hazard a guess at how many times more a budget they have got than us. I imagine it would be two or three times at least. From that point of view, we are doing a great job."
Herd has played a leading role in that 'great job', but the modest 26-year-old is happy just get on with things and let others take the plaudits.
On his season so far, he said: "It's been one of them and I just get on with my football and do my job. I don't become a manic depressive when we start losing and I don't go cock-a-hoop when we start winning games, I just keep an even keel on things and play the games. All you can do is your best, you can't ask any more than that. You go out there and give your best, you might not have the best of games sometimes but you can never criticise me for lack of effort or my application. It's for other people to judge if my performances are good enough. I'm quite happy with how it's gone."
The 2011/12 campaign has been Herd's first as Shots skipper and he admits he has welcomed the responsibility that accompanies being an on-field leader.
He said: "It's something new. Maybe it's added a different dimension to my game. It's a bit more of a responsible role, but I have enjoyed it. I have enjoyed leading some of the younger lads, who I am sure are tired of listening to my boring stories, but it's been good. The gaffer entrusted me to do it and I am just trying to help the young lads where I can - sometimes it's a stick, sometimes it's a carrot."
Herd will have completed three years of service at the Recreation Ground come the end of the season, during which time he has made well over 100 appearances, and he admits that he is in the right place for his career at the current time.
He signed off by saying: "As a footballer you would be lying if you said you didn't want to progress up the leagues. The club is going in the right direction now, with an aspirational manager who wants the same thing. He wants to go up the leagues as well and have a career as a manager higher up. At the minute it's going great and everyone is enjoying it. It's a good place to play your football and we will just see what happens."