Alive and kicking
Billy Jones tells Chris Burton that Exeter are still very much in the League One survival scrap.
Last Updated: 13/04/12 11:03am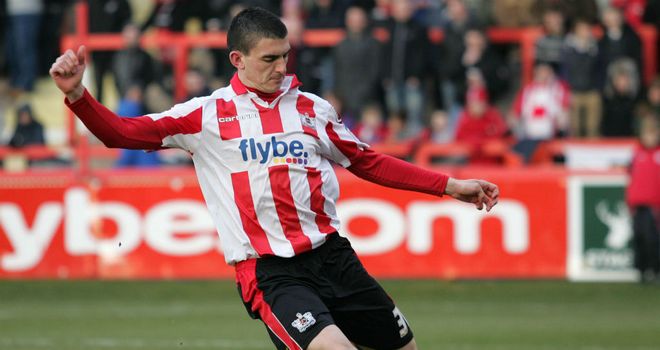 An eight-point gap to make up and only four games in which to do so.
A big ask, but a challenge Exeter City are preparing to face head on.
The Grecians may be struggling to keep themselves afloat, but they have every intention of getting their head back above water before the plug is pulled on the 2011/12 campaign.
A 3-0 victory over fellow strugglers Leyton Orient last time out has given them hope, with it possible that a comprehensive Easter success has resurrected their faltering survival bid.
They still have it all to do if they are to avoid slipping back into League Two after three seasons in the third tier, but the mood in the St James Park camp is one of optimism.
"It's very good. Obviously we picked up a great result on Monday," full-back Billy Jones told Sky Sports' Chris Burton.
"We should have got more out of the game on Friday (against Scunthorpe), to be honest, but we came away with nothing. We started the game really well on Monday and ended up winning comfortably, so that was very pleasing. It was a long time coming, but now we have to keep going. We have got four games to go and if we win all four, we will see where that takes us.
"We looked at the games we have in the run-in and we go away to Rochdale at the weekend and then have Walsall at home the following week, so they are two games that hopefully we can pick up maximum points. We can then go into the last two games looking to get something out of them as well.
"I haven't really looked at other people's fixtures, we have just got to concentrate on our own. The next two we will be trying to get maximum points out of, then we go into the last two trying to do the same as well."
Achievement
Given that Exeter have spent the entire campaign in the bottom half of the table, and much of it inside the relegation zone, it would be some achievement were they to steer a course to safety.
Jones said: "I think it would be something that people would be talking about for a long time. People have said it will be the Great Escape, and everything like that, and if we get out of it, it will be on a par with the promotions the club has had, so we will wait and see. We are just taking it one game at a time now and hopefully we can pick up a few more points."
Battling against the drop is not how Exeter envisaged their season shaping up after securing an eighth-place finish last term and only narrowly missing out on the play-off places.
Asked what has gone wrong this time around, Jones said: "I don't know really. We have near enough got the same squad, we have only lost one or two, but they have been quite vital in goalscoring terms for us. That's the bottom line, we haven't scored enough and we have let in too many. We are where we are, we have just got to face up to that and keep going."
Losing one or two key men can be all it takes to turn things on its head, though, with success in the Football League all about stability and consistency.
Jones said: "If you go on a good run in this league, or in any league, you end up in and around the play-offs, and we just haven't found that consistency this season. It would be great if we could find it now. We won on Monday and if we can win the next four, that's five on the bounce and we haven't done that all season. If we go on to do that, it would be fantastic."
Whatever happens this season, Exeter would appear to be in safe hands heading forward, with fan ownership ensuring that the club are sensibly run and do not try to live beyond their means.
Control
Jones said: "It is. I don't think we are in any trouble, administration or anything like that. It's run by the fans and kept under great control and it has been the last few years. That's not going to change, it's going to carry on whatever league we are in. Hopefully we will still be in League One next year."
The Grecians also have a manager in Paul Tisdale who knows the club inside out and continues to have the full backing of all of those above and below him.
Jones said: "He's done fantastic for the club. He has got his teams always looking to pass the ball and play the right way. I personally don't know what's going to happen with the manager, but I hope he stays because he has been great for the club and hopefully he can continue to do well."
While it may not have been the most successful of seasons at St James Park, Jones continues to enjoy working under Tisdale's tutelage and is hoping to end the campaign on a high.
Asked how the season has gone for him on a personal level, Jones said: "It's been a bit hit and miss really. I have been unlucky with a couple of injuries. The start of the season wasn't great, I wasn't in the team, but that wasn't anything to do with me, I just had a player in front of me who has now gone to Barnsley in Scott Golbourne who was doing fantastically well and was probably one of our best players. When he did go, I got a chance to play. I have been quite fortunate in that sense, I just need to keep playing, keep fit and finish the season really well."
Jones is in his second spell with the Grecians and admits that he would welcome the opportunity to remain with the Devon-based outfit for many years to come.
He said: "Of course. I have got two young kids, so it is always good to get settled. When you are in football you can be constantly moving around, so if you can get your family settled in one area it's great. It's all good at the moment and if I get the opportunity to stay, then I will be very happy."