Simon Veness finds out how the NASL is carving out a new legacy
Simon Veness completes his sit-down with ex-England star Ricky Hill with a look at soccer in Florida
Last Updated: 19/02/13 4:01pm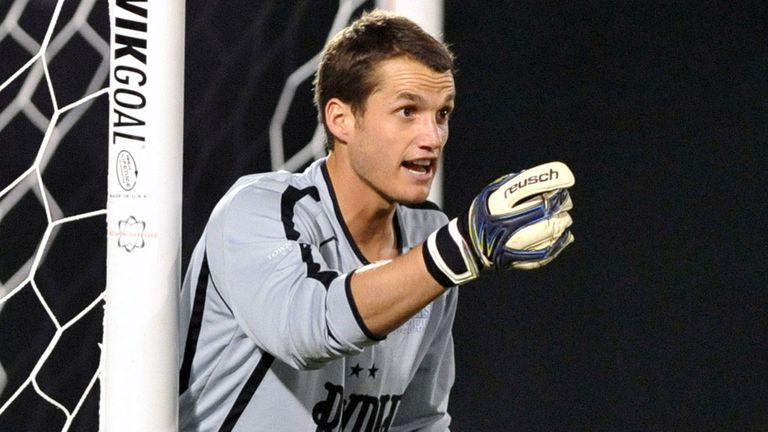 The highlight was the second-round game between Holland and the Republic of Ireland, which the Dutch won 2-0 to book a quarter-final with Brazil. The two sets of fans in green and orange got on so well that they pretty much drank the city dry, and it took months to get all the Guinness out of the carpets.
It set the seal on a neat little full-circle of footballing life that had started with the Tampa Bay Rowdies in 1975, struggled through to the early 90s and then, instead of dying out completely, passed the torch to a new generation of soccer fans during the World Cup.
From that particular Copa Mundial, America was bequeathed Major League Soccer (MLS), which has gone on to become a major player in the US sporting scene. However, Florida has largely been overlooked as a source of football fandom - until the last few years.
Alternative
In 2008, a Tampa Bay franchise came back into being (initially as FC Tampa Bay, due a long and rather dull legal wrangle over the ownership of the 'Rowdies' moniker that was resolved late in 2011) and is now arguably the biggest name outside the MLS sphere of influence.
Two years later, another team arrived on the Sunshine State landscape and made its home in the vast Citrus Bowl. Undaunted by the logistics of the Bowl (Capacity, 62,000; average attendance, about 6,600), Orlando City FC quickly made a name for themselves in the US Pro League, an alternative to the NASL that Tampa Bay joined, which is the nominal second tier of professional football in America.
After two successful seasons under head coach Adrian Heath (yes, THAT Adrian Heath - ex-Everton and Stoke, and still known as Inchy for his striking lack of height), Orlando City are now knocking loudly on the door of MLS having just announced a major new ownership input from Brazil.
At the same time, the Rowdies and reborn New York Cosmos are seen as two teams that can put the NASL firmly on the map in its own right. Suddenly, Florida is a pretty cool place to be (ahem).
Fortunate
And Ricky Hill is right in the middle, enjoying the benefits of the Floridian lifestyle while overseeing a soccer Renaissance. The Rowdies head coach has completed a remarkable journey to date, finishing his playing career here with Tampa Bay in 1992 and then the short-lived Cocoa Expos on the opposite side of the state before plying his trade as a coach with Sheffield Wednesday and Spurs at youth level and Luton, briefly, at full managerial level.
And then, well, let Ricky tell the story: "I've been very fortunate in that respect. My assignments away from England have been in places that people would pay a lot of money to visit, like Trinidad, where I coached for 18 months, and I have been able to develop my skills as a result. I know the benefits of being in a place like this, and that's something I can use to my advantage."
Like the benefits of year-round sunshine and playing at night in 27-degree heat while folks back in Sheffield and Luton are fighting off frostbite?
"Exactly!" laughs Ricky. "But it's more than that. For players who have been around a bit and are looking for a new challenge, it's the chance to bring themselves and their family to a very different environment where the quality of life is better and you can enjoy it year-round.
"We can appeal to players who might still be able to play in the league or even the Premiership and say 'Come and give us a try. It's a whole new career out here'."
Iconic
It has already appealed to players like Carl Cort (ex-Wimbledon, Newcastle and Wolves) and Scotsman Stuart Campbell (ex-Leicester, Grimsby and Bristol Rovers), and that duo were instrumental in helping the Rowdies to the NASL title last season.
But how did Ricky end up back in Tampa? "When the club was first being reformed, they held a player combine at the academy at Liverpool FC with Paul Dalglish as head coach. I had a long-standing relationship with the team going back to 1992 and they asked me to assist at the combine and just offer my own thoughts on some of the players. I met the owners and, from there, I took an interest in how the club was doing.
"Unfortunately, things didn't work out for Paul and he was relieved of his duties towards the end of the first season. I was back in the UK at this stage but I had been keeping tabs on things and applied for the vacancy - along with quite a few others - and was eventually offered the job after a series of interviews.
"I knew the Rowdies was still an iconic brand in US terms, even in worldwide terms, and I was determined to give it a good shot, especially as I had already been out this way once. And I think I can say I understand how the American system works. We are limited in our ability to buy players, and we have only seven international places per team in the NASL.
"But it does mean we can appeal to players like Carl and Stuart, who still have a fair bit left to offer and they can help to move the whole organisation forward. We are still looking to develop and grow. The main point from our perspective is to produce a brand of soccer that is pleasing to the neutral eye and which will engage people and encourage them to want to see more.
"The MLS has a head start on us but I believe we are a fast-growing league which has every potential to go on to much bigger things, too. There are expansion plans in place for 2014 and it is developing in completely new cities like Indianapolis."
Legacy
NASL president Bill Peterson is equally bullish about the league's potential. He told me: "I don't think we are limited by anything but ourselves. We want to build our teams up so they are productive on the field and solid in their finances, and we will see where that takes us.
"Our owners are striving to be successful, building stadiums for their teams that they can fill with fans. There is a great legacy within the NASL - of Pele and the Cosmos, and the Rowdies and Fort Lauderdale Strikers. But, at the same time, Pele is no longer playing, so we must carve out a new legacy for ourselves. The bar has been set very high and we have to meet it by creating new and exciting rivalries and making sure every game is significant."
With that in mind, the league will introduce a new set-up this year that is effectively two separate seasons, from April to July and then August to November, with the winners of each 'half' of the campaign meeting in the end-of-year championship game. It provides a built-in mid-season 'break' when most other leagues are resting, timed around the summer transfer window, and avoids some of the summer heat.
It should also keep more teams in with a chance of honours and make games more meaningful. And keep coaches like Ricky on their toes.
"Yes," he says. "It's a different style of league play but it's all about creating a league identity and interest for the fans. I'm all for anything that creates interest in the game. And, ultimately, I think it is necessary for the growth of the game in the USA."
Whether it ever takes anything away from the likes of the NFL, NBA and MLB is highly unlikely, but Florida has a significant and growing Latin population and, if there is one sport that is likely to appeal to immigrants from Colombia, Peru, Ecuador, Venezuela and Brazil, it is the game that Pele and Co made famous.
So don't be surprised if it's not just Brits setting up home here in future. I'm not saying Ricky will be on the phone to Kaka anytime soon, but you can't rule it out, you know...
Read parts one and two of Simon's interview with Ricky here: Part one | Part two