'A surreal moment'
Simon Veness speaks to Ricky Hill about the infamous 1985 FA Cup tie between Luton and Millwall.
Last Updated: 16/02/13 9:46am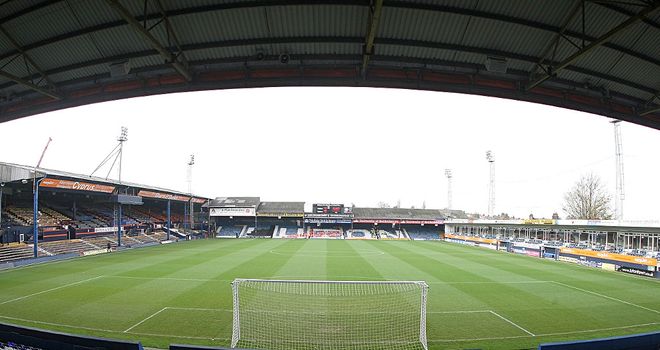 He may be 4,350 miles away, but Ricky Hill will be firmly tuned in to events at Kenilworth Road as Luton take on Millwall in the fifth round of the FA Cup today.
The former Luton and England midfielder does have plenty of matters close at hand, as he prepares reigning NASL champions Tampa Bay Rowdies for the start of their new season in a few weeks, but there is no doubting where his thoughts will be come 12.45pm kick-off time.
Because, almost 28 years ago, Ricky was right in the middle of one of the most infamous incidents in British football history, the sixth round tie between Luton and Millwall that saw some of the worst rioting of that hooligan-filled era.
It was a night when little Kenilworth Road - then the home ground of a proud and innovative First Division club - was virtually laid to waste by visiting fans who attacked police, home supporters and even each other in a terrifying outburst of violence before, during and after the game.
Some 81 people ended up in hospital, including 31 police officers, and the outrage sparked government attention at the highest level - and a four-year away fans ban by Luton that had other, serious, repercussions.
A lot of water has passed under the bridge for Ricky since then - including spells playing for the Rowdies in 1992 and coaching in places as far afield as Spurs, Luton and Trinidad before arriving to help revive Tampa Bay and the NASL two years ago - but those memories of 1985 are still fresh.
He told me: "It was a surreal moment in sport. I have experienced a lot of violent and hostile atmospheres in games, in places like Salonika and Istanbul for England, places where the hostility was there for everyone to see, but nothing like that night in Luton.
"We knew immediately that something was wrong when we went out for our warm-up. We looked across to one side of the pitch and there were Alsatians and police officers all over the place, and these orange plastic seats that had been ripped out and thrown on to the pitch.
"It was a stunning scene and we all just thought 'What the hell's going on here?' You looked into the stand and you could see these out-and-out hooligan types baying to get on the pitch, all being held back by a police cordon. At the same time, behind the away supporters end, you could see the crowd gathering in volume, unrecognisably so. It was ridiculous in terms of the numbers we were expecting.
"We were well aware there was an incident going on but we managed to get our warm-up done and, amazingly, we managed to start the game with this chaos of fans everywhere and skirmishes and fights with police. But it was a like a torch had been lit and we were just waiting for it to ignite ten-fold."
Menacing
That the game started at all was a minor miracle. The official attendance of 17,470 is well short of the actual figure as visiting fans broke down the turnstiles at the away end, the Kenilworth Stand, and just forced their way in, well past the stand's usual 3,000 capacity.
For the players waiting to go back out for the game itself, it was a menacing prospect, and it needed a major effort by police to get fans off the pitch and an appeal by Millwall boss George Graham for some semblance of order. In the end, the game kicked off on time, but with fans spilling into every corner of the ground, including some sitting on floodlight pylons and even the low roof of the Bobbers Stand!
But, just 15 minutes into the game, the tinderbox atmosphere flared up again, and this time there was real trouble. Ricky recalls: "It all kicked off again and suddenly there were fans by the side of the goal and all kinds of fights in the main stand where the visiting fans had broken through. Mitchell Thomas was trying to take a throw-in on the right-hand side and the fans were trying to get at him physically, so the referee called a halt right there.
"At that point the game was purely secondary because lots of the players had friends and family in the stands and we really feared for their safety, although there was nothing we could do. These weren't any kind of 'fans' we recognised, just a bunch of hooligans out for blood.
"We all thought it would never get started again and we would be looking at a replay at some stage. For 20 minutes we sat in the dressing room, then 30 minutes. By some great miracle of police work, they did get the pitch cleared, though, and we were able to resume, with a police cordon stretching from one side of the pitch to the other at one end."
Luton managed to nick a goal before half-time through Brian Stein and that was how it stayed, with the clock ticking up towards the 90-minute mark and the air of menace in the ground building back towards a crescendo.
Ricky says: "You could still feel the volatility in the air and, in the later stages, the referee had a word with all the players to say that, as it got the near the end, as soon as the ball got near the players' tunnel, he would blow the whistle for full time. 'Get yourselves off rapidly!' he told us.
"Sure enough, he was as good as his word, but the fans also jumped the fences at the same time and it became a race. Every one of us, including the Millwall lads, just ran off at breakneck speed! Once inside, we were just relieved the game was over; elated we had won but very worried for our fans being trampled out there. Our supporters were a genuinely mild-mannered bunch and no-one had ever experienced anything like this."
Battle
Despite the final whistle, Kenilworth Road and its surrounds were still the scene of massed battles between visiting fans and police, with one stand and its fencing being trashed to use as missiles. Seats, fence-posts and concrete blocks were hurled indiscriminately from both sides of the field. In one desperate highlight, Sergeant Colin Cooke was felled in the centre circle and stopped breathing, only to be resuscitated by PC Phil Evans.
Of the 31 people who appeared in Luton Magistrates Court the next day, the majority identified themselves as fans of other teams, while another upshot was Luton's infamous four-season ban on away fans, which also led to them being expelled from the League Cup in 1986/87.
Hill, now 53, is remarkably sanguine about the events of way back then, during an age that many football fans may struggle to recognise, let alone comprehend. It is all a far cry from the FA Cup of 2012/13, but Ricky will still be keeping his fingers crossed this latest meeting of old rivals passes off peacefully, especially as Luton are now the 'minnows' and Millwall are the favoured League team.
If there is one thing that hasn't changed in the intervening years, though, it is Hill's love for the little club north of London that remains just as quirky as it did in its hey-day under David Pleat. Ricky said: "I will definitely be tuning in on Saturday and wishing the club and its supporters the very best of luck, and hopefully they can repeat our result against them. You can't emphasise enough how valuable that would be to the club now.
"We were always the club that had that individual style and status, a small fish in the big pool of the old First Division, and the support of the fans still shines through. Hopefully we will see a positive memory of that night in 1985 this time."
Next - From Paddington to Tampa Bay; Ricky Hill's journey in football.