Soccer spectacular!
Simon Veness is set for an unprecedented event in US TV history - the Premier League finale.
Last Updated: 10/05/12 1:13pm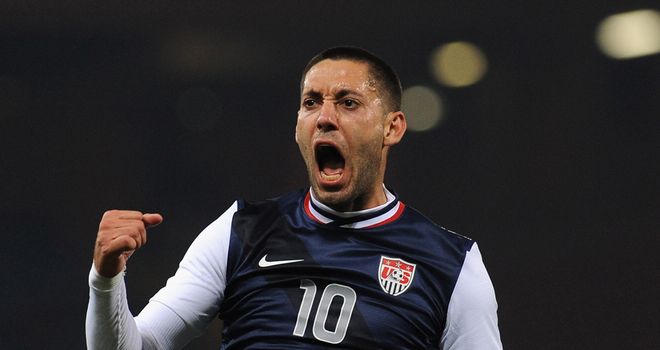 Call it the Clint Dempsey Effect. Call it the 'internationalisation' of the game.' Call it the result of a crazy season. Or call it the outcome of 'sexy' football.
But whatever you do, don't call it minor league or insignificant. And definitely don't say that America has no appetite for football. Or even 'soccer'.
Because we are about to see an unprecedented event in US TV history and it has everything to do with the runaway success of the Premier League this season, even if they do insist on calling it the 'EPL' over here.
Growth
From my vantage point deep in the heart of this huge continent (OK, Orlando, about five minutes from Walt Disney World), it has been fascinating to witness the growing pull of Manchester City, Everton, Fulham, Swansea, yes, and even Wigan (as boss Roberto Martinez is quite the cult star in the US).
It is the culmination of five years' of spectacular TV-driven growth of both the international leagues and the domestic MLS on this side of the pond, and we are ready for an historic Sunday in small-screen terms.
Get this: as Manchester City and United bid for the title, Fox TV and ESPN will combine to show EVERY Premier League game live.
That's right. All 10 of them. At the same time. On 10 different channels. A simul-cast of extraordinary proportions, even by American standards (and they DO love a good sports TV broadcast over here, as evidenced by the fact eight of the top 10 programmes of all time are Super Bowls!).
Drama
Spoiled for choice? You bet.
But it is merely indicative of how deep and how widespread a following there is for the 'EPL' in these parts. In fact, it strikes me as so unusual in a country that has its own well-supported - and still growing - league in the shape of the MLS, that I sought out a second opinion this week, that of ex-USA star, former Los Angeles Galaxy general manager and ESPN pundit Alexi Lalas.
And he is not in the slightest bit surprised that the Manchester drama, the rise of Dempsey to genuine superstar status with Fulham, Everton's short-term import of another American ace in Landon Donovan, the bright performances of the likes of Swansea, Norwich and Newcastle, and the continued high-profile (and Premiership Hoodini act) of Martinez adds up to a winning package.
Lalas is never short of an opinion or three but is the ideal sounding board for a look at how the round-ball game has started to command such major TV time in the past few years, culminating in Sunday's Brunch Bonanza (all games kick off at 10am, our time).
He told me: "It is almost a lifestyle choice to be a soccer fan in America, and it is becoming more and more popular. There is a huge and rabid fan base in the US and the marketing people are smart enough to tap into it.
"What the Premier League has done internationally in the last 15 years in general terms has been incredible. They have got the world to look at them in a completely different way, providing a level of non-stop drama and theatre on and off the field.
"We've seen someone like Clint Dempsey become a major player in world terms - and there's nothing like seeing an American success abroad for sparking domestic interest - but we have also seen the growth of super-clubs like City and United, which makes for a great story.
"The whole image of the EPL has become sexy and intriguing, and this season has built into the 'perfect storm' of international interest, hence the unique level of TV coverage this Sunday."
Record
Lalas went on to paint a vivid picture of the Premier League as the kind of sporting institution that would once only be the preserve of the high-powered American sports, of the Yankees and the Cowboys and the Giants.
But, thanks to the instant messaging of TV, the novelty of promotion and relegation (absolutely unknown in US sports), bucket-loads of cash from Russian billionaires and Middle East royalty, the sudden emergence of genuine home-grown talent and a unique internationalised audience from New York to Los Angeles, the Premiership is now a major player in its own right.
Hence we will be able to tune in on Sunday morning and follow every kick, from the top of the table to the very bottom.
It all adds up to a truly unique and unparalleled event in the American sporting cosmos, and one that is likely to command a record audience for a non-World Cup game.
So, if there is a sudden rush on Saturday for transatlantic flight tickets from fans of Arsenal, Spurs, Newcastle, Bolton and Aston Villa, it would be quite understandable.
All hail, the EPL!