Rise of the Predators
Simon Veness reports on how former Everton striker Adrian Heath is making waves in Orlando.
Last Updated: 04/09/11 2:12pm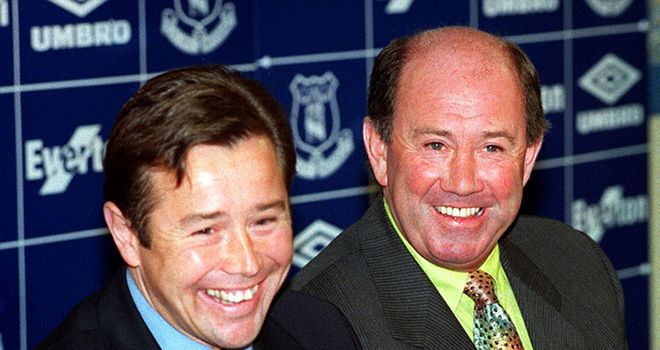 A Division One crown; an FA Cup win; the old European Cup Winners Cup; and now - the USL PRO League. That's the intriguing, but unlikely, quartet of accomplishments awaiting former Stoke and Everton striker Adrian Heath on Saturday night.
At a time when both his main former teams (he also played for Espanyol, Aston Villa, Manchester City, Sheffield United and Burnley) would dearly love a goal-poacher of 'Inchy's' peak prowess - 71 in 226 appearances for the Goodison outfit - the much-travelled hitman has taken his recent travels to new heights (or, at least, lengths).
Here in the improbable soccer hotbed of Orlando, Heath is now head coach of the latest sporting sensation in a town not usually known for much more than Mickey Mouse and, more recently, the Wizarding World of Harry Potter (at nearby Universal Orlando).
Sure, the Orlando Magic are a reasonably audible, if not actually loud, noise in the world of the NBA. But the only team ever to bring title glory to The City Beautiful (as it likes to call itself) are the Orlando Predators of the Arena Football League (an indoor version of gridiron). And that was in 1998.
Legendary
But, in a place made famous by the story-telling prowess of a certain Walter Elias Disney, the legend of Orlando City soccer club is poised for major fairytale status if they overcome the Harrisburg City Islanders in the 70,000-seat Citrus Bowl on Saturday (expected attendance - around 15,000).
Whoa there - did you say the mighty Islanders from Harrisburg, state capital of Pennsylvania (population 49,528)? Well, OK, it's not exactly Inter Milan. Or even Rapid Vienna, who Everton beat in the 1985 Cup Winners Cup final. But stick with me here, because this story is one that will grow on you.
Heath's travels, in soccer terms, are near-legendary. After being part of unarguably the best Everton side of all time from 1982-88, when they won the league twice, the FA Cup and achieved European glory (albeit suffering most from the cruel backlash of English clubs' post-Heysel ban), Inchy moved on another SEVEN times, including a brief return to home-town Stoke and two spells at Turf Moor.
After appearing for England Under-21s and commanding a then club-record fee of £700,000 for joining Everton (an amount which wouldn't even buy a 10th of Mikel Arteta these days - hah!), Heath was one of Howard Kendall's glory-glory boys, appearing in an Everton dream team line-up that also included Graeme Sharp, Kevin Sheedy, Paul Bracewell, Peter Reid, Trevor Steven, Andy Gray, Neville Southall and Gary Stevens - a Who's Who of British internationals at the time.
His managerial career wasn't quite so star-studded, including Burnley, Sheffield United and Coventry (as caretaker-boss), before he seemingly dropped off the soccer map in 2007 - and resurfaced in 2008 as head coach of the Aztex in Austin, Texas.
Huuh? (Imagine the noise made by current Everton boss David Moyes at about two minutes to midnight on transfer deadline day when Arteta announced he did, actually, want a transfer to Arsenal after all, thank you very much. Failing that, stick your head out of the car window on the motorway at 80mph for the right sound effect).
Unbeaten
Not exactly an obvious career move, it turns out a meeting in a Stoke pub with City director Phil Rawlins had a serious bag-packing effect on our Adrian. To a team that didn't, in reality, exist at that moment in time; in a place he knew nothing about; in a land Far, Far Away.
But Rawlins (a self-made expatriate millionaire in the city of Dallas but still a Stoke boy at heart) had plans for the fledgling Aztex. Big plans. Only after just two years they took a major detour. All the way to Florida and the House of Mouse. Seems a business partner had what is termed as A Better Idea and the Aztex morphed into Orlando City practically overnight. And now things get seriously interesting.
After slightly less than a year in their new abode and stylish red kit, Orlando City have swept all before them in league terms (the slightly esoteric USL PRO League, the third tier of US professional soccer) and their life is on fast-forward.
This summer they hosted pre-season visits from Premiership outfits Bolton and Newcastle (and deservedly beat the Geordies). They are unbeaten since early July and Heath has fashioned an impressive and willing cast of title-winning wannabes from the most unusual sources.
His goalkeeper comes from Mexico; his key defenders from Haiti and Jamaica; his midfield includes unlikely lads from Trinidad, Cuba and Kenya (not forgetting Shrewsbury); and his strikers number a local lad, another Trinidadian and a strapping Californian by the magical name of Maxwell Griffin.
His two mainstays both hail from England, former Sheffield Wednesday midfielder Luke Boden, now converted to the back four, and veteran midfield journeyman Lewis Neal, of Stoke, Preston, Carlisle and, more recently, Shrewsbury.
Ambitious
The Goodison glory boys they certainly are not. But you know what? Having spent a day at their delightful Dewey O Boster Sports Park training ground (82°F at 8.30am!), this is a team that has fun and is going places. A more eager, willing-to-learn bunch would be hard to imagine. And they ARE destined to go places.
Despite currently being in the third tier of US football (the USFL is second, then MSL complete with David Beckham, Thierry Henry and Co), visionary co-owner Rawlins has distinct designs on MLS level within three years (if not sooner). All it takes is ambitious owners, and the right level of following in the stands.
Crowds of 8-9,000 are not going to cut it, but the potential for the team to get bigger (like Championship-level bigger) is definitely there in the world's biggest tourist destination. They had enquiries from two Premiership players in the summer and, while they are not at that level wages-wise just yet, Rawlins acknowledges all the elements are taking shape for a major pitch to become the 20th team in the MLS.
And 50-year-old Heath? He is revelling in this strange soccer scenario, where players' egos don't get in the way, you can train every day under clear blue skies, and 'coach' is a revered position in society. He says: "The quality of life is fantastic and the eagerness of the players to learn and really better themselves is non-stop. The club has terrific ambitions and all the signs are that we can achieve them.
"Would I ever return to England? I've never said I won't. Part of me still wants a crack and I'm big-headed enough to think I can still do well. But you know what? It's going to take a really good opportunity and a big package to drag me away."
I'm thinking Inchy - and Orlando City - are likely to be walking tall on this side of the pond. And the only time he will be back home anytime soon will be when he and Rawlins return to watch Stoke - from the stands.