Festive 50
What do you recall from the sporting year of 2011? Test your memory with our 50 questions from the last 12 months of action.
Last Updated: December 23, 2011 7:29am
1) Name the four English divisional champions in 2011.
2) Which clubs finished bottom of their respective leagues?
3) Which teams won promotion through the play-offs?
4) Name the three beaten play-off finalists.
5) Name the losing FA Cup semi-finalists.
6) Name the two Portuguese sides who contested the Europa League final.
7) Who were beaten by David Beckham's Los Angeles Galaxy in the 2011 MLS Cup final?
8) Where was the 2011 Champions League final between Man Utd and Barcelona held?
9) Who beat Brentford to win the 2011 Johnstone's Paint Trophy final?
10) Who scored a dramatic late winner in the 2011 Carling Cup final?
FESTIVE 50 ANSWERS
Needs any answers from our quiz of the sporting year? Click here to reveal them.
RUGBY UNION
11) Who scored the opening try at the 2011 Rugby World Cup?
12) Name the referee who sent off Wales captain Sam Warburton in the semi-final with France.
13) Name the two English players who both scored a hat-trick of tries in the 67-3 World Cup demolition of Romania.
14) How many international Test matches did Martin Johnson's England lose in 2011?
15) Who were the 2011 Heineken Cup finalists?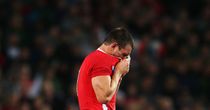 Sam Warburton is sent off in the World Cup semi-final but who dismissed him?
CRICKET
16) Who was the leading run scorer in English domestic County Championship cricket?
17) Name the leading wicket taker from the domestic County Championship season.
18) Which three Pakistan cricketers were, along with their agent, jailed in November for their part in "spot-fixing" matches?
19) Lancashire won the LV= County Championship, but which two sides went down and who replaced them?
20) Who beat Somerset to win the 2011 Friends Life t20 title at Edgbaston?
RUGBY LEAGUE
21) Who was named the 2011 Engage Super League 'Man of Steel'?
22) Who was man of the match in the 2011 Super League Grand Final?
23) Widnes will be back in Super League in 2012 - which club are they replacing?
24) Which player won the Golden Boot after being named man of the match in the Four Nations final between Australia and England at Elland Road?
25) Name the 2011 Carnegie Challenge Cup winners.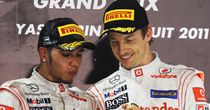 How many points did Lewis Hamilton finish behind Jenson Button?
FORMULA ONE
26) How many points did Lewis Hamilton finish behind Jenson Button - 33, 43 or 53?
27) Where did Button win his three grands prix for McLaren in 2011?
28) How many different nationalities of drivers competed in this year's World Championship - 12, 13 or 14?
29) Sebastian Vettel failed to claim pole in just four races. Apart from Red Bull team-mate Mark Webber, who was the only other driver to start from the front of the grid in 2011?
30) There will be three French drivers on the starting grid for the 2012 season-opener in Australia. Name them.
TENNIS
31) Who knocked Andy Murray out of Wimbledon 2011 at the semi-finals once again?
32) Maria Sharapova was beaten in the final of the ladies singles at Wimbledon by which Czech player?
33) Who did Spain beat to win the 2011 Davis Cup?
34) Name the winner of the ladies singles at the French Open at Roland Garros?
35) Which woman player finished the year as world number one despite failing to win a grand slam?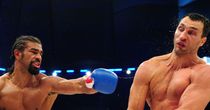 What reason did David Haye give for a disappointing showing in his fight with Wladimir Klitschko
BOXING
36) Which heavyweight boxing legend died in November?
37) To whom did Amir Khan lose WBA and IBF light-welterweight titles in Washington?
38) What reason did David Haye give for a disappointing showing in his world heavyweight title bout against Wladimir Klitschko in Hamburg?

39) Name the British super middleweight who lost to Andre Ward in a WBC & WBA title bout in Atlantic City?
40) Neven Pajkic was beaten by which heavyweight in their Commonwealth title showdown in Manchester?
GENERAL
41) Northern Ireland duo Rory McIlroy and Darren Clarke won the US Open and the Open respectively, but who collected the other major titles in 2011?
42) Name the two Americans who holed-in-one during the Open at Sandwich?
43) Which wild card team won the NFL SuperBowl XLV?
44) Which horse finished runner-up to Ballabriggs in the Grand National at Aintree?
45) Name the winner of the 2011 Queen Mother Champion Chase at the Cheltenham Festival?
46) British fighter Sarah Stevenson won a second world title in which Olympic sport?
47) Which Australian racer claimed his second MotoGP world title in 2011?
48) Name the winner of the 2011 PDC World Championship.
49) Which racer won the overall Tour de France yellow jersey?
50) Who claimed his fourth World Championship snooker title when defeating Judd Trump at the Crucible?