Hooiveld on a high
Southampton star Jos Hooiveld talks to Graeme Bailey about the joy of promotion.
Last Updated: 03/05/12 12:49am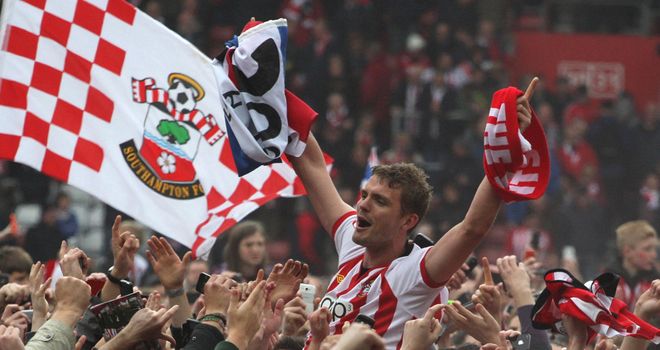 Southampton star Jos Hooiveld talks to Sky Sports' Graeme Bailey about the joy of promotion and his wonderful nomadic career so far.
Dutch defender Hooiveld played a huge part in Southampton's promotion to the Premier League, which they sealed on the final say of the campaign.
And Hooiveld admitted that they were delighted to have finally clinched a top-two spot.
"It is something nobody would have believed before the start of the season," he admitted.
The Saints have achieved their success by playing football this season and Hooiveld admits he thinks that is the way football in England is heading.
"At this moment, I think football in England is going back to the football like with Norwich and Swansea, people realise you can play football and go far and it hasn't always been like that in England, especially lower down," he said.
"But you can see now things are changing.
"It is something that crowns everything, making it to the Premier League."
Normal
Hooiveld has been through more than most to get to the Premier League and he insists that being there will not change him off-the-field.
"I think I am the most normal guy on earth, I don't think I am too big for anything.
"I am the like the guy next door and it is annoying for my Mrs, but I stand and talk to everyone and chat about whatever they want - that is the way I am, I have seen every side of football now and I realise everything is relative and I know you have to enjoy it while you can."
Hooiveld admits that he is loving life on the South Coast, "We are so settled here, we have settled down and much nicer than travelling all the time and I hope I can stay here for a long, long while."
Hooiveld himself joined the Saints promotion push at the end of August, on loan from Scottish giants Celtic and he quickly become a lynch-pin in the side.
But unlike many of the Dutchmen who will take to the field in the Premier League next season, not many will have come the route that Hooiveld has taken, which has seen him play in no less than seven different countries.
Hooiveld began his career in his homeland with Heerenveen, who soon loaned him out to Zwolle - but he was soon on his way out of Holland.
"I just needed confidence, in Holland nobody wanted me, I was so low, but then when I got into calm waters and felt appreciated it really went the way I thought it should do.
"But I have been travelling around a bit and if I look round I think in Holland I was not mature enough and I did not realise what it meant to be a professional until I got to Finland.
"When I was 20, I was loaned out by Heerenveen and I got regular first-team football and it was good to find out about that, it was ups and downs, but you try and push forward."
After finding himself not wanted in his homeland, Hooiveld accepted a deal in Austria, but again things did not work out well.
"I went to Austria with Kapfenberger, because in Holland nobody wanted me, even clubs in the second division wrote me off, they all thought I was not good enough so I had to go elsewhere to prove otherwise.
"I had half a season in Austria, but it was bad there and I was mistreated, it was poor how they treated me so in the winter we came to agreement for me to leave."
Scandinavia
Having left Austria, Hooiveld's Scandinavia adventure began as he joined Inter Turku in Finland.
"The Finland move was a big one, but we had a Dutch coach and he knew me from my time at Heerenveen and he was eager, I had a week's trial and things went really well and they signed me for two-years and I enjoyed a lot of success there."
After emerging in Finland, Swedish giants AIK Solna snapped him up, and within 12-months Celtic were paying £2million for him.
"AIK are a very big club, one of the biggest in Scandinavia and the year I had there was amazing, we had a team that was more friends than colleagues and it was an amazing time for me."
And the move to Celtic..."It was amazing," he explains.
"I had some many positive reactions to me joining Celtic, I had so many calls and texts and best wishes, it was unreal and was a dream come true."
But for the first time in his career injuries started to play a role for Hooiveld and they hit him hard at Parkhead.
"In my second game, after Tony Mowbray signed me, I got a small niggling injury and it kept coming back and we could not get to the bottom of it. I could not get that run of games and then a different coach came in. I didn't get any rhythm at all. "
With his Celtic move not working out, it was back across the North Sea for Hooiveld for a loan stint at Danish outfit FC Copenhagen.
"I moved to Copenhagen as they knew me from my time in Sweden and I played the last 14 games of the season, and that included last 16 of the Champions League and I was very pleased to play, including against Barcelona and it was a nice to be there and it really lifted my spirits but for some reason - maybe financially, they decided to go for someone else and I went back to Scotland briefly before moving to England."
Suddenly a move to England beckoned for Hooiveld and he made the move to St Mary's, and he has barely looked back since.
"It was very nice to get to England, the coach said he had seen me and thought I would fit in and that is what I needed, I got in straight away - we were winning which makes it easier and everything fell into place," he said.
Southampton signed Hooiveld on loan but they made his move permanent before the end of the year - which gave him a huge boost.
"It gave me a real boost when they signed me up before the end of the year, the fans were chanting my name and it really does it for me - the little things when you feel really appreciated by everyone."
Suddenly at 28, Hooiveld is set to embark on a Premier League career and that could very well see him push for an international role.
And he admits it is not beyond the realms of fantasy, "No it definitely isn't.
"They [other defenders] are all getting a bit older and that could be a position that becomes available but I don't look to the future too much but football can always bring you something different and it is unpredictable."