Poorly judged
Wayne McCullough was stunned by the decision to award Timothy Bradley victory over Manny Pacquiao.
Last Updated: 14/06/12 10:53am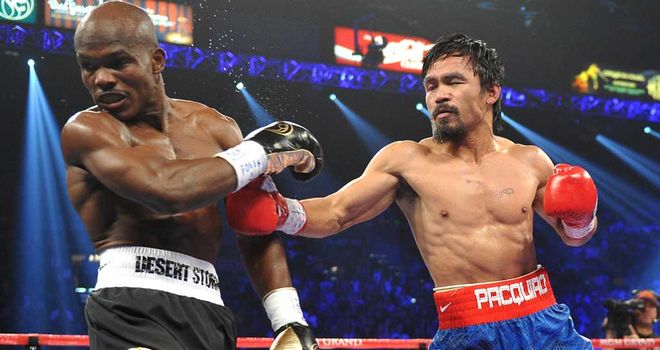 According to reports last week, Manny Pacquiao's conditioning coach, Alex Ariza, was not going to be working his corner come fight night. Freddie Roach made that statement after taking some shots at Ariza on a Pacquiao v Bradley 24/7 episode. Roach said Ariza would be with Pacquiao until fight time but wouldn't be one of the corner men.
Ariza left Pacquiao's camp in the Philippines early to link up with Julio Cesar Chavez Jr in Mexico as he was preparing for his next title defence on June 16 against Andy Lee. Roach said Ariza made the decision to work with Chavez, and Ariza said Pacquiao gave him the green light to go. Incidentally, Amir Khan, who also trains at Wild Card, has fired Ariza.
Pacquiao now has a spiritual advisor. Since his Godly experience he has been preaching no drinking, no gambling or womanizing, although his brand new commercial for cognac has begun airing recently. It doesn't make sense to me that he preaches one thing but does another for publicity or financial gain. I really do hope Pacquiao has turned his life around and given himself to God.
All this talk about camp leaves us wondering, was there conflict or was it just a plot to try and mess with Timothy Bradley ahead of their fight?
Bradley was going about his business, fitting his schedule around his family which, commendably, he says come first. He was focused, determined and I don't think he took much notice of what was going on in Pacquiao's camp.
Fight night
On fight night, the arena was not completely full with quite a few empty seats scattered throughout the venue. Pacquiao's body didn't look as cut as it had been in the past but it still looked like he might be able to finish the fight in the second round. After losing the opener, he caught Bradley with a a straight southpaw left. Bradley was hurt but was able to get out of trouble.
In the first seven rounds, Pacquiao took about six on my card. He controlled the pace, landed punches at will and kept Bradley from attempting to engage in any type of combat.
I thought Bradley took three rounds during the eighth and 12th rounds, but being generous I might have given him four. He got smart and moved to his left more cautiously than he had been doing in the first half of the fight. He landed long straight left jabs on Pacquiao's face and was extending it more than he had earlier to get more power. His right uppercuts were also catching Pacquiao on the chin as he came in close.
Pacquiao slowed in the later rounds and at times couldn't get anything off. Instead of cutting off the ring, he let Bradley move to his left. Bradley's body shots were slowing down his opponent but just when it looked like Pacquiao was out of steam he would unleash with power shots and hurt Bradley once more.
Shock decision
When it was all over it looked like Bradley had fought an intelligent second half of the fight but not enough to take the belt away from Pacquiao.
I scored the fight 116-112, or eight rounds to four for Pacquiao. I could have scored it seven rounds to five but I gave the close rounds to the champion.
The judges scored were read out, 115-113, 115-113 for Bradley and 115-113 for Pacquiao declaring Bradley the winner by split decision. The crowd, even Bradley's fans, were stunned. Most people around me had Pacquiao winning easier than on my scorecard and everyone was wondering what had just happened. Pacquiao had decisions handed to him in the past so God works in mysterious ways and this time the tables were turned.
In the pre-show build up, Bradley held up a large fight ticket declaring a date in November for Pacquiao v Bradley 2. He was so confident he was going to win that he was already planning for a rematch - and that ticket may just come in handy.
I picked Bradley to win long before the fight but even I was shocked when his hand was raised.
Boxing is already on the slide and a decision like this just doesn't help.