Jurgen Klopp inspiring Borussia Dortmund to Champions League final, says Jeff
Jeff Stelling blogs on how Jurgen Klopp is getting the best out of Dortmund's talented squad of players.
Last Updated: 25/04/13 2:27pm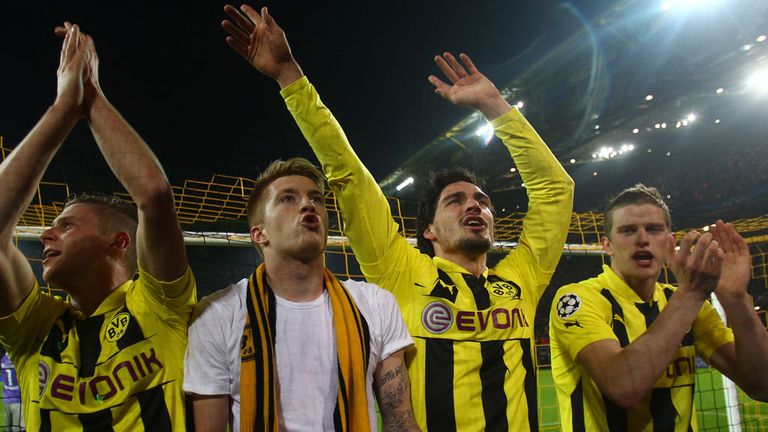 It was painfully clear that both Barcelona and Real Madrid are over-reliant on one player as they were routed at the hands of Bayern Munich and Borussia Dortmund, respectively.
The atmosphere at the utterly eye-catching Westfalenstadion was fantastic; it's virtually compulsory to wear a Dortmund shirt to get in, which is hardly surprising as the whole city is awash with Dortmund fans.
A couple of weeks ago Karl-Heinz Riedle said Robert Lewandowski is the best centre-forward in Europe and he's now shown that's probably right.
In some respects he plays in the manner of an old-fashioned centre-forward, in that he can hold the ball up, head it and he's strong. But he's also got a wonderfully deft touch on the ground.
Although he's probably not going to be at Dortmund for much longer, having shelled out just £3.9m for him they've certainly got value for money.
Exceptional
Like Bayern, Dortmund have a German backbone to their team in the sense that most of the players are of that nationality - and maybe that's something Spanish and English clubs can take a look at.
Roman Weidenfeller didn't have too much to do but made a couple of really important saves, while I thought the Serb Neven Subotic was outstanding at the back.
In midfield Ilkay Gundogan was exceptional at doing the 'dirty' jobs, getting the ball and delivering it to his side's four-pronged attack.
Marco Reus and Jakub Blaszczykowski caused mayhem in the Real defence when they ran directly at them; the visitors didn't know which way to turn - they were in a spin from the word go.
Admiration
Dortmund's average crowd is over 80,000 for a league game - that makes it the biggest in Europe, surpassing Manchester United by around 5,000.
The fans can relate to the club but it seems that the players can relate to the fans as well. The way the two interacted after the final whistle was fantastic.
It is a two-way street - a mutual admiration society - and you can't say that about every club, including many in this country. There is a mutual respect at Dortmund rather than some token applause from the players or, worse still, a relationship that borders on the contemptuous.
Not only are Dortmund a well-run club, but their scouting system is sensational. A host of their players have come through their academy. How many Premier League clubs can you say that about? The answer is hardly any - certainly not on Dortmund's level, anyway.
Passionate
As for the manager, Jurgen Klopp, he's different class - even if his world is ever-so-slightly wacky!
He proved his worth at half-time after Dortmund, clearly aggrieved they weren't awarded a penalty that would have put them 2-0, made a horrendous mistake at the back and went in level at 1-1.
Klopp has that something about him and lifted their spirits; you can see how passionate he is about the club and he's obviously a fabulous motivator and tactician.
In short, he looks like he's got the lot and it's a massive bonus for world football that he's now at a club that is in the spotlight as well. He claims not to enjoy the 'celebrity' that comes with the job, but I'm not sure I quite believe him!
Geoff Shreeves was only able to ask him one question after the match last night because we were just about to come off the air and two minutes later he was still going, which was terrific!
Frailties
Naturally, thoughts are already turning towards next week's return fixtures.
You can never rule out anything with Barcelona but they look flat at the moment and Lionel Messi still doesn't look fit.
If they scored an early goal and were able to get another one before half-time, then who knows? But it's hard to see that happening.
With their defensive frailties - and the same thing applies to Madrid - I can't see Dortmund or Bayern failing to score in their respective second legs.
That would seem to make the Spanish sides' tasks as near-hopeless as things can be. I think we are looking at an all-German final at Wembley next month.
Jeff's Gem of the Week
Accrington have struggled all season long so to go to Bristol Rovers in their hour of need and win to all but ensure that the far North West outpost survives in the Football League was exceptional, particularly as Rovers have had a fantastic run under John Ward. As one of Accrington's most passionate fans, Bumble, would say 'Start the Car!' I'm pleased for him, James Beattie and Accrington as a whole.