Sheffield United barking mad to sack Danny Wilson, says Jeff Stelling
Jeff Stelling decries Danny Wilson's sacking and says it shows that virtually no manager's job is safe.
Last Updated: 13/04/13 5:59pm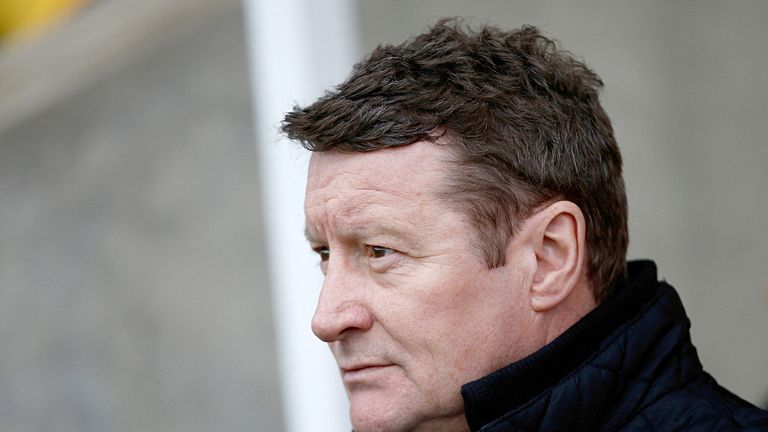 I say that after the most barking-mad sacking of a crazy season so far - and there have been a lot of contenders!
The dismissals of Nigel Adkins, Brian McDermott, Martin O'Neill and Michael Appleton (although anything seems to go at Blackburn) were bewildering, but Sheffield United's decision to get rid of Danny Wilson shocked me to my very soul.
Danny not only guided the Blades to the play-off final last season - where they lost on penalties - but has steered the club to six points off an automatic promotion spot in League One with two games in hand despite losing the goals of Ched Evans and Nick Blackman, who was sold to Reading in the transfer window.
Risk
I know United's results have been indifferent recently and that they are struggling to score goals, but I know Danny and he is one of the most knowledgeable and dignified men in football. He deserves better treatment.
I also understand the need for clubs of the stature of Sheffield United to get back to a higher level but the simple fact is that not everybody can go up.
There are lots of big clubs in that division and none of them have a divine right to win promotion but United have still got a chance!
I wonder what the players - a lot of whom Danny has brought in - must be thinking because the sacking smacks of panic.
I've got nothing against Chris Morgan, who I hope does really well while he's in charge, but it's hard to see how he's not on a hiding to nothing.
You understand these types of decisions to a degree when a manager in charge of a relegation-threatened team get shown the door, but when it's someone whose side is chasing promotion it's hard to fathom.
It means that outside of Sir Alex Ferguson, virtually nobody is secure in their job as I'm sure Roberto Di Matteo - a Champions League winner - would testify.
People think football managers earn too much money but, goodness me, their business can be a precarious one. As professions go, it's more high risk than being a trapeze artist.
Supportive
Stoke boss Tony Pulis understands the business as well as anyone and I'm sure he's more concerned for the club than his own position at present.
Last week I suggested that Stoke would be right in the thick of the relegation battle if they lost to Aston Villa and so it has transpired.
Fortunately he's got a hugely-supportive owner in Peter Coates, who has backed him to the hilt and I would be astonished if he didn't continue to do so.
He's said before that 'Stoke have had seven years of success with Tony - you can't cast that aside for the sake of a few difficult weeks', which is what it has been.
I don't expect them to get anything from Manchester United on Super Sunday and there is no doubt that they've got huge problems.
There's also no doubt that a section of the fans have turned against Tony but at this stage of the season they are still in a lot better position than Reading, QPR, Wigan or Sunderland.
Stoke just have to stand by their man and maintain the trust that they've had in him in years gone by because what can any manager truly achieve when they come in at this stage of the season?
Sunderland and Sheffield United have taken that gamble but they are stuck with the players that they've got; it's simply a question of whether the new gaffer can motivate the team more successfully than their predecessors. It's a tough ask.
Stoke's form overall has been cause for concern, but their away form in particular has been desperately poor. They find themselves in a 'Catch-22' because the more they try to shore things up at the back, the more isolated their lone striker becomes.
It strikes me that whoever is playing in that position often finds himself playing 30 yards in front of anybody else. Even if the lone striker was Lionel Messi, he'd struggle to score goals in that sort of system.
For the record I think Tony will resolve what is a difficult situation and Stoke won't go down.
Jeff's Gem of the Week
Let me take you back to last Friday and Port Vale's 7-1 victory over Burton Albion... Port Vale have stuck with Micky Adams even though it hasn't always been easy and the team has suffered some dips in form. But I think his job is secure for a bit longer after such a thumping win over their promotion rivals! You can draw plenty of comparisons between Micky and Martin Allen, not least the fact that both men are feisty, passionate managers who wear their hearts on their sleeve and they are both enjoying their rewards this season. Tom Pope has had a quiet spell for Port Vale over the last couple of weeks but judged on the season as a whole he has been a revelation. I'm pleased to see Micky do well because, like Danny Wilson, he's one of the game's good guys.
To find out more about Jeff's Mount Kilimanjaro climb - in aid of the Finlay Cooper fund - click here .
The easiest way to donate is to visit http://uk.virginmoneygiving.com/giving/ and search for Jeff's name. Any donations large or small will be more than welcome.