Reading and QPR face win-or-bust Premier League games, says Jeff Stelling
In the battle to avoid the drop it's win-or-bust for Reading and QPR this week, says Jeff Stelling.
Last Updated: 09/04/13 2:04pm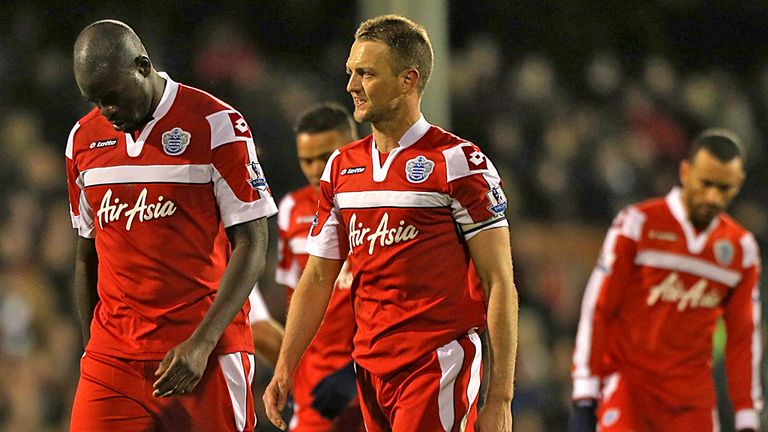 We tend to think that teams in trouble have got a great chance of avoiding relegation if they've got a striker who scores a few goals but, the way things are going at the moment, the teams that survive might be those that make the fewest mistakes.
Chris Samba's two nightmare moments in QPR's 3-2 defeat to Fulham have been highly-publicised because they were completely inexplicable and goodness knows what Harry Redknapp is now thinking having paid a fortune to get his man - although in Samba's defence, he'd done pretty well prior to that.
Just as baffling was Nathan Baker's decision to jump into a tackle on Luis Suarez and concede the penalty which gave Liverpool a 2-1 win over Aston Villa. It was the type of naivety that has cost Villa all season long and will continue to cost them unless they eradicate it.
To add insult to injury for defenders up and down the land, there was little Titus Bramble could do as the ball ricocheted in off his leg to earn Manchester United victory over Sunderland, emphasising what an unenviable position defenders sometimes find themselves in.
The question ahead of a fascinating weekend of fixtures is 'who is going to stay solid and get that little bit of luck you need to survive?'
Dread
Sunday's match against Wigan is win-or-bust for QPR.
Redknapp can take encouragement from the fact that his side is scoring goals - not as many as they should do maybe, because they could easily have been two or three up against Villa by half-time a couple of weeks ago - but they are scoring goals.
They now know that draws are no good to them so they have to go for the jugular. Unfortunately for them Wigan are on a run of very decent form, having won five of six games in all competitions and they are one of the better sides in the bottom half away from home.
Arouna Kone is a real threat and, like Rangers, Wigan look like they are going to score goals but I wouldn't like to predict who will score the most on Sunday! It's a huge game for both sides.
Sunderland, who sit one point higher than Wigan, travel to Chelsea on the same day no doubt hoping that fatigue will hamper Rafa Benitez's side.
I don't think Benitez can afford to rotate his side significantly again after last week's defeat to Southampton because they are not in a comfortable position in the race for a Champions League spot. Indeed by the time they kick off, Arsenal may well have overhauled them in the table.
If that's the case come 3pm on Sunday I don't think anyone at Chelsea would accept Benitez playing a side that was anything but his strongest, otherwise I dread to think what kind of reception Rafa will get from the home faithful.
Sunderland will hope that Paolo Di Canio can have an immediate impact. There's no doubt in my mind that the club have taken a huge, huge risk in appointing him and I wonder whether Ellis Short realised what a hornet's nest he would open up when he took the decision?
I also wonder what impact the week's media scrum has had on the players? It's hard to know at this stage. All you can say right now is that Di Canio did brilliantly at Swindon but this is a completely different ball game. He may turn out to be a managerial genius but only time will tell.
Free-fall
I fear for Reading most of all, though. Nigel Adkins faces his old club Southampton on Saturday and it's hard to see how he can restore enough confidence to a team that has lost seven on the bounce in such a short period of time.
They've the worst Premier League defence in terms of goals conceded and Adam Le Fondre hasn't scored in seven, and on Saturday they find themselves up against a Southampton side that have been impressive to say the least, even allowing for the fact that Chelsea fielded a weakened side against them.
Southampton have been extremely impressive against Manchester City, Liverpool and now Chelsea and they could well put the final nail in Reading's coffin.
If they do go to the Madejski and win the early kick-off on Saturday, it would offer massive encouragement to the other teams battling down the bottom - not least Villa, who go to Stoke.
A Midlands derby might bring the best out of Paul Lambert's men. They've drawn all three that they've played so far this season and I think if you offered them a draw on Saturday right now, they'd take it.
But let's not forget that Stoke are in free-fall at the moment. They've not scored in open play in the last five and I know that fans are concerned that they are not offensive enough.
If Villa were to win at Stoke, then Stoke are pitched right into the middle of the relegation battle.
In other news...
I'd like to refer all those who criticised my column 'Bale better than Ronaldo' earlier in the season to Zinedine Zidane's interview on Tuesday, in which he said the best player so far in European football this season isn't playing in the Champions League.
In short, based on this season's performance, he put Bale above Ronaldo. Watch the interview here.
I had the good fortune to go to Stevenage v Hartlepool on Monday and, although we lost, the game illustrated all of the joys of lower league football.
I received a warm welcome from everybody at the club, who were very hospitable, and watched the game a few yards from the pitch, so I could hear every communication to the players - and there were plenty of them from Graham Westley to his new team!
The Stevenage fans made me smile after their team scored when they burst into the chant 'Stelling, Stelling what's the score?' and aside from the result it was a thoroughly enjoyable day out.
Having said that, Westley's post-match comments that it was a 'strong performance' from his side must have been intended for the audience that didn't see the game because it was anything but.
My manager, John Hughes, got it right when he said that 'we did everything better than them but we can't get the ball over the white line'.
Jeff's Gem of the Week
I'm going for Wolves' 3-2 win at Birmingham on Monday. Dean Saunders arrived at the club to find it in absolute mayhem and confidence at rock bottom but it looks like he's got them playing again, which is great for the Championship because they get fantastic crowds at Molineux. We know they are a big club and it looks as if they will possibly survive now. It has been a case of one step forward, one step back for them too often and I notice that they've lost Sylvan Ebanks-Blake now - which is a big blow to them because he was playing well. But they went to Birmingham, who were on the crest of a wave - especially after that win at Palace - and secured a win that must give them a massive morale boost. They've got another big game this weekend, at Bolton, so watch this space...