Reading issues too great for Nigel Adkins to resolve this season, says Jeff Stelling
Jeff Stelling blogs on the challenge facing Nigel Adkins at Reading and his own altitude training.
Last Updated: 01/04/13 8:30am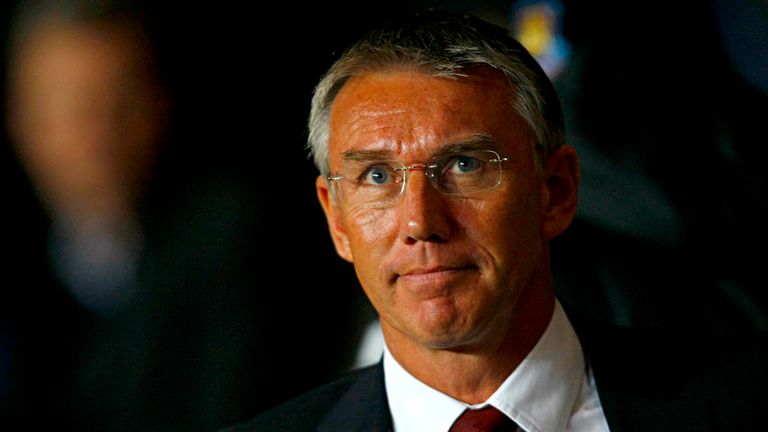 Nigel is an unassuming, hard-working and enthusiastic manager who was very unfortunate to get the sack from Southampton.
The man he's replacing at the Madejski Stadium - Brian McDermott - is also a diligent and thorough manager who was unlucky to get the boot at Reading.
Each sacking was tough to understand and that's the case even more so now given that each club has found a virtual like-for-like replacement for their former boss.
Don't get me wrong - I like Adkins and I respect what he achieved at Southampton; I thought the timing of his dismissal, coming as it did after the 2-2 draw at Chelsea, was ludicrous.
It's great that he's got another opportunity to manage in the Premier League but I suspect that even he anticipated that he might have to drop down to the Championship to get another job.
Issues
Adkins has got a tough job on his hands, make no mistake.
Inevitably Reading will make all of the right positive noises following Adkins' appointment but that can't hide the fact that the Royals have struggled all season long and relegation is looming.
But the fixture list does offer them hope. After going to Arsenal, they have two home games - the first of which is against Southampton.
How galling would it be for Saints fans if, firstly, Reading - with former Saints boss Adkins in charge - beat Southampton and, secondly, Reading survived and Southampton didn't?
I don't see that happening but I'm sure it has crossed the minds of plenty of Saints fans because Adkins left St Mary's with a lot of friends.
Reading have a very decent run after that with games against Norwich, QPR and Fulham so there is hope although the next few weeks will be mightily tough for them, particularly if they don't improve at the back.
Of late they just haven't been good enough defensively, even allowing for the injury to Adam Federici. Since his 'wobble' at the beginning of the season, he's shown great strength of character to come back strongly, so they've really missed him recently, particularly when it comes to marshalling the defence.
Reading have struggled in the heart of their defence and, in truth, I think they have too many issues for them to survive.
Energy
Southampton are in a healthier position but it's worth remembering that many people thought they were in the clear not too long ago and that's plainly not the case right now - even if they aren't far off.
Maybe they'll welcome playing Chelsea this weekend because they seem to perform best against the 'big boys'. They were fantastic against Manchester City and probably even better in their last Premier League outing, against Liverpool, when, for my money, a 3-1 home win in Southampton's favour really flattered the visitors.
In the early stages of that match Southampton tore Brendan Rodgers' side apart and I suspect it was probably their best performance of the season - and it came at just the right time.
They've got a lot of energy in the team and a lot of quality, too. I like Adam Lallana a lot because he can go past players very easily indeed and has proved time and time again that he has real skill. Southampton could even afford to leave Jason Puncheon on the bench for the Liverpool game and he's been one of their players of the season!
Chelsea walloped Southampton earlier in the year in the FA Cup but this is a different Southampton side now - they play the game in a different way - and it will be interesting to see what team Rafael Benitez picks given his side face Manchester United in the sixth round of the FA Cup on Monday.
If you asked Chelsea what their priority for this season is, they'd say 'finishing in the top four' but is that Rafa's priority? Wouldn't another cup look good on his CV?
So I just wonder what side he will play at St Mary's at the weekend because he is his own man and time and again he's shown that he's not afraid to upset people - and why should he be, because he's only got a matter of weeks left at the club?
It wouldn't surprise me at all if Rafa played one or two of his second-string players and that would give Southampton a cracking opportunity to retain their Premier League status because I think they are not much more than a win away from securing survival.
Looking at Southampton's performances right throughout the season - from the early days when they played exceptionally well away at Manchester City and at home to Manchester United to this month's victory over Liverpool - I think that, generally speaking, they have done enough this season to stay up.
Shocked
One of Southampton's former strikers, Kevin Davies, learnt this week that Bolton would not be offering him a new contract at the end of the season.
I read that Kevin was shocked at the timing of the news but I suspect that manager Dougie Freedman simply wants to put his own stamp on the club - it's what happens in football, you clear out the old and bring in the new.
Kevin has had a fantastic run and he's done a fantastic job for Bolton and I'm sure he'll get another club but I can understand why Freedman has reached that decision.
Tests
Meanwhile, my preparations for June's attempt to climb Mount Kilimanjaro are going well.
Earlier this week I popped along to the London Altitude Centre, who over the years have advised quite a number of Premier League clubs about the benefits and risks of training and playing at altitude. I underwent a number of tests, including one where they reduced the oxygen level to that which you might experience at 5,000m.
I came through the breathing tests with flying colours so I'm feeling a bit more confident about the expedition now. In fact, I'm sure I heard my assessor say 'I think we've found the new Chris Bonington...'
To find out more about Jeff's Mount Kilimanjaro climb - in aid of the Finlay Cooper fund - click here .
The easiest way to donate is to visit http://uk.virginmoneygiving.com/giving/ and search for Jeff's name. Any donations large or small will be more than welcome.
Jeff's Gem of the Week
Bournemouth continued their fine run with a 4-1 win over Bury. After the five consecutive defeats they suffered from mid-February onwards, it would have been easy for them to spiral down the table but they've rallied and secured three straight wins and now I fully expect them to fill one of the automatic promotion spots. If they were to go up, they are equipped ok for the Championship. Their story is one that should give hope to any club suffering from financial problems of what they might achieve given time. When you are in that position you fear the worst but hope for the best and Bournemouth, after having severe financial issues a few years ago, have managed to attract new financial investment and with the right man at the helm in Eddie Howe they are now flourishing.