Pep Guardiola's move to Bayern puts Rafa Benitez in stronger position at Chelsea, says Jeff Stelling
No-one should feel happier about Pep Guardiola's move to Bayern than Rafa Benitez, says Jeff Stelling.
Last Updated: 17/01/13 2:42pm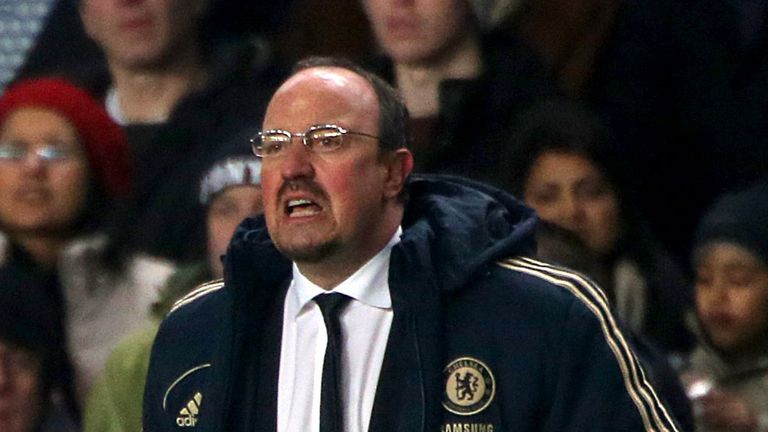 No doubt he'd have been disappointed with the result but he could at least take comfort in Pep Guardiola's appointment as Bayern Munich's next boss, which has left him in a very strong position at Stamford Bridge.
A lot of people questioned why Benitez took the job as Chelsea's 'interim' manager in the first place but with Guardiola now out of the picture, his decision looks wise because if Chelsea were tempted to get rid of him before the end of the season, who else could they turn to?
Chelsea have courted Guardiola for some time now so his decision to join Bayern is a snub and, let's make no bones about it, it's a snub to English football as well.
But his reasons seem obvious: Chelsea go through their managers at a rate of knots, regardless of reputation, and the job should carry a managerial health warning, whereas Bayern are a top club that is rich in history, has huge support and none of the internal difficulties that Chelsea have. All in all, it must seem a better proposition.
Jupp Heynckes is doing such a fantastic job there that by the time Guardiola starts his new job, they could be European Champions.
In general the German teams in the Champions League have all done exceptionally well this season - certainly in comparison to English sides - and Guardiola's choice is another warning shot across the bows of English football that we have to do better.
Global
That certainly applies to Chelsea, particularly given their recent home form.
Rafa's chief difficulty is that he's not going to win any popularity contests at the Bridge. If Roman Abramovich does give him the job permanently at the end of the season, will he be able to win over the fans?
At the moment he can't and at times he seems contrary in his decision-making; if he wanted to gain a little popularity last night, he could have brought Fernando Torres on for someone other than Frank Lampard. There were plenty of other candidates.
You could see from the look on Frank's face that he didn't enjoy being substituted again.
But if Benitez did go between now and the end of the season, who would Chelsea turn to?
Jose Mourinho heads the list of the usual suspects, but would Abramovich really take him back? Do Chelsea fans really want him? Would Mourinho embrace the style of football that Abramovich seemingly desires? Personally, I don't think so.
I noticed that in a poll of Real Madrid supporters, 60 per cent felt that Mourinho had tarnished Real's image. So if not Mourinho, then who?
Superstar
Chelsea - who have not had an English manager since 1996, when Glenn Hoddle left the Bridge - seem determined to have a huge global name in charge.
If I was a Swansea fan, I'd be feeling a little bit nervous because Michael Laudrup would appear to be the next obvious choice; although he is still learning his trade as a manager, he is a global football superstar.
Laudrup is a laid-back, gracious, gregarious character who would enhance Chelsea's reputation and he believes in playing the style of football that Abramovich seems to want, all be it that Swansea do the ugly side of the game pretty well too.
If Abramovich needs any convincing about Laudrup's qualifications he only has to look back at the first leg of the Capital One Cup semi-final between Chelsea and Swansea.
Here's a thought - if Chelsea want a Blues legend in charge, what about John Terry? That would be a huge gamble but whether he's ready for it or not, is for others to decide.
I don't think there are many rays of hope for Chelsea at the moment but Demba Ba has had a terrific start, but as he proved at Newcastle he is a good player.
Unfortunately for Chelsea it takes more than that to make a team and at the moment Chelsea are desperately vulnerable defensively and I'm not convinced they've got the balance or blend right in midfield either; they still lack a Michael Essien-type figure and it's hurting them.
I'm still disappointed with Eden Hazard's general contribution and I'm not convinced that he, Oscar and Juan Mata can play together.
So Chelsea still have a long way to go and the chances of them catching either of the top two are pretty remote.
Jeff's Gem of the Week
The city of Bristol is having a tough time of it at the moment with both City and Rovers struggling, so I'm picking Bristol Rovers' victory at Fleetwood. Bristol had won one of their previous 20 games going into the match, while Fleetwood have settled into the Football League pretty well. They were in the play-off places going into that game but Rovers came away with a 3-0 win, which was a fantastic effort. Mark McGhee, a friend of Soccer Saturday, struggled manfully with Rovers without much success; John Ward is the new man in charge, and he's immediately used a load of his contacts to bring in a posse of loan players and suddenly there's hope in January where there didn't seem any in December.