Struggling Sunderland could be deep in the mire come January, says Jeff Stelling
Jeff Stelling, fresh from his Xtra Factor appearance, explains why he fears for the Black Cats.
Last Updated: 30/11/12 2:39pm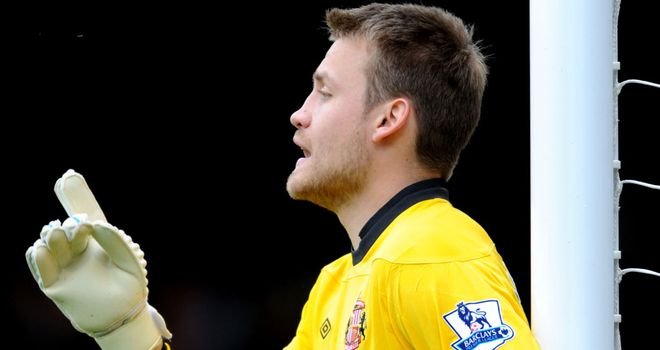 But the team I really fear for right now - especially after the week they've had - is Sunderland.
When people list their relegation candidates they tend to go with any three of QPR, Reading, Southampton, Wigan and maybe Aston Villa, yet on present form Sunderland surely have to fall into that category.
They looked devoid of ideas (and hence chances) in the 0-0 draw against QPR and I thought it was quite telling that afterwards Martin O'Neill was pretty much lost for words when he was asked if he was confident that the team could come through its current blip.
The record shows they've only won twice at home in the league since March - against QPR last season and against Wigan in September - and now there are fears that Lee Cattermole could be out for months rather than weeks. Everything suggests they are in trouble.
Struggling
People will say Sunderland's biggest problem is that they can't score enough goals. To my mind the truth is they're not creating enough chances.
The only time they've significantly dominated possession was against Newcastle - but that, of course, was against 10 men. In essence, they're struggling to get the ball, keep it and use it effectively.
It says a lot that their outstanding player of the season so far has been Simon Mignolet; that's if you discount the West Brom game, of course!
Sunderland are not a big side - they are not physically powerful either in midfield or defence - and that's definitely an issue, as is Adam Johnson's lack of form.
I also find the lack of depth in their squad a bit scary. On Monday they had Frazer Campbell, Louis Saha, Jack Colback and David Vaughan amongst the substitutes. On current form - in particular with Campbell and Saha - I'd suggest these are players who aren't really going to change a game.
Difficult
The other concern, for Ellis Short in particular, is that crowds have tumbled at the Stadium of Light: a total of 36,513 watched the Rangers game.
Now I know that these are difficult times on Wearside and it's not cheap to go to a match - I absolutely understand that - but that means the ground is well over 10,000 down on capacity.
When you consider that they got 42,000 for the first home game of the season against Liverpool, I'd call that a significant drop.
Are things going to pick up soon? Looking at their upcoming fixtures it's fair to say I've got my doubts!
Of their seven Premier League fixtures in December, three are against Chelsea, Man City and Spurs, while they also have to go away to Old Trafford. There's a very good chance that come the January transfer window they could find themselves deep in the mire.
The best signing for Martin O'Neill at the moment would be John Robertson, who has been his sidekick for so much of his career. That might just be the winning partnership Sunderland need.
There's no question in my mind that Martin is a top manager but Short is simply going to have to back him with some money in January.
Spot on
I went along to another struggling club last night - Southampton - where Mark Clattenberg made his refereeing return.
The first thing to say is that I thought he had a fine game even though he got a fair bit of stick! I'm sure the two managers will both disagree with me, but I thought he got all of the big decisions right.
Under the circumstances it might have been easy for him to bend a little bit towards the home crowd but I thought he was spot on.
It was certainly good to see him back but I was surprised to read in at least one report that he received a standing ovation from fans. If he did, then I didn't see it!
Voting
On the subject of performances, I went along to the X-Factor this week. Let me explain...
I popped along after receiving an invitation to be a guest on the Xtra Factor and while I was there I learnt that one of the downsides of appearing on the X-Factor is how much weekend football the contestants miss because they are either rehearsing or performing.
To be honest, I was surprised at how many football fans there are on the show.
Dermot O'Leary, the host, is a massive Arsenal fan; Olly Murs, one of Xtra Factor hosts, has a box at Manchester United; James Arthur, who is my favourite to win it, is a huge Middlesbrough fan; Josh, from the boy band Union J, is a Chelsea fan.
When I turned up one of the first things they all wanted to know was how their team was doing because they hadn't seen them for so long!
So if you support any of the teams above, you know who you should be voting for...
Jeff's Gem of the Week
I'm not messing about this week - it's Swansea beating West Brom. All of the stories we heard about disharmony under Michael Laudrup have disappeared as quickly as they emerged. His signings, pretty much without exception, looks as though they are coming off, in particular Pablo Hernandez, who has been a revelation in the past few weeks.
Swansea were impressive against Liverpool last week but they destroyed West Brom in that first half with some fantastic football. They've got some exciting players and aren't going to be a soft touch for anybody. I can certainly see them finishing in the top half.