Manchester United against Arsenal could be a goal-fest, says Jeff Stelling
Jeff Stelling says Man Utd and Arsenal look shaky in defence and blogs on the bosses in new jobs.
Last Updated: 03/11/12 3:50pm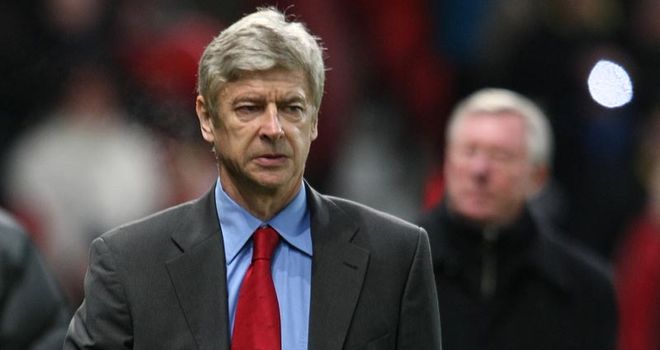 Arsene Wenger's side didn't concede in their first three Premier League games but since then they've looked almost incapable of keeping clean sheets.
They managed to do so against QPR last week, but Rangers had so many great chances in that game - particularly Jamie Mackie right at the end - it was a close shave. For their part United have kept three clean sheets in two months in all competitions.
Now I'm not for one moment suggesting that we're going to see a repeat of last August's 8-2 scoreline at Old Trafford but the way things are at the moment there's no way that I can see Arsenal going to United and not conceding.
Vulnerable
Even allowing for the changes Arsene made to his team midweek in the Capital One Cup, it's quite an achievement to go to Reading and go 4-0 down inside 35 minutes.
Likewise, I know Sir Alex played youngsters in the heart of United's defence against Chelsea and it proved a pretty tough baptism, for Scott Wootton in particular.
I'm glad he did, though, because it was something that we advocated on Soccer Saturday last week - if you never give them a chance, how do you know how good they are?
Even though Sir Alex will have his first-choice players back on Saturday (those that are fit) there have been plenty of opportunities already this season when we've seen how vulnerable they can be defensively.
The Premier League defeat to Tottenham and the win over Stoke, in which they conceded twice, spring to mind straight away as does the Champions League game against Braga when they let two early goals in.
It makes me think we could be in for another goal-fest - I really hope we are.
Sir Alex would have been delighted if he'd returned to Stamford Bridge on Wednesday and followed up Sunday's Premier League victory with another win, of course he would, but I imagine that his interest in the Capital One Cup is close to zero. On his list of priorities of tournaments to be won, it is fourth of four.
I'm sure he won't have any sleepless minutes, let alone nights after going out of the Cup.
But Roberto Di Matteo, I'm sure, would have preferred the results to be the other way around - whatever the circumstances of Sunday's defeat and how it all plays out - because they've had such a fantastic start to the league season.
Astute
Sticking with managers, there have been some interesting appointments this week - not least Sean Dyche's switch to Burnley.
When the Hartlepool job became vacant, I immediately recommended Sean for the role so while I'm very pleased for him that he's got the Turf Moor job, I'm disappointed for us because I think he's got the makings of being an outstanding manager.
He's got everything it takes; he knows the players inside out, he's got a great manner with people and he's tactically astute. I think he'll do a fantastic job there and, in my opinion, he was very unlucky to lose his job at Watford.
Likewise Mick McCarthy was unlucky to part ways with Wolves but now Ipswich should benefit from all his experience. Mick's got a proven track record; he's a real football man and he's got decent resources at Ipswich, who I think are in a false position anyway.
Meanwhile Blackburn have decided to go with Henning Berg. Going back to one of your former players is the fashionable thing to do and sometimes it even works - for example, Dougie Freedman achieved great things at Crystal Palace before moving on.
Berg, whose experience includes spells at Lyn Oslo and Lillestrom, should settle in quickly enough and I wish him well; it could be that he's just what Rovers need to bring the club and fans closer together, but I'm sure he'll be the first to recognise it won't be an easy job.
Jeff's Gem of the Week
The performance of the week for me was Swindon going to Stevenage and winning 4-0. Beforehand Paolo Di Canio had said his side's Capital One Cup tie against Aston Villa was his priority, while Stevenage hadn't lost at home in 18 league games and sat second in the table. Swindon went there and absolutely battered them, which confirms what I've always thought - that Paolo has definitely got something about him as a manager. It was a fantastic result and by all accounts they played pretty well against Aston Villa midweek too, but perhaps didn't quite get what they deserved.