Manchester City manager Roberto Mancini was right to change his defensive formation against Ajax in the Champions League, says Jeff Stelling.
Roberto Mancini was right to try a different defensive formation against Ajax, argues Jeff Stelling.
Last Updated: 26/10/12 3:24pm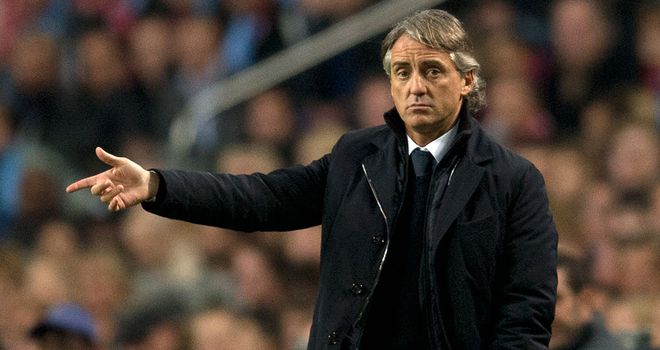 It's an intriguing question because this season all of the fancied sides seem to have flaws, including Real Madrid and Barcelona.
When I watch Real I can't help wondering where they would be if Cristiano Ronaldo was injured or suspended - how would they replace him? They seem so reliant on his goals and even another on Wednesday couldn't spare them from defeat to Borussia Dortmund.
Meanwhile, Barcelona's weaknesses at set-plays are well-documented. Celtic exposed that failing perfectly with one of the rare chances that they had at the Nou Camp. While it's true that Barca do have injury and suspension problems right now, they won't win the competition playing Javier Mascherano alongside the inexperienced Marc Bartra at the back.
They'll need to go out and buy a 'proper' defender in the transfer window - but the obvious difficulty is where do you find a 'proper' defender who is eligible for the Champions League at that time of the year?
Difficult
The English clubs have clear vulnerabilities too. Manchester City - more of them in a moment - are to all intents and purposes out, while Manchester United can't be viewed as potential winners so long as they continue to defend the way they are. At present they're forced to play Michael Carrick at the heart of their defence when he is palpably not a central defender.
Can Chelsea possibly defend their title? They've got to get out of their group first, which won't be easy - Shakhtar Donetsk, in particular, will make life extremely difficult at Stamford Bridge. Yet of all the British clubs left in the competition I'd say that Chelsea nevertheless have the best hope of going furthest because generally they are pretty sound at the back, Juan Mata is at the peak of his form and they now have a number of other flair players in their ranks.
In short, my answer to Jamie's question was that - and I would never have said this at the start of the season - Borussia Dortmund have what it takes. They were magnificent against City a few weeks ago and only a wonder show from Joe Hart prevented them from winning the game. This week they've gone and beaten Real Madrid at home; the German champions and cup-holders are a joy to watch, with plenty of young, home-grown players in their ranks.
They're proof that you don't need a big financial backer capable of spending a fortune on superstars to achieve success. IF a British club can't win the Champions League, I would welcome Dortmund lifting the trophy because they play the sort of football that should have every fan on their feet applauding.
Complaints
In contrast, City's Champions League bid looks clapped out.
Roberto Mancini has come in for a fair bit of stick for tinkering with the side's formation during the 3-1 defeat to Ajax, but personally I don't understand how anybody can have any complaints about his decision to change tactics.
City were playing a flat back four and losing 2-1 in a game they had to win. What do people want the manager to do? Stand there and do nothing and see his team go out?
Mancini changed to a back three to try and give them a bit more of an attacking threat. He took off Joleon Lescott and brought on Aleksandar Kolarov, who has been magnificent at powering down the left at times this season. I thought the change was completely the right thing to do. The plan back-fired because they lost an unfortunate goal.
In the few minutes that Mancini played a back three City did look vulnerable, but I felt at that stage he had to go for it. Personally, I would rather have a pro-active manager than a passive one who has a 'Plan A' but no 'Plan B'.
Micah Richards spoke from the heart when he raised concerns about playing three at the back; he's a whole-hearted, talented player who was clearly disappointed with the result.
But with the best will in the world, these are multi-million pound footballers earning multi-million pound salaries: I don't care if they are playing one at the back - they should be able to adapt to whatever system their manager chooses to use.
It's 11 against 11 out there; our stats boys worked out that Ajax's starting XI cost £2.7m, whereas City's cost £191m. It didn't look that way on the night. I wouldn't be surprised if we see a lot of changes in the near future at City, whether it be in the January transfer window or the summer.
One other point - I was very surprised that Carlos Tevez didn't start the match. Even when he isn't scoring, City look a bigger threat with him in the side because he is so mobile; he's a constant handful and makes opportunities for others, which I don't feel Edin Dzeko does anywhere near as much.
City are also missing David Silva's creative spark. He was such a massive player for them last season that taking him out of the side was like removing the team's heartbeat. In his absence City become so reliant on Yaya Toure, who is a fantastic player; but when he doesn't fire, as he didn't on Wednesday, City struggle.
Change
Staying on the subject of managers, I was sad but not surprised to see Neale Cooper leave Hartlepool this week given our position at the bottom of League One.
He'd known for quite a while that he was under pressure; Neale was so passionate and desperate to turn things around that he was almost making himself unwell.
I think you'll find that the reaction of the supporters - virtually unanimously - will be 'we're sorry he's had to go because he's a fantastic guy'. But it didn't work out. Neale's a football man and he knows that something had to change.
Now there's a vacancy, I couldn't help but notice that I'm 500-1 to be the new manager! The last time the job was available, I was 50-1 so I've drifted right out in the betting.
On a positive note - and I know there isn't a vacancy at Southampton yet - Matt Le Tissier is 500-1 to be Saints' next manager.
Given he's a former England international who has played hundreds of games with the club I don't feel so bad about my price!
Jeff's Gem of the Week
Talking of change, Eddie Howe has had a couple of weeks back at Bournemouth and you can bet your bottom dollar that the players will continue to respond to him as well as they have done so far in beating Tranmere and coming from behind to draw with Notts County. It is amazing how a managerial change can give players extra motivation.
Bournemouth have got big financial backing - certainly at that level - and I reckon that now it's a case of 'just watch them go'. It wouldn't come as any surprise to me if they were in the play-offs come the end of the season.
I'm hoping that whoever comes in at Hartlepool will have a similar galvanising effect on the team to the one that Eddie has inspired at Bournemouth. But it won't be me...
If you love watching football live on Sky Sports then you'll love this great offer from Sky Bet for all new customers. Sign-up today and the online betting firm will not only give you a free £10 bet now, but also a free £5 bet every week for the rest of the season! This offer is open to new customers who register for a Sky Bet account via the internet and mobile devices before November 16th 2012. To find out more go to skybet.com.