Jeff Stelling says Northern Ireland's World Cup qualifying draw in Portugal was remarkable
Jeff Stelling toasts Northern Ireland's heroics, the rise of Ballinamallard and clubs with well-priced pies.
Last Updated: 18/10/12 1:38pm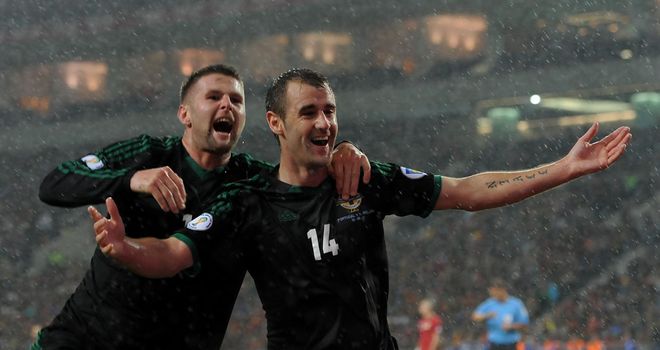 It was the performance of the week, without doubt, and all the more incredible given that Portugal are ranked third in the world.
The team deserves massive credit for what they achieved at the Dragao Stadium and maybe, just maybe, this result marks a renaissance in Irish football under Michael O'Neill.
I spend quite a lot of time in Portugal and it's fair to say that fans over there are as disillusioned with their side as many Scottish or Welsh fans are with theirs.
Few, if any, will agree that their team is the third best in the world and rightly so; yet this is a team that includes Ronaldo, Nani, Moutinho and - for what it's worth - is ranked 114 places higher than Northern Ireland.
They should have had far too much firepower and yet refreshingly Niall McGinn stole the headlines for a team that may lack world-class names but clearly isn't short of unity and determination.
People will look at Group F and think 'crikey, Northern Ireland are still struggling with only two points' but their next three games are all at home - against Azerbaijan, Russia and Israel - before Portugal visit next September. Things could look very different by then...
Tale
Irish football has been on my mind because earlier this week I spent some time with James Nesbitt, of 'Cold Feet' fame, who is just back in the country after filming 'The Hobbit' for 18 months in New Zealand.
A big Manchester United fan, he also supports Coleraine, who are third in the top flight in Northern Ireland.
He pointed out that the side that is top of the league - Ballinamallard United - have just won six games on the bounce even though this is their first season in the top flight.
Their manager Whitey Anderson has just been named manager of the month ahead of this week's home fixture against fourth-placed Crusaders. All in all, it's a good little tale.
The same can't be said for Scotland, whose prospects look pretty bleak after that defeat to Belgium.
When I look at their current squad and compare it to those of recent years it seems pretty decent; I didn't expect them to win in Belgium but I do think that overall they are underachieving.
The likes of James Morrison and Shaun Maloney don't only play in the Premier League, they perform well week in, week out, and I think they should be producing more for the national team.
The Wales game was one that they had to win and on another day they might easily have done so but the way things have panned out is bitterly disappointing.
Cost
On a different note, who ate all the pies?
Well, we know the answer isn't Kidderminster fans who, according to a new survey, are charged a princely £4 a pie.
Apparently for that sum you get 'a large homemade Cottage pie'. For £4 I'd want a mansion in there, let alone a cottage!
But seriously the survey does identify some worrying trends: for example, the cheapest season ticket at Arsenal is £985.
If the cost of watching football - not just in the Premier League - puts parents and kids off going to football, the next generation of football fans will simply find something else to do on a Saturday afternoon so we've got to keep a really careful eye on prices.
The cheapest season ticket at Manchester City, by contrast, is £275 while Wigan are the cheapest in the Premier League at £255.
People will always compare Premier League prices to those in the Bundesliga and rightly so because, for example, you can go and watch a game at the Allianz Arena for around £15.
So it can be done and it's something English clubs must keep a close eye on.