Give refs a chance
Jeff Stelling says players, such as Luis Suarez, are often to blame when they are not given penalties.
Last Updated: 27/09/12 3:22pm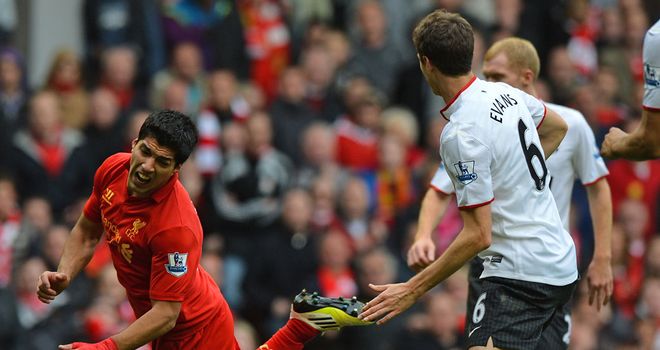 The time has come for players to start taking a good look at themselves. They really should.
I went to Southampton against Sheffield Wednesday in the Carling Cup this week where Mark Halsey was refereeing following the abuse he received via Twitter for his performance at Anfield at the weekend.
After the Anfield game various players claimed that Luis Suarez was not getting penalties because of his reputation. I think it is worth sticking up for Halsey here. There were people in the crowd at Southampton, who may not have even seen that game, saying, "no wonder they had a go at him after the Anfield game".
For what it is worth, Halsey is a good man and one of our best and most approachable referees. He was, generally speaking, in really good positions at Anfield to make those decisions. The problem, as in so many games now, was the players are intent on deceiving him.
Steven Gerrard and Glen Johnson both said that the penalty awarded to Manchester United last Sunday would not have been awarded to Suarez. Well, right. It is the boy who cried wolf syndrome. If you tumble down in the penalty area every time then of course referees will perceive you in a different way to other players. Of course referees will be more cynical as to whether it is a penalty or not.
If he kept on his feet more often, then when he did go down they might believe him. Suarez would need to be chopped down at the knees now to get a penalty and he has brought that on himself. Referees need more respect, particularly Halsey who was excellent at Southampton. He got virtually nothing wrong.
It is down to the players to give the referees a bit of a chance. We are not just talking about Suarez diving. We have well publicised incidents of players trying to cheat opposition at Chelsea, Manchester United and a host of clubs.
It drives me mad when we have this WWE grappling inside the penalty area at every corner; it drives me crazy when every footballer shouts for a throw-in when he knows full well that it has gone to the opposition. Is it any surprise that occasionally referees are deceived and get things wrong? I just think the players need to take a good look at themselves.
My only advice to Mark Halsey would be to come off Twitter. I do not understand for the life of me why anybody who might attract abuse would be on Twitter.
Crowds are going to go with preconceived ideas of referees and they are going to say he is useless because he has been condemned by certain managers and players.
It is unfair and they are sullying his reputation.
Strong Bond
It was terribly sad to hear that John Bond had passed away this week. Sky Sports re-ran a Times of Our Lives featuring John with Ronnie Boyce and Ken Brown. I sat and watched it again and it was great to see John telling tales of Bobby Moore, Ron Greenwood and a row over a plate of chips with Martin Peters. It brought back memories of what a great raconteur he was. He was ever stylish, ever articulate; a real gentleman of the game and very much missed.
Jeff's Gem of the Week
This week my highlight was Barnsley's 5-0 win over Birmingham. I could not believe what I was seeing on TV. Birmingham were absolutely awful but Barnsley were terrific, even though Keith Hill has not got a brass farthing to spend. They are everybody's favourites to go down, but they scored five and could have scored 10. People might view Barnsley in a slightly different light after that for the rest of the season.
Road to Wembley
This week saw a host of teams take another step towards Wembley with wins in the Capital One Cup but it also saw the launch of another Road to Wembley competition. Les Ferdinand, Mark Bright and I are among the ambassadors for a competition where fans can win a VIP behind-the-scenes trip to Wembley for their team's play-off final.
So if you think your team could reach Wembley and want to go in style, enter at www.prostatecanceruk.org/football for £3 - with at least half of it going straight to Prostate Cancer UK. It is a great cause.