Keep going, Owen
Jeff Stelling blogs on Michael Owen's vintage form, Moldova's vineyards and drinking at York City.
Last Updated: 06/09/12 1:35pm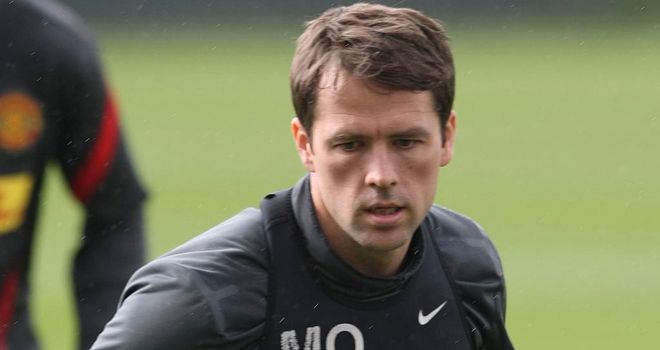 I'll be really pleased if Michael Owen gets regular Premier League football at Stoke.
I remember Michael in his hey-day for Liverpool; he was a real breath of fresh air - so fresh-faced, so sharp and as deadly a finisher as you could find.
Age and injuries have naturally changed him since then but I still believe that he can score goals at the top level at the age of 32.
Owen's scoring record - 162 goals in 353 league games - is phenomenal and that's without counting the 40 goals for England and his numerous goals in cup competitions.
I watched him on several occasions a couple of years ago when I was covering the League Cup, or the Carling Cup as it was then, for Sky because he was inevitably always in Manchester United's Carling Cup team.
The way he finished - all be it against lower league opposition, such as Barnsley and Scunthorpe - reminded you just how clinical he can be.
Style
People have raised a lot of eyebrows that he didn't go to Liverpool and, to be honest, if Liverpool weren't interested I can't understand it either.
I know people say 'never go back' and I know that a lot of Liverpool fans have made it clear that he wouldn't be welcome after his time at Manchester United, but I think that's short-sighted.
So Liverpool's loss should be Stoke's gain. I could easily see him doubling up with Peter Crouch. Stoke's problem has been scoring goals and Michael might just be the one to turn that around.
Stoke haven't been afraid to spend money in recent transfer windows but even though Owen is Tony Pulis' seventh signing of the summer, they haven't parted with much cash this time around - about £10m-£12m.
Pulis has always had an eye for progressing the team and being something other than just known as a 'long ball, long throw-in' club; I think that's always been on his agenda, it just hasn't always worked.
But with Charlie Adam there now I think we're going to see more of a passing game from Stoke. They've always had decent wingers: Matt Etherington is a key player for them and they need him fit again, plus they've got Jermaine Pennant and brought in Michael Kightly.
I also like the look of Steven N'Zonzi - when he was on his game at Blackburn he was as good a performer as they had - so it's an interesting time at Stoke who'll now be aiming to change their style yet still achieve a mid-table finish if they can.
Relaxes
We found out earlier that Adam Johnson has become the ninth England player to be ruled out of Friday's World Cup qualifier against Moldova.
It's disappointing for him but let's be honest - I could play for England this weekend and we should still win against the 141st-ranked team in the world.
Moldova always struggle in whatever qualifying group they find themselves in and England should have no trouble winning by at least two or three. I'd be disappointed if it was less.
What I didn't realise is that Moldova is quite famous for its vineyards, so I'd suggest Roy Hodgson relaxes and discovers the delights of a Moldovan red rather than frets about the game because any XI gathered from the Premier League will surely be enough to win comfortably.
The capital of Moldova, Chișinãu, is located on the River Bic but let's be honest - their football team is nothing to write home about.
Jeff's Gem of the Week
Tranmere were definitely in contention this week after beating Colchester 4-0 to get to the top of League One but I've gone for York City, who beat Oxford 3-1 to end United's unbeaten start. It's a long time since they've been in the Football League but they're in a decent position after four games - and made an even better start on Saturday, when Michael Coulson scored after 15 seconds and they never looked back.
I'm always interested in York's results because as a cub reporter they were one of the teams I used to cover. I didn't get down there too often - maybe once a month - but I remember the then manager, Charlie Wright, only too well!
Charlie, a former Bolton goalkeeper, was a big, strapping Scotsman who did things his way. I would drive down to Bootham Crescent in the company Hillman Imp, which was a death trap, and get to the ground at around 9.15am.
On our first meeting he asked me 'what are you having to drink?' I asked for a coffee to which he replied 'don't be stupid, boy! How does Newcastle Brown Ale suit you?' So there I was drinking Newcastle Brown Ale in the manager's office at 9.15am in the morning! Whenever I subsequently went down there I always had to be prepared and then have a couple of hours kip in the car afterwards to sleep it off before driving back to the office.
Anyway, it's lovely to see York City back and it's a joy that 'Kit Kat Crescent' has disappeared. I wish the new boys to the division well and there's no reason why they shouldn't flourish.