Five take on Europe
Jeff reflects on the Champions League draw and the chances of Britain's sides progressing.
Last Updated: 31/08/12 3:09pm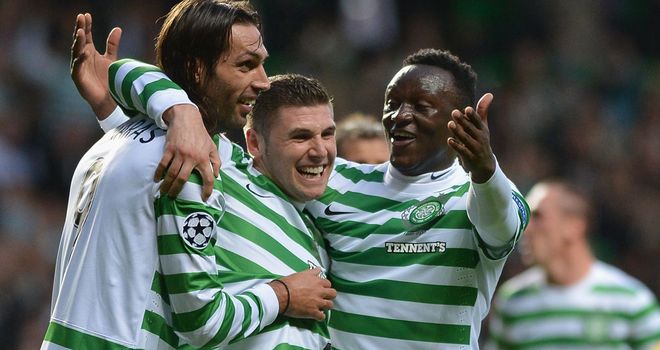 Almost half a century on from their European Cup win, Celtic will return to Lisbon this season - and I believe Lennon's young Lions can cause an upset or two.
They knew they were likely to be drawn in a tough group but they've got a couple of glamour matches against Benfica and Barcelona, as well as a tricky trip to Spartak Moscow.
After they secured qualification on Wednesday night with a 4-0 aggregate win over Helsingborgs, Celtic boss Neil Lennon said they may not get a point from their group. But I think, deep down, he believes this team have the ability to get out of the group phase.
APOEL showed last year what is possible, by reaching the quarter-finals of the Champions League, and I don't think Celtic will be the pushovers everyone suggests they will be.
They are a young squad and you don't know what they can achieve. Their young players will have to learn quickly but you never know how quickly they can improve during this experience. They've got such an attacking threat with the likes of Gary Hooper, Kris Commons and Georgios Sammaras - who was fantastic on Wednesday - and I think they can give the Parkhead crowd a few nights to remember.
In their home games, with the crowd behind them, they'll have no option but to play attacking football and go for it. The atmosphere at Parkhead on European nights is second to none.
Away from home they'll obviously need to be more cautious. Their away form in Europe has always been rotten but maybe Lennon's found the key to getting results away from Parkhead after this season's wins in Helsinki and Helsingborgs. Whatever happens the Celtic fans will have two fabulous nights at Benfica and Barcelona.
Glamour tie
Fans of Premier League champions Manchester City will also be looking forward to a glamorous fixture in Spain, with Real Madrid in their group. Because City were in pot two they were always going to face a tough group and that's what they've got, with Dutch champions Ajax and German title holders Borussia Dortmund joining them in Group D.
But if you want to be champions of Europe you have to be able to beat the likes of Ajax and Dortmund. City fans should be looking to those games with anticipation not trepidation.
Of course, City v Real Madrid is going to be fantastic, that's the kind of match the Champions League is all about, with some of the most talented players in the world going head-to-head.
City will have learnt a lot from last season's disappointing run in the Champions League, where they failed to get out of their group. A lot of their players had played in the Champions League before, but not as a team, so they should be able to improve on that. Hopefully the players have learnt to go and warm up when Roberto Mancini asks them too as well!
They'll be better equipped this year - although they'll need Sergio Aguero back soon - and I think they'll get out of this group. After that, who knows how far they can go?
On paper Manchester United's group looks like a straightforward affair - however, I seem to remember thinking that this time last year! Last year they were drawn with Benfica, Basel and Otelul Galati and failed to qualify so they've got to be careful.
Their defending in the Champions League last season was dreadful and their backline has struggled this season with injuries, but I can't see them not qualifying from this group. In 99 times out of 100 they would have got out of that group last season and I don't think they'll fall short again.
Chelsea and Arsenal, meanwhile, couldn't have asked for better groups. You'd expect Chelsea, as defending champions, to cruise past Shakhtar Donetsk, Italian champions Juventus and Nordsjaelland from Norway. The same goes for Arsenal and their group of Schalke, Olympiakos and Montpellier, who lost striker Olivier Giroud to the Gunners this summer.
Who knows what the Round of 16 will look like but we can dream of it featuring five British teams. The four English clubs certainly have a fantastic chance of all making it through and if Celtic can hit their peak and capitalise on their games home and away against Benfica, then anything can happen.
Jeff's Gem of the Week
Last week I kicked off 'Jeff's Gem of the Week', my chance to flag up a fine performance from the previous round of fixtures.
This week I'm going with Yeovil. They won 4-0 at Scunthorpe and that took them to the top of League One. Yeovil were one of my bankers for relegation this season - but sometimes managers and clubs are perfect fits. Gary Johnson is back at Yeovil after a successful, and then unsuccessful, spell elsewhere, and he fits Yeovil like hand and glove. Their partnership just works. He did a fantastic job when he returned at the end of last season and has started brilliantly this season. He's one of football's good guys and I'm pleased for him. I may have to change my opinion of how they'll do this season!