Dramatic to the end
Jeff Stelling says he's anticipating another nerve-jangling finale to the season on Soccer Special.
Last Updated: 10/05/12 5:03pm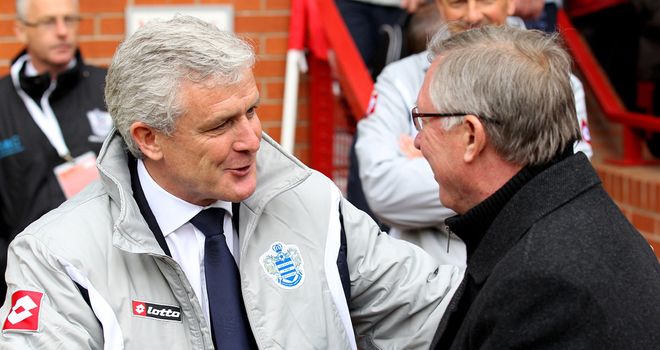 If the final day of this Premier League season is half as dramatic as the last, then you can't afford to miss Sunday's Soccer Special.
There was a surreal two or three-minute period on that afternoon that I don't think I'll ever forget as the fates of the clubs at the bottom of the table were decided.
Right to the bitter end, it was impossible to say with any certainty who would survive.
In the studio we had the perfect overview of everything that was going on and I remember shouting at the monitors to the Birmingham players - who presumably thought they were safe - saying 'you've got to go forward, you've got to go forward!'
But they didn't seem to understand the danger they were in and when the final whistles sounded they and Blackpool were relegated with 39 points apiece, while Wolves (40pts) and Wigan (42pts) escaped by the skin of their teeth.
Motivated
So it's the sort of day when you can take nothing for granted - it's a thought that Manchester City would do well to remember as they go in search of their first title since 1968.
I'm absolutely certain the players will feel the pressure that comes with that weight of history. They've coped with the expectation pretty well so far, but this Sunday it is all or nothing - everything depends on that 90 minutes.
They know they can't risk dropping any points but, in QPR, they are up against opponents who are fighting for their Premier League lives.
They will be hugely motivated to get some sort of result for their own sake, but also for Mark Hughes - the former City manager who was so controversially replaced by Roberto Mancini.
As Richard Littlejohn might say, 'you couldn't make it up!'
City are an incredibly short price to win the title but I would say that Manchester United fans shouldn't lose all hope just yet; after all, it's not that long ago that Sunderland went to the Etihad in terrible form and came away with a 3-3 draw.
Personally, I don't see Manchester United slipping up; they don't tend to do 'tired' at this stage of the season.
I expect them to win at Sunderland, for sure. I think City will win, but I don't think it will be as easy as many people are predicting.
Hurrah
Meanwhile, the race for third remains as convoluted as ever.
It looked as though Tottenham (66 points) were in pole position after Arsenal (67 points) drew with Norwich, but Harry Redknapp's men couldn't beat Aston Villa away. Newcastle are only a further point behind in fifth, despite their loss to City.
The key factor here might be that Roy Hodgson will take charge of his final game for West Brom this weekend. The players and fans hold Roy in very high esteem.
Paul Merson said before last week's game at Bolton that the Baggies' players would be on their holidays, but that clearly was not the case and it won't be the case this weekend either when they play Arsenal at home.
The players will want to give Hodgson a big send-off - one big hurrah - and who better to do that against than a side of Arsenal's quality? So I think that is a massively hard game for the Gunners.
Spurs face a tough test as well, at home to Fulham. In most of the matches they seem to have the lions' share of possession but more recently - Bolton aside - they seem to be struggling to turn that into goals.
Fulham have enjoyed a terrific season - they've even started to win away from home. They'll be up for this London derby and with Martin Jol up against his former club, where he was a big favourite with many of the fans, there is again potential for an upset.
However, I think Spurs will squeeze past Fulham and that Arsenal may be held at West Brom. As for Newcastle, they've had a wonderful season but away to Everton may be a game too far. The Toffees are on a great run and have the added incentive of the chance to finish above Liverpool in the table.
Unfortunate
Returning to Stoke - which, of course, is where Wigan secured their survival last season - they have not been in the best of form recently; it has been a very long season for them, what with their extensive European jaunts. They couldn't have been more unfortunate with the European draw that they had.
Bolton have got to do what Manchester United, Manchester City, Arsenal, Tottenham, Liverpool and Chelsea have all failed to do in the league and that's go to Stoke and win.
But maybe the form book will go out of the window on the last day? If Bolton can shore up that fragile defence, their need is so great (whereas Stoke don't have that need) that perhaps they can go there and win.
The one thing I will say about Owen Coyle is that he hasn't had money to spend that so many clubs around him have and he is trying to put down a foundation for the future by picking younger players.
If Bolton do survive this season, then the future could be bright.
One thing's for sure. This has been the most sensational season and I think we're in for an incredible finale as well.
Make sure you don't miss a kick by tuning into Soccer Special this Sunday at 2pm on Sky Sports News HD.