Man of more seasons
Jeff Stelling says City must stick with Roberto Mancini - even if they miss out on the Premier League title.
Last Updated: 05/04/12 1:56pm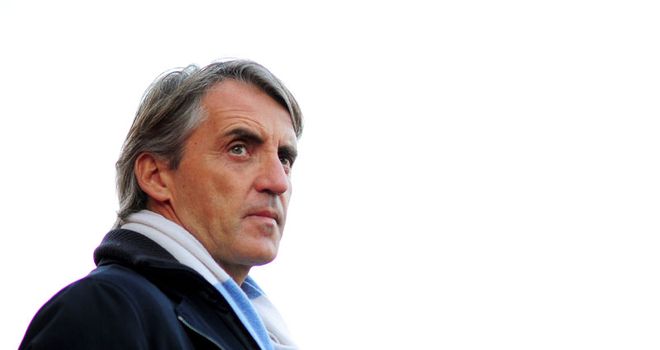 There appears to be an increasing clamour for Roberto Mancini's blood.
Now I don't know him at all, but I've grown to like him from a distance so I hope that should Manchester City miss out on this Premier League title, that Sheikh Mansour will give him at least one more season because there have been many more positives in his tenure than negatives.
Those negatives are, of course, well-documented - from the departure of former chief executive Garry Cook last September, to the constant problems with Carlos Tevez and Mario Balotelli.
Throw in the enviable challenge of vying for the league title and playing in the Champions League for the first time - juggling all those huge names (and egos) within the squad - and you could argue it's testament to Mancini's man-management that they trail Manchester United by only five points.
I thought I was watching Winchester U13s again when Balotelli fell out with Aleksander Kolarov in Saturday's 3-3 draw with Sunderland.
You often see debates about who should take free-kicks around the edge of the box, but this was the stuff of second years at senior school NOT Premier League fare in front of a watching audience of thousands.
Buffers
One-off flare-ups you can forgive; unfortunately City have had far too many incidents over the course of the season. In my view, Mancini has kept a cap on things pretty well.
There are things I don't understand - chiefly the fact that Adam Johnson has seemingly been condemned to the Siberia of the substitutes' bench and the signing of Owen Hargreaves, which was trumpeted at the time but has been a huge mistake.
Plus, like all managers, Mancini has had some bad luck along the way: Vincent Kompany got injured at the same time as Joleon Lescott, while David Silva (who has been wonderful) has hit the buffers and looks like he's got nothing left to give.
Then there's Sergio Aguero's injury... whatever caused it. The Argentine has been wonderful this season so losing him is a huge blow and one City may not recover from.
Don't get me wrong - City aren't out of the Premier League race yet but my gut feeling is that this is United's title. I think their fate might be determined this weekend.
Flat
City are so flat at the moment that it's hard to see them going to Arsenal and gaining the win they need.
It's odd to think that when the teams met earlier in the season in the Carling Cup, City could play a half-strength side and still win but now I'm not expecting them to collect all three points regardless of what side they play.
City were very fortunate against Sunderland and a tad lucky against Stoke; they weren't great against Chelsea and lost to Swansea before that. It's been a rotten March and I'm not sure that April is going to be that much better for them.
Meanwhile, United have got QPR this weekend and while the Londoners will give them a game there has to be a good chance that Sir Alex Ferguson's side will be eight points clear by the time City take to the field.
Transition
I know people will say that this is not the best United team we've seen - and it's not - but this is a team in transition.
Considering the number of players they've brought in and the number of youngsters they have blooded during the season - David De Gea, Jonny Evans, Phil Jones, Rafael, Javier Hernandez, Danny Welbeck, Antonio Valencia, Chris Smalling to name a handful - it's staggering to see them top of the pile.
Staying there with this squad would be one of Fergie's biggest achievements.
It may not be a great United side, but what about in two seasons' time? I think this current crop might well develop into an excellent outfit.
Then Mancini really will need to prove himself.
Join Jeff and the gang for Soccer Saturday, from 12pm on Sky Sports News HD.