A game changer
Arsenal need a stronger bench, says Jeff Stelling, as Soccer Saturday prepares to go on tour!
Last Updated: 08/03/12 2:47pm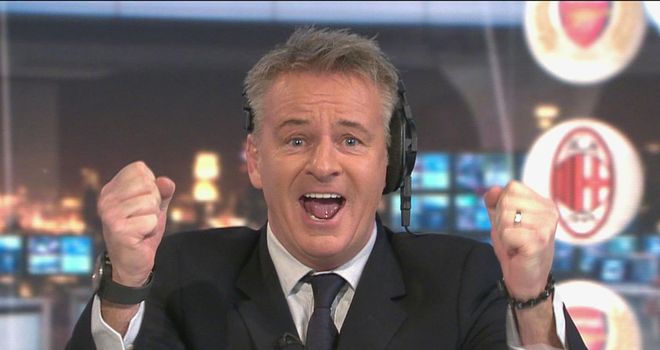 Arsenal lost the tie but won back their self-respect against AC Milan.
They ran themselves into the ground until they had nothing more to give on a night that produced some fantastic performances.
Laurent Koscielny looks like the most improved defender in the Premier League at the moment - despite his own goal at Anfield.
Then there's Tomas Rosicky. Alan Smith said to me at one stage 'we must have been watching his not-so-good twin brother', so suddenly has his form improved.
The cynics say it's because he's out of contract in the summer (a view I don't necessarily share) but I thought he was breath-taking in the first 45 minutes.
Alex Oxlade-Chamberlain was also terrific; people have compared him with Wayne Rooney in the past and like Rooney, he's the sort of player who could play anywhere.
It was a big ask for him in that midfield - a position he's not used to playing (for Arsenal anyway) - but he worked his socks off, which was all the more impressive given he'd been ill before the game.
Regardless of where they play Oxlade-Chamberlain in the future, the one thing they will do is play him because in my view he has now firmly established himself as an essential member of the Arsenal first XI.
Influence
There is a downside to it all, though.
When the cavalry was required - when the players on the field were exhausted - there was nobody on the bench to come on and finish the job off.
Arsene Wenger didn't have an option open to him, in my view, that he believed would make a difference. So he probably left Oxlade-Chamberlain on for longer than he would have liked to because he looked around him and saw the likes of Marouane Chamakh, Johan Djourou and Park Chu-Young - none of whom would have been good enough to influence the game.
People will rightly say they have injuries - to Mikel Arteta and Abou Diaby, for example - but they haven't got significantly more injuries than any other Premier League squad.
What they do have is significantly weaker strength in depth; when the game was there for the taking, it cried out for a potential match-winner and Arsenal's lack of one on the bench cost them dear.
I'm sure that Wenger would love to leave Gervinho out at the weekend because on a night for great footballing deeds, he was virtually non-existent. But unless several players come back from injury, Wenger will find it tough to freshen things up.
By the way - I'm thinking about running around the streets of Isleworth naked if Milan win the Champions League, because they are just not up to it.
Zlatan Ibrahimovic played the game at a walk, without looking remotely interested in it, while Thiago Silva failed to live up to his billing as one of the best defenders in the world. There were so many disappointing performances - and I include Mark Van Bommel in that - that I honestly can't see them getting much further.
Banter
By now I'm sure you've seen Charlie Nicholas' rather muted celebration of each Arsenal goal on Soccer Special! If not check him out here.
Arsenal's in his blood and he like all Gunners fans have been suffering this season, so it's good that he's had some good moments in recent weeks.
But can he and the boys prove they are players for the big occasion? We'll find out in a couple of weeks when Gillette Soccer Saturday takes to the road.
All joking aside I think the boys will love it; there are some big venues on the tour - Bournemouth BIC, Wembley Arena, Liverpool Echo Arena, Newcastle Metro Radio Arena, Birmingham NIA - and I'm sure there'll be loads of great banter.
We're all really looking forward to it because the one thing you can't feel on Soccer Saturday is the instant response of the audience.
Our first priority will be to make sure everyone has a fantastic night and to that end there will be a few surprises and big special guests along the way too.
I'm delighted that the next England manager (Harry Redknapp, in case you were wondering) will be joining us in Bournemouth for a chat.
Don't hold me to this but in the first half the boys will discuss some of the topical issues of the day and tell some of their best footballing anecdotes; there'll also be a bit of fun in the form of a quiz, we'll introduce our special guests, there'll be a few Soccer Saturday funnies - a little bit of everything!
Then in the second half it's over to the audience! There'll be a Q&A; whether we've got the right man in crowd with the microphone remains to be seen! Kammy might be unbelievable but as we all know, he does miss things - so people will have to put their hand up and shout loudly!
Whatever happens it should be a lot of fun!
Find out how to get tickets for Gillette Soccer Saturday Live - the show's first ever live tour - by clicking here.
Catch Jeff and the boys on Gillette Soccer Saturday at 12pm this Saturday on Sky Sports News HD, channel 405.