Feeling the heat
Jeff Stelling blogs on his fiery trip to Naples and the backlash against Chelsea boss Andre Villas-Boas.
Last Updated: 23/02/12 1:55pm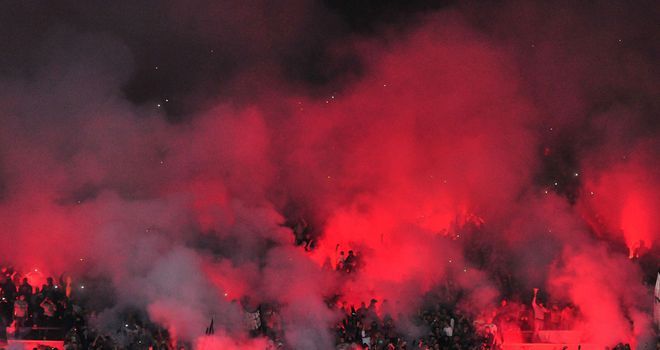 Naples is a curious mix of grimy alleys and grand avenues.
As I found out on my first visit there this week, it is a place crying out for some TLC.
In parts every single building and available space is covered with graffiti, while few of the ornamental fountains along the seafront are in working order.
It is also a city with huge social difficulties: not far from the main tourist area is a huge shanty town, the like of which you'd never expect to see in western Europe.
Football is a huge release for the public and by half-past-three on Tuesday afternoon the Stadio Sao Paolo was already starting to fill up as fans sought out the best seats.
They waited patiently, their passion building so that by the time the players entered to the backdrop of flares and fires in the stands it felt like Hades. It was bedlam and amazing to see how much the game meant to the people of the city.
The Chelsea supporters who made the trip all deserve medals. They were hemmed in behind mesh cages for their own protection to stop the home supporters getting to them; all in all it felt quite threatening.
So I couldn't help but smile when Andre Villas-Boas said after Chelsea's 3-1 defeat that there will be a wonderful European atmosphere when the two teams meet for the second leg at Stamford Bridge; I don't doubt that, but don't expect the Napoli players to be fazed by the occasion.
Trouble
Didier Drogba gave a great interview before the game in which he basically said 'the manager's in trouble, the team's in trouble'. It was a classic line and one that seemed as accurate as it was frank some 90 minutes later.
The most worrying thing for Chelsea now is that Napoli are better away from home than at home where they have to rely on the visitors allowing themselves to be drawn in so they can hit them on the counter-attack.
Chelsea obliged them and now have no option but to attack at the Bridge, which plays right into Neapolitan hands because Ezequiel Lavezzi, Edinson Cavani and Marek Hamsik are fantastic attacking players who would grace most, if not all, Premier League teams.
I don't see any way that Napoli won't score at Stamford Bridge particularly as this is a Chelsea side without John Terry, with Gary Cahill trying to bed in in difficult circumstances, with Ashley Cole seemingly unhappy with his manager.
Chelsea have conceded 19 league goals at the Bridge this season; you've got to go down to QPR (who are fifth from bottom in the Premier League) before you find a team that has conceded more at home. So where is the defensive solidity they need going to come from?
Change
I spoke to a lot of Chelsea fans after the game and most of them took the defeat pretty graciously; they accepted that while they aren't quite out of it, their chances of going through are minimal.
Quite a few of the longer-term supporters, in fairness, were quite phlegmatic about the club's position as well and believe that if there is going to be change, then it might take quite a long time. Those fans can remember far worse times than the club is going through at the moment.
I think the great majority of them feel that Andre Villas-Boas isn't quite up to the job, but it's not down to what they or I think - it's down to what Roman Abramovich thinks.
The one thing I drew from the team Villas-Boas picked in Naples is that he has the unconditional backing of the owner to cut out some of the older players, at almost whatever cost.
It couldn't be otherwise - how else could AVB have named a side that included Jose Bosingwa at left-back at Ashley Cole's expense or didn't feature a holding midfielder when Frank Lampard and Michael Essien are on the bench?
It is unthinkable that he would select that team if he did not at least think that Abramovich is right behind him.
When he was at Porto, AVB was renowned for his tactical genius - the way he could make changes during the course of a game, the way he could change the flow of a game - but he hasn't shown that here.
Misfortune
Some of the doom and gloom will disappear if Chelsea win their next three Premier League games - Bolton at home, West Brom away and Stoke at home.
Chelsea's haul of 71 points last season was their worst for eight years but to match that total this season they need to take 28 points from their last 13 games, which is a hell of a lot on their current form.
In that context, Chelsea's FA Cup replay against Birmingham is a massive game because it is probably their only chance of winning anything.
If you look at the fan websites, there are a lot of calls for change at Chelsea but I think there is an acceptance amongst the real hard-core Chelsea supporters that any change will affect the playing staff rather than the manager.
I'm not saying they think AVB is the right man, because I don't think they do, but they realise that somewhere along the line someone must invoke change and, at the moment, it is AVB's misfortune to be in that position. I don't envy him one bit.
Catch Jeff and the boys on Gillette Soccer Saturday at 12pm this Saturday on Sky Sports News HD, channel 405.
Find out how to get tickets for Gillette Soccer Saturday Live - the show's first ever live tour - by clicking here.